2016 Season
---
---

THIS WEEK IN ALABAMA HIGH SCHOOL FOOTBALL
AHSFHS.org Report
(Oct. 30, 2016)

---
End of the 2016 Regular Season Notes

The undefeated teams....... Our hats are off to the teams that maneuvered the 2016 regular season without suffering a loss. A special congratulations to Hewitt-Trussville, Rogers, LaFayette and Park Crossing for their first ever perfect regular season. Now the quest for a state championship begins for each of these teams along with the last time they were undefeated:
7A - Hewitt-Trussville 10-0 (Never), McGill-Toolen 10-0 (2012)
6A - Hillcrest Tuscaloosa 10-0 (2011), Oxford 10-0 (1993) and Park Crossing 10-0 (Never)
5A - Carroll 10-0 (1930) and Scottsboro 10-0 (1996)
4A - Rogers 10-0 (Never)
3A - Gordo 10-0 (2015) and Piedmont 10-0 (2012)
2A - Fyffe 10-0 (2014), G.W. Long 9-0 (2015) and LaFayette 10-0 (Never)
1A - Addison 10-0 (2001), Georgiana 10-0 (1994), Linden 10-0 (2009), Maplesville 9-0 (2014) and Wadley 9-0 (2005)

Winning a region championship is a goal of every team in their quest for a state title. Teams that won their first region crown in 2016 include: Ramsay and Cornerstone Christian in the AISA. Several schools have gone a while since winning their last region title. They include; Austin (1999), Mortimer Jordan (1995), Carroll (1989) and Haleyville (1993).

Maplesville and Tanner each won their seventh consecutive region title in 2016. The longest streaks among teams winning a region title this season.

If T.R. Miller can win their first two playoff games they will extend their lead for the most ten-win seasons all-time. The Tigers have completed 26 seasons in which they have won at least ten games.

Gordo has a streak of 24 consecutive winning seasons. Others with long streaks, along with their last losing season, include; Demopolis (1994), Opelika (1995), Cullman (1996), Fyffe (1996) and McAdory (1996). Although they did not make this list, the T.R. Miller Tigers have suffered only three losing seasons in the past fifty years.

Vina has a string of 26 consecutive losing seasons dating back to the 1989 season. The streak is the longest in the AHSAA only surpassed by Lyman Ward with a streak of losing 26 seasons. Others with long streaks include Talladega (22) and Curry (20).

Team with the first winning season in school history include B.T. Washington (7-3) Mae Jemison (6-4) and Mars Hill (6-4). Other notable teams that registered winning seasons after long droughts include; Jackson-Olin (1999), Ohatchee (2003) Sidney Lanier (2006), and Southside Selma (2005).

Deshler finished 2-8. It is the school's worst season since 1970. They also failed to qualify for the playoffs for the first time in 32 years. Prattville also fell on hard times finishing 2-7 for their first losing season since 1998.

---
Playoff Notes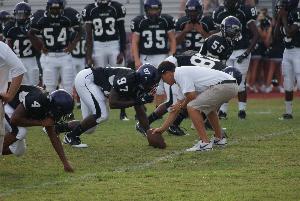 Hoover, with 88 playoff wins, surpassed Hazlewood in 2014 for the most in Alabama high school football history. The T.R. Miller Tigers and Colbert County Indians are just behind with 87 wins each. The Tigers also hold the record with thirty-three first round wins.

The Colbert County Indians have made the most playoff appearances with 39. Sweet Water and T.R. Miller are right behind with 36.

The Hoover Bucs have won 18 consecutive opening round playoff games. Cedar Bluff (14) is next in line. The record belongs to Hazlewood with a string of 20 consecutive first round wins from 1970-1996.

Mae Jemison and B.T. Washington become the only teams to qualify for the playoofs for the first time. While Jemison is in their first season, Wasington has fielded a team since 1991. Jackson-Olin got back to the playoffs for the first time since 1999.

The Hoover Bucs hold another streak of winning 21 consecutive home playoff games.

Teams that missed the playoffs with the best overall records include; Hazel Green (6-4), Parker (5-4), Southside Gadsden (6-4), Northside (6-4)Walter Wellborn (5-4), Mars Hill (6-4) and Pleasant Home (6-4).

Luverne continues their streak of consecutive playoff appearances with a state best thirty-four straight appearances. T.R. Miller is right behind with a string of 33 consecutive seasons qualifying for the playoffs. Deshler saw their string of 32 straight snapped this season as they failed to qualify for the post season.

The T.R. Miller Tigers also hold another distinction. They are 25-0 in first round home games. While that is not the most first round wins, it is the most without a loss. Hazlewood also won 24 first round playoff games against a single loss before the school closed. Cedar Bluff is 22-0 at home in the first round. Mountain Brook also has a perfect 14-0 record at home in the first round.

The playoffs began in 1966 and since that time only one team has fielded a football each season yet has never qualified for a post season spot. That team would be Bullock County.

Teams who have never won a first round game that qualified for the playoffs in 2016 include; B.T. Washington, Holly Pond, Mae Jemison, Paul Bryant, Park Crossing, R.C. Hatch, Prattville Christian, Randolph, Satsuma, and Woodville. Each of these teams would like to get their championship hopes underway with a win next Friday night.

Team missing the playoffs which are accustomed to being in the hunt for a state title, along with the string of consecutive appearances broken, include; Deshler (32), Trinity (17), Foley (11), Fort Payne (10), Hamilton (10), Oneonta (9).


---
Great Moments in Alabama High School Football History

Etowah defeated Oxford 69-63 in 1991 to set a state record for most points scored by both teams in a playoff game.