2018 Season
---
---
THIS WEEK IN ALABAMA HIGH SCHOOL FOOTBALL
AHSFHS.org Report
(Nov. 5, 2018)

---
End of the 2018 Regular Season Notes

The undefeated teams....... Our hats are off to the teams that maneuvered the 2018 regular season without suffering a loss. A special congratulations to Jackson-Olin and Westminster Christian for their first ever perfect regular season. Now the quest for a state championship begins for each of these teams along with the last time they were undefeated:
7A - Central Phenix City 10-0 (2017)
6A - Hartselle 10-0 (2011), Jackson-Olin 10-0 (Never)
5A - Etowah 10-0 (1999)
4A - American Christian 10-0 (2005), Jacksonville 10-0 (1999), North Jackson 10-0 (2011), UMS-Wright 9-0 (2015)
3A - Westminster Christian 9-0 (Never), Winfield 10-0 (2004)
2A - Fyffe 10-0 (2016), Ohatchee 10-0 (1976)
1A - Falkville 10-0 (1961) , Linden 10-0 (2016), South Lamar 10-0 (1994)
AISA - Monroe Academy 10-0 (2017), Chambers Academy 10-0 (2017)

Winning a region championship is a goal of every team in their quest for a state title. Teams that won their first region crown in 2018 include: James Clemens, Mars Hill, Westminster Christian, Cottage Hill Christian and Spring Garden. Several schools have gone a while since winning their last region title. They include; Theodore (2000), Jackson-Olin (1997), Jacksonville (1999), Headland (1984) and Abbeville (1997).

Maplesville won their eighth consecutive region title in 2017. The Red Devils gave up their crown to Linden this year. The longest streak among teams winning a region title this season belongs to Demopolis and Central Phenix City with five in a row.

Demopolis also won their 24th region championship since 1974. That ranks them third tied with R.A. Hubbard/Courtland behind Brantley (29), Hazlewood (26), Deshler (25), and Sweet Water (24).

Fyffe finished the regular season with a perfect 10-0 record. It is their sixth undefeated regular season over the past eight years. Fyffe now ties Maplesville with 13 undefeated regular seasons all-time. The Red Devils have owned the regular season the past eight seasons by going 78-2 during that span of time. That is really an amazing record. Oh yea, they also won a couple of state titles along the way.

The Fyffe Red Devils have also won 38 consecutive regular season games. They rank ninth on the all-time list behind leader Prattville who won 56 straight between 2001-2007.

Barbour County has lost fifty consecutive games over the past six seasons. The Jaguars are now tied with Brighton for the fourth longest losing streak in state history. The longest losing streak in history belongs to R.C. Hatch who lost 68 straight between 1997-2005.

Maplesville has twenty-five ten win seasons in the history of the school. They have a good chance of tying T.R. Miller who has accumulated 26. All the Red Devils need to do is to defeat Sweet Water this week. Not an easy task for any team. If Colbert County came pull off three wins, they too would tie for the most 10 win seasons ever.

Russellville set a record with eleven consecutive ten win seasons between 200-2010. The Hoover Bucs have a shot at tying that record with three more wins this post season. Monroe Academy tied Russellville a couple of weeks ago and have won eleven games this season.

The strongest region title goes to Class 7A region two with five teams finishing with a winning record. They went 22-6 against non-region foes this year. Close behind is Class 3A region six which finished with a 17-6 non-region record. They had six teams finish with at least five wins.

Gordo has a streak of 26 consecutive winning seasons. Others with long streaks, along with their last losing season, include; Demopolis (1994), Opelika (1995), Fyffe (1996) and McAdory (1996). Cullman suffered through their first losing season since 1996. Although they did not make this list, the T.R. Miller Tigers have suffered only three losing seasons in the past fifty years.

Teams that finished the 2017 football season with a winning record that have not enjoyed one in for a while with their last winning season include: Brewer (1999) and St. John Paul II (Never).

Winless Vina has a string of 27 consecutive losing seasons dating back to the 1989 season. The streak is the longest in the AHSAA only surpassed by Lyman Ward with a streak of losing 30 seasons.

North Jackson defeated Randolph 55-7 Friday. They have scored 617 points in ten games for an average of 61.7 points each week. The record for scoring in the regular season was over 90 years old set by the Tuscaloosa Black Bears in 1926 when they averaged 59.1 points over a nine game season. The most points scored in any regular season belonged to Demopolis in 2004 when they scored 577 in 10 games. Edgewood Academy scored 594 in 2014 in the AISA. The season record for scoring including the playoffs belongs to Linden set in 2016 when they scored 764 points.

North Jackson scored 40 or more points in every game this season. Ironically, they did not score 30 in any game last year. The Chiefs scored 50 or more in half their games. It is the eighth undefeated regular season for the Chiefs and the fifth under head coach Mark Rose.

The UMS-Wright Bulldogs allowed 21 points in nine games during the regular season. It is the fewest allowed since Clay County gave up just 18 during the 1996 season.

Calhoun, as mentioned above has really been struggling the past few seasons. The Tigers have been shutout in 17 of their past 20 games and scored just 24 points this year but that was double what they scored all of last season.

Maplesville has scored twenty or more points in 60 consecutive games after defeating Francis Marion 56-22 on the road. The record belongs to Clay-Chalkville with a staggering 80 straight between 2010-2016.

Teams that finished the 2018 football season with a losing record for the first time in a while with their last losing season include: Cullman (1996) and Mae Jemison (Never)

The biggest turnarounds this year belong to Headland which went from 1-9 last year to 9-1 this season. Other notables include; Houston Academy 0-10 to 7-3, North Jackson 2-8 to 10-0, Donoho 2-8 to 8-2, Cottage Hill Christian 3-7 to 9-1, Edgewood Academy 1-9 to 7-3, St. John Paul II 1-9 to 8-2, Montevallo 3-7 to 9-1, Lincoln 1-9 to 7-3, Jasper 3-7 to 9-1, R.A. Hubbard 2-8 to 8-2, Smiths Station 0-10 to 6-4 and Russellville 3-7 to 9-1.

The biggest disappointments this season include Hackleburg 10-2 to 3-7, Houston Academy 8-3 to 2-8, Lee-Scott Academy 6-5 to 0-11, Munford 9-2 to 3-7, Plainview 9-2 to 3-7, Southside Selma 7-4 to 0-10, Sulligent 12-2 to 3-7 and West Morgan 10-2 to 1-9.

---
Playoff Notes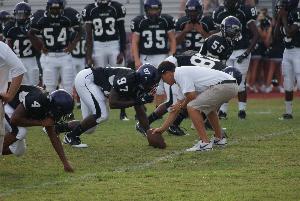 Hoover, with 96 playoff wins, holds the record for most post season wins. Colbert County (88) and the T.R. Miller Tigers (87) are just behind the Bucs. The Tigers also hold the record with thirty-three first round wins.

The Colbert County Indians have made the most playoff appearances with 41 and extended that streak this year. Sweet Water (38) follows closely. T.R. Miller, Thomasville, Fyffe, Brantley, Marengo Academy and Oxford are right behind with 37 post season appearances.

The Hoover Bucs have won 20 consecutive opening round playoff games. Cedar Bluff (16) is next in line. The Bucs are now tied with Hazlewood at 20, a record they set between 1970-1996.

St. John Paul II, Pike Road and Snook Christian are teams which qualify for the playoffs for the first time. Snook Christian is only in the second season of fielding a football team. Pike Road renewed their football program after a very long absence. brewer makes the post season for the first time since 1999.

The Hoover Bucs hold another streak of winning 20 consecutive home playoff games dating back to the 1993 season.

The Bucs have another shot at history this year as they could become the first team to win six out of seven state titles. No team has accomplished that feat since the playoffs began. Hoover has also appeared in sixteen of the past eighteen state championship games in the state's highest classification. They won eleven of those games.

Ten teams missed the playoffs with 6-4 records. Another seventeen finished with 5-5 records but failed to garner a playoff spot this year.

Vincent, Sulligent, Plainview and Alabama Christian finished with 3-7 records but still managed to secure a post season spot. Charles Henderson and Guntersville squeaked into the post season with 3-6 records.

Luverne continues their streak of consecutive playoff appearances with a state best thirty-six straight appearances. The next longest streaks belong to Briarwood (26), UMS-Wright (25), Demopolis (23), Aliceville (23), McAdory (22), Brantley (22), Daphne (21) and Eufaula (21).

Teams failing to gain a playoff spot after many consecutive seasons of post season play include; Ragland (17), Tanner (16), Leeds (12), Blount (11), Hackleburg (10) and Tallassee (10).

Hazlewood won 24 first round playoff home games against a single loss before the school closed. Cedar Bluff is close behind at 23-0 in the first round but starts this post season on the road against Ohatchee. Maplesville is 22-1 in opening round games and start with Sweet Water this year at home.

Did anyone else notice that the highest scoring offense could face the best defense in the state if North Jackson and UMS-Wright make it to the Super Seven?

The playoffs began in 1966 and since that time only one team has fielded a football each season yet has never qualified for a post season spot. That team would be Bullock County. The Hornets came within one region victory of ending the streak this year and finished fifth in 3A region three.

T.R. Miller has won 33 first round playoff games, the most all-time. Colbert County (32) and Brantley (31) are close behind.

Teams who have never won a first round game that qualified for the playoffs in 2018 include; Brewer (0-4), Chickasaw (0-2), Coosa Christian (0-4), Cottage Hill Christian (0-2), D.A.R. (0-3), Francis Marion (0-13), Hazel Green (0-6), Holly Pond (0-11), Mars Hill (0-1), Northside (0-11), Pike Road (0-0), Randolph (0-3), Sipsey Valley (0-3), St. John Paul II (0-0), Talladega (0-8) and Waterloo (0-4). Each of these teams would like to get their championship hopes underway with a win next Friday night.

I usually do not pick high school games publically but this is an unusual year so here are my choices for the Super Seven games. I know, there are a lot of Mobile area teams.

7A - Thompson vs. Central Phenix City
6A - Pinson Valley vs. Spanish Fort
5A - Madison Academy vs. Vigor
4A - North Jackson vs. UMS-Wright
3A - Randolph County vs. Mobile Christian
2A - Fyffe vs. Cottage Hill Christian
1A - Falkville vs. Lanett


---
Great Moments in Alabama High School Football History

Bart Starr received coaching from Kentucky great Babe Parilli his senior season at Sidney Lanier in hopes of joining Bear Bryant at Kentucky. He had to settle for Alabama.