2014 Season
---
---

THIS WEEK IN ALABAMA HIGH SCHOOL FOOTBALL
AHSFHS.org Report
(Nov. 3, 2014)

---
End of the 2014 Regular Season Notes

Winning a region championship is a goal of every team in their quest for a state title. Several schools have gone a while since winning their last region title. They include; Parker (1991), West Blocton (1993) Hubbertville (1995) and Glencoe (1996). No team won a region championship for the first time this season.

Brantley claimed their state record 29th region championship. The Bulldogs hold the record over second place Hazlewood with 26.

Maplesville and Tanner each won their fifth consecutive region title in 2014. The longest streaks among teams winning the title this season.

If T.R. Miller can win their first round game they will have the most ten-win seasons all-time. The Tigers are currently tied with Colbert County and Hazlewood with 24 seasons in which they have won at least ten games.

Along those lines.... if Sweet Water can win three games in the playoffs they will extend their string of 10 win seasons to a state leading nine. One note is that Hoover's streak is at six including the 2013 season and would be 14 if not for the off the field forfeits of 2007. Russellville holds the record for consecutive 10 win seasons at eleven between 200-2010. Hazlewood with ten (1987-96) and Prattville with nine (2001-09) also had impressive streaks.

Trinity has a streak of 32 consecutive winning seasons. Others with long streaks, along with their last losing season, include; Gordo (1992), Cullman (1994), Demopolis (1994), Opelika (1995), Fyffe (1996) and McAdory (1996). Vestavia Hills broke a string of 22 straight winning seasons after finishing with a 3-7 record. Although they did not make this list, the T.R. Miller Tigers have suffered only three losing seasons in the past fifty years.

Talladega has a string of 19 consecutive losing seasons dating back to the 1994 season. The streak is the longest in the AHSAA only surpassed by Lyman Ward with a streak of losing 24 seasons. Others with long streaks include Vina (18) and Curry (17).

The biggest turnaround can go to several teams. R.C. Hatch is enjoying their first winning season on record with a 6-4 mark thus far after finishing last year with an 0-10 slate. East Limestone turned a 2-8 season into 10-0 this year. It is the school's first 10 win regular season. West Blocton improved from 2-8 last season to 9-1. Ramsay went from 2-8 to 9-1.
---
Playoff Notes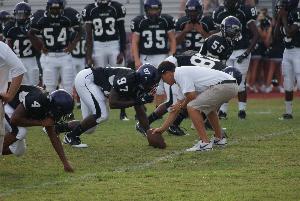 T.R. Miller, with 84 playoff wins, can tie Hazlewood for the most in Alabama high school football history if the Tigers can pick up one more victory this postseason. The Tigers also hold the record with thirty first round wins.

The Colbert County Indians have made the most playoff appearances with 37.

The Hoover Bucs have won 16 consecutive opening round playoff games. Others of note include Cedar Bluff (12) and Sweet Water (11). The record belongs to Hazlewood with a string of 20 consecutive first round wins from 1970-1996.

Helena became the first team in the state to qualify for a playoff spot in the first season a new school fielded a football team. Chickasaw accomplished the same feat in their first season.

The following teams qualified for a playoff spot for the first time in their team's history; Chickasaw, Decatur Heritage Christian, Helena, James Clemens, R.C. Hatch, Ramsay, Sispey Valley and Westminster Christian.

The Hoover Bucs hold another streak of winning 16 consecutive home playoff games. The next highest total belongs to Briarwood with a string of thirteen.

Luverne continues their streak of consecutive playoff appearances with a state best thirty-two straight appearances. T.R. Miller and Deshler are right behind with a string of 31 consecutive seasons qualifying for the playoffs.

The T.R. Miller Tigers also hold another distinction. They are 23-0 in first round home games. While that is not the most first round wins, it is the most without a loss. Hazlewood won 24 first round playoff games against a single loss before the school closed. Cedar Bluff is 20-0 at home in the first round. Mountain Brook also has a perfect 14-0 record at home in the first round.

Teams who have never won a first round game that qualified for the playoffs in 2014 include; Ellwood Christian, Jacksonville Christian, Northside and Prattville Christian. Each of these teams would like to get their championship hopes underway with a win next Friday night.

Team missing the playoffs which are accustomed to being in the hunt for a state title, along with the string of consecutive appearances broken, include; McGill-Toolen (15), Brooks (14), Fort Dale Academy (14), Cullman (9), Huntsville (9), Vestavia Hills (8) and Valley (8).


---
Great Moments in Alabama High School Football History

Hazlewood won five consecutive state championships from 1988-1992. During this span the Golden Bears won 29 playoff games in a row.