2021 Season
---
---

THIS WEEK IN ALABAMA HIGH SCHOOL FOOTBALL
AHSFHS.org Report
(Oct. 30, 2022)

---
End of the 2022 Regular Season Notes

The undefeated teams....... Our hats are off to the seventeen teams that maneuvered the 2022 regular season without suffering a loss. A special congratulations to Priceville and Lee-Scott Academy for their first ever perfect regular seasons. Now the quest for a state championship begins for each of these teams. Below is a list of undefeated teams along with the last time they were undefeated:
6A - Hartselle 10-0 (2021), Hillcrest Tuscaloosa 10-0 (2016), Theodore 10-0 (2000)
5A - Leeds 9-0 (2010), UMS-Wright 10-0 (2019)
4A - Anniston 10-0 (2001), Catholic Montgomery 10-0 (2021), Deshler 10-0 (2004), Priceville 10-0 (Never)
3A - Dadeville 9-0 (2011), Houston Academy 10-0 (2006)
2A - Fyffe 10-0 (2020)
1A - Elba 10-0 (2014) , Meek 10-0 (1958)
AISA - Lee-Scott Academy 10-0 (Never), Patrician Academy 10-0 (2009), Jackson Academy 10-0 (2020)

Winning a region championship is a goal of every team in their quest for a state title. Southeastern won their first region title in 2022. Several schools have gone a while since winning their last region title. They include; Arab (1993), Excel (1997), B.B. Comer (1995) and Meek (1990).

The longest streak among teams winning a region title this season belongs to Fyffe with seven in a row. Chambers Academy also won their seventh in a row in the AISA. American Christian, Mars Hill and Spring Garden are close behind having won their fifth in a row.

Brantley has won 32 region championship since 1974. That ranks them at the top followed by R.A. Hubbard/Courtland (29), Sweet Water (27), Deshler (27), Hazlewood (26), Demopolis (26) and Fyffe (26).

Fyffe finished the regular season undefeated this year. Over the past twelve seasons the Red Devils have been undefeated in the regular season nine times. They hold the record with sixteen undefeated regular seasons over Maplesville with fourteen. The Red Devils have owned the regular season the past nine seasons by going 87-2 during that span of time. That is really an amazing record. Oh yea, they also won five state titles along the way.

Fyffe also broke a tie with Russellville for the most consecutive 10 win seasons. They have already secured twelve consecutive ten wins seasons in the regular season.

Maplesville has twenty-eight ten win seasons in the history of the school. They can chalk up another one if they win a couple of playoffs games. Hoover can join them with 28 if they defeat Bob Jones in the first round. of the playoffs.

The toughest region title goes to Class 7A region two with six teams winning at least half their games. They went 11-7 against non-region foes this year. Prattville (6-4) and Opelika (5-5) will miss the playoffs this year. 4A region 7 also had six teams win at least five games.

Class 5A Region 3 saw only two teams win more than four games. Marbury (4-6) and Holtville (3-7) finished third and fourth in that region. Class 1A region one also had only two teams win more than four games.

Gordo has a streak of 30 consecutive winning seasons. Others with long streaks, along with their last losing season, include; Demopolis (1994), Opelika (1995) and Fyffe (1996). Although they did not make this list, the T.R. Miller Tigers have suffered only three losing seasons in the past fifty-nine years.

Teams that finished the 2021 football season with a winning record that have not enjoyed one in for a while with their last winning season include: Mary Montgomery (2002), Woodlawn (2011) and Tuscaloosa County (2013).

Winless Vina (0-9) has a string of 32 consecutive losing seasons dating back to the 1989 season. The streak is the longest in the AHSAA.

J.F. Shields, has really been struggling the past few seasons to score points. The Panthers scored just 24 points this season and allowed 474 in the nine games they played.

Teams that finished the 2022 football season with a losing record for the first time in a while with their last losing season include: Sylacauga (2007), Escambia Academy (2010), Decatur Heritage Christian (2011) and Cedar Bluff (2013).

The biggest turnarounds this year belongs to a group of five teams who improved by seven wins from the 2021 football season. Deshler went from 3-7 last year to 10-0 this season. Other notables include; Elmore County 0-10 to 7-3, Georgiana 0-10 to 7-3, Randolph County 1-9 to 8-2 and Lynn 2-8 to 9-1. Congrats to these coaches and teams for improving their programs in 2022.

The biggest disappointments this season include; Autauga Academy 13-0 to 2-6, Pike Liberal Arts 12-1 to 3-6, Notasulga 10-2 to 1-8, Baldwin County 8-4 to 1-9 and Greenville 8-4 to 1-9.



---
Playoff Notes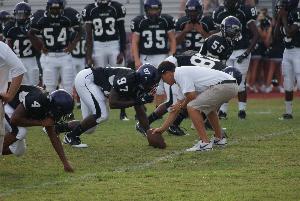 Hoover, with 104 playoff wins, holds the record for most post season wins. The T.R. Miller Tigers (93), Colbert County (89), Sweet Water and UMS-Wright (89) are just behind the Bucs. The Tigers also hold the record with thirty-six first round wins.

The Colbert County Indians have made the most playoff appearances with 46 and extended that streak this year. Sweet Water (43) follows closely. T.R. Miller, Fyffe, Brantley, Patrician Academy and Oxford are right behind with 42 post season appearances.

The Hoover Bucs have won 24 consecutive opening round playoff games. They have won every first round game since 1992.

Want some virtual locks for the playoffs in the first round? Spanish Fort has never lost a first round playoff game and are 27-1 in the first two rounds. UMS-Wright is 27-1 since 1990 and 21-0 at home in first round games. Maplesville is 26-1 all-time in first round games. Briarwood is 22-1 in the opening round at home since 1995. Fyffe is 19-1 since 1998 in first round home games. Don't bet the farm, just interesting facts.

The toughest road to the championship game may belong to Austin. All they have to do is defeat a very good Vestavia Hills team before facing Thompson and likely Hoover in the semifinals. Good luck with that schedule.

There are a few interesting teams this year that could pose problems for their opponents who have been overlooked in past seasons. Moody, Meek, Leeds, Orange Beach, Excel, Vincent, Ariton and Highland Home.

The best first round game may be Benjamin Russell (8-2) at Hueytown (7-3). Both these teams could very well make long playoff runs.

More numbers from a few first round playoff matchups this week. All these are first round records only.
* Central Phenix City is 19-4 at home, Mary Montgomery is 0-6 on the road.
* Hoover is 27-3 at home, Bob Jones is 1-9 on the road.
* Thompson is 9-1 at home, Huntsville is 1-12 on the road.
* Pike Road is 3-0 at home, Spanish Fort is 4-0 on the road.
* Mountain Brook is 16-1 at home, Pinson Valley is 3-8 on the road.
* UMS-Wright is 22-2 at home, Holtville is 2-11 on the road.
* Russellville is 23-3 at home, Boaz is 0-13 on the road.
* Leeds is 18-1 at home, Fairfield is 3-14 on the road.
* T.R. Miller is 27-1 at home, Montgomery Academy is 3-13 on the road.
* Piedmont is 20-2 at home, Oakman is 3-7 on the road.
* Leroy is 23-2 at home, Georgiana is 4-12 on the road.

One matchup will be interesting when B.T. Washington travels to Orange Beach. Washington is 0-1 all-time in the playoffs as is Orange Beach. Someone will celebrate their first ever playoff victory Friday night. Another is R.C. Hatch at Maplesville. Maplesville has won 86 playoff games and Hatch none.

Which teams have a winning record on the road in the first round? here are some of the best first round road records for teams that travel this week. Vestavia Hills (8-7), St. Paul's (6-4), Bayside Academy (6-4), Oneonta (9-7), Colbert County (12-8), Autaugaville (7-3).

Teams who qualified for the playoffs for the first time in a while include: Mary Montgomery (2002), Choctaw County (2003) and Excel (2009) ended playoff droughts this year.

The Hoover Bucs hold another streak of winning 22 consecutive home playoff games between 1993-2018 season. That streak was broken when the Bucs fell to Thompson in the semi-finals.

Seven teams missed the post season despite winning six games. They include teams with a 6-4 record in the regular season; Prattville, Tuscaloosa County, Helena, Woodlawn, Douglas, Brooks and Goshen. Shades Valley and Vigor will stay home despite a 5-4 record. Another sixteen teams won at least five games but failed to garner a playoff spot this year.

Seven teams finished the regular season with a 3-7 record but somehow managed to win the right games to qualify for a playoff spot. Buckhorn, Fairfield, Holtville, Danville, Mobile Christian, Oakman and Ohatchee all won just three games but they made those victories count the most. Twenty other playoff teams in the AISA and AHSAA won just four games during the regular season.

Luverne continues their streak of consecutive playoff appearances with a state best forty straight appearances. The current next longest streaks belong to UMS-Wright (29), Demopolis (27), Aliceville (27), McAdory (26) and Brantley (26). Briarwood saw their string of 29 consecutive playoff appearances snapped this season.

Teams failing to gain a playoff spot after many consecutive seasons of post season play include; Briarwood (29), Hubbertville (12), Opelika (12) and Sylacauga (10).

Gulf Shores will be hosting their first ever playoff game against Carroll. Arab has never won a home playoff game.

T.R. Miller has won 36 first round playoff games, the most all-time. Colbert County (34), Brantley (34), Maplesville (32) and Sweet Water (31) are close behind.

Teams who have never won a first round game that qualified for the playoffs in 2022 include; B.T. Washington (0-1), Brewer (0-5), Banks Academy (0-1), Chickasaw (0-4), Coosa Christian (0-5), Dothan High (0-1), Hazel Green (0-7), Mary Montgomery (0-7), Orange Beach (0-1), R.C. Hatch (0-4), Sipsey Valley (0-4), Snook Christian (0-1) and Valiant Cross Academy (0-1). Each of these teams would like to get their championship hopes underway with a win next Friday night.

We wish all the teams well in the post season. Good luck and see you at the 2022 AHSAA Super Seven Championships.


---
Great Moments in Alabama High School Football History

Collinsville completed the 1931 season with a record of 1-4-5. The five ties will forever be a state record since all games are now decided by overtime.