2023 Regular Season Wrap up
---
---

THIS WEEK IN ALABAMA HIGH SCHOOL FOOTBALL
AHSFHS.org Report
(Nov. 6, 2023)

---
End of the 2023 Regular Season Notes

The undefeated teams....... Our hats are off to the twenty-two teams that maneuvered the 2023 regular season without suffering a loss. A special congratulations to Gulf Shores and Central Clay County for their first ever perfect regular seasons. Now the quest for a state championship begins for each of these teams. Below is a list of undefeated teams along with the last time they were undefeated:
7A - Central Phenix City 9-0 (2021), Mary Montgomery 10-0 (1965)
6A - Clay-Chalkville 9-0 (2021), Hillcrest Tuscaloosa 10-0 (2022), Muscle Shoals 10-0 (2019), Saraland 10-0 (2019)
5A - Central Clay County 10-0 (Never), Gulf Shores 10-0 (Never)
4A - Catholic Montgomery 10-0 (2022), Jackson 10-0 (2015), West Morgan 10-0 (2002)
3A - Lauderdale County 10-0 (1972), Madison Academy 10-0 (2020), Mobile Christian 10-0 (1995)
2A - B.B. Comer 10-0 (1995), Locust Fork 10-0 (Never), Reeltown 9-0 (1991)
1A - Elba 10-0 (2022) , Leroy 9-0 (2008), Loachapoka 9-0 (2004)
AISA - Lowndes Academy 10-0 (1968),

Winning a region championship is a goal of every team in their quest for a state title. Several schools have gone a while since winning their last region title. They include; Mary Montgomery (1985), Walter Wellborn (1995), Locust Fork (2001), Straughn (2009), Cottonwood (2010) and Eufaula (2010).

The longest streak among teams winning a region title this season belongs to Fyffe with eight in a row. Chambers Academy also won their eighth in a row in the AISA. Catholic Montgomery won their fifth in a row.

Brantley has won 32 region championship since 1974. That ranks them at the top followed by R.A. Hubbard/Courtland (29), Sweet Water (28), Deshler (27), Fyffe (27), Demopolis (27) Reeltown (26) and Hazlewood (26).

Fyffe finished the regular season 9-1 this year. Over the past thirteen seasons the Red Devils have been undefeated in the regular season nine times. They hold the record with sixteen undefeated regular seasons over Maplesville with fourteen. The Red Devils have owned the regular season the past ten seasons by going 96-3 during that span of time. That is really an amazing record. Oh yea, they also won six state titles along the way.

If the Red Devils win one playoff game they will secured their thirteenth consecutive ten wins seasons in the regular season which is the state record.

Maplesville, T.R. Miller and Hoover all have twenty-eight ten win seasons in the history of the schools. It seems unlikely any of them will add another this year without a long playoff run.

The toughest region title goes to Class 5A region one with six teams winning at least half their games. They went 13-5 against non-region foes this year. Vigor (7-3) and Citronelle (5-5) will miss the playoffs this year. 4A region 7 also had six teams win at least five games.

Class 5A Region 3 saw only two teams win more than two games. Marbury (2-8) and Shelby County (2-8) finished third and fourth in that region. Class 4A region six also had only two teams win more than four games.

Gordo has a streak of 31 consecutive winning seasons. Others with long streaks, along with their last losing season, include; Demopolis (1994) and Fyffe (1996). Opelika saw their streak of 27 straight winning seasons come to an end this season after finishing with a 4-6 record. Although they did not make this list, the T.R. Miller Tigers have suffered only three losing seasons in the past fifty-nine years.

Teams that finished the 2023 football season with a winning record that have not enjoyed one in for a while with their last winning season include: Woodville who enjoyed their first ever winning season at 6-4. Choctaw County (1999), B.C. Rain (2005), John Carroll (2010), Oak Grove (2011) and Sipsey Valley (2012).

Vina (1-9) has a string of 33 consecutive losing seasons dating back to the 1989 season. The streak is the longest in the AHSAA.

Teams that finished the 2023 football season with a losing record for the first time in a while with their last losing season include: Opelika (1995), Hoover (1998), Piedmont (2004), Etowah (2009), Gardendale (2011) and Northside (2011).

The biggest turnarounds this year belongs to a group of five teams who improved by seven wins from the 2022 football season. Mortimer Jordan went from 2-8 last year to 8-2 this season. Other notables include; Citronelle 1-9 to 6-4, Decatur Heritage 4-6 to 9-1 and John Carroll 3-7 to 8-2. Congrats to these coaches and teams for improving their programs in 2022.

The biggest disappointments this season include; Orange Beach 8-3 to 1-8, Priceville 11-1 to 4-6, Verbena 8-3 to 1-8, Saks 7-4 to 1-9 and Cleveland 7-4 to 1-9.



---
Playoff Notes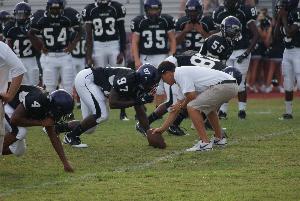 Hoover, with 106 playoff wins, holds the record for most post season wins. The T.R. Miller Tigers (94), Sweet Water (91) and UMS-Wright (91) are just behind the Bucs. The T.R. Miller Tigers also hold the record with thirty-seven first round wins.

The Colbert County Indians have made the most playoff appearances with 47 and extended that streak this year. Sweet Water (44) follows closely. T.R. Miller, Fyffe, Brantley, Patrician Academy and Oxford are right behind with 43 post season appearances.

The Hoover Bucs have won 25 consecutive opening round playoff games. They have won every first round game since 1992. Could that streak be in jeopardy in 2023?

Want some virtual locks for the playoffs in the first round? Spanish Fort has only lost a first round playoff game once last year and are 27-2 in the first two rounds. UMS-Wright is 28-1 since 1990 and 22-0 at home in first round games. Maplesville is 28-1 all-time in first round games played on their home turf. Fyffe is 20-1 since 1998 in first round home games. Don't bet the farm, just interesting facts.

Last season the number four seeds knocked off the number one seeds in seven games. That is about the average since 2000 when the AHSAA went to the current playoff format. The most in any season was 2013 and 2018 when nine number four seeds pulled off the upsets.

The toughest road to the championship game may belong to B.T. Washington. All they have to do is defeat a very good American Christian (8-2) team before likely facing in order Handley (9-1), Jackson (9-0) or Andalusia (9-1) and likely Catholic Montgomery (10-0) in the semifinals. That is just to have the opportunity to go to Tuscaloosa in December. Good luck with that schedule.

More numbers from a few first round playoff matchups this week. All these are first round records only.
* Hewitt-Trussville is 9-1 at home, Bob Jones is 1-10 on the road.
* Central Phenix City is 20-4 at home, Davidson is 0-8 on the road.
* Benjamin Russell is 15-4 at home, Sidney Lanier is 1-9 on the road.
* Spanish Fort is 10-0 at home, Bessemer City is 4-10 on the road.
* Mountain Brook is 17-1 at home, Buckhorn is 0-13 on the road.
* Central Clay County is 10-1 at home, UMS-Wright is 8-2 on the road.
* Russellville is 24-3 at home, Fairfield is 3-15 on the road.
* Leeds is 19-1 at home, Arab is 1-6 on the road.
* T.R. Miller is 28-1 at home, Anniston is 4-12 on the road.
* Clarke County is 11-2 at home, Vincent is 1-11 on the road.
* Leroy is 24-2 at home, Calhoun is 0-2 on the road.
* Maplesville is 27-1 at home, Choctaw County is 3-5 on the road.

Which teams have a winning record on the road in the first round? Here are some of the best first round road records for teams that travel this week. Vestavia Hills (9-7), St. Paul's (7-4), Gardendale (9-5), UMS-Wright (8-2), Bayside Academy (6-5), W.S. Neal (9-8) and Colbert County (13-8).

Teams who qualified for the playoffs for the first time in a while include: St. Michael and University Charter School who are in the playoffs for the very first time. Calhoun (1999), John Carroll (2009) and Springville (2009) ended playoff droughts this year.

The Hoover Bucs hold another streak of winning 22 consecutive home playoff games between 1993-2018 season. That streak was broken when the Bucs fell to Thompson in the semi-finals.

Nine teams missed the post season despite winning six games. Three won seven games in the regular season including Spain Park, Vigor and Montevallo. Teams winning six games included; Citronelle, Rehobeth, Sardis, Wenonah, Escambia County and Woodville. Another twenty teams won at least five games but failed to garner a playoff spot this year.

Two teams, Shelby County and Marbury, in 5A region three finished the regular season with 2-8 records but will still be making playoff appearances in 2023. Five other teams finished the regular season with a 3-7 record but somehow managed to win the right games to qualify for a playoff spot. Gardendale, Mae Jemison, Etowah, Calhoun and Dadeville all won just three games but they made those victories count the most. Sixteen other playoff teams in the AHSAA won just four games during the regular season.

Luverne continues their streak of consecutive playoff appearances with a state best forty-one straight appearances. The current next longest streaks belong to UMS-Wright (30), Demopolis (28), Aliceville (28), McAdory (27) and Brantley (27). Cleveland saw their string of nine consecutive playoff appearances snapped this season.

Other teams failing to gain a playoff spot after many consecutive seasons of post season play include; Lanett (9) and Ohatchee (7).

T.R. Miller has won 37 first round playoff games, the most all-time. Brantley (35), Colbert County (34), Maplesville (33), Gordo (32) and Sweet Water (32) are close behind.

Teams who have never won a first round game that qualified for the playoffs in 2023 include; Chickasaw (0-5), Mary Montgomery (0-8), Pleasant Valley (0-4) and Sipsey Valley (0-5). Each of these teams would like to get their championship hopes underway with a win next Friday night.

We wish all the teams well in the post season. Good luck and see you at the 2023 AHSAA Super Seven Championships.


---
Great Moments in Alabama High School Football History

The Tuscaloosa Black Bears were considered one of the best programs in the nation from 1925-1931. Their record over that span was an amazing 61-0-3.