Coaches - Most victories over a ten year span
Tweet
Share on Facebook

AHSFHS.org Report
(Aug 15, 2022)

Which coach won the most games over any ten year span in high school football history? It is an answer that will not surprise most fans. It is actually a very recent record.

Paul Benefield at Fyffe now holds that distinction as the coach to win the most games over a ten year period in Alabama high school football history. The Red Devils have gone an amazing 134-7 the last decade to establish an almost unbeatable record. Along the way they have racked up five state championships. Who knows. They could just as easily top that record this year if they manage to win more than eleven contests.

Josh Niblett took over the Hoover football program at the start of the 2008 season and went 128-16 over the next ten seasons. A 9-4 record in 2018 stopped a string of ten straight seasons in which the Bucs had won at least ten games.

Danny Powell, with 126 victories between 2006-2015 leads every other coach in history with the most wins over a ten year span. Powell took over at Leroy in 2006 and promptly won three straight state titles with the Bears. He stayed at Leroy for five seasons with a 66-7 record before jumping across the river to Jackson. His next five seasons with the Aggies produced a 60-7 record and another title in 2011.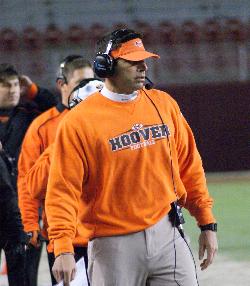 Brent Hubbert put up a record of 123-11 between 2009-18 at Maplesville leading the Red Devils to three consecutive state titles along the way.

As you might have guessed the two coaches of Hoover fame appear on our list next. Rush Propst started the football program at Alma Bryant in 1998 and led the Hurricanes to an impressive 12-1 record before leaving for Hoover the next year. His nine teams while leading the Bucs finished a combined 110-15 to give him second spot on our list with 122 victories in ten seasons. Hoover vacated four wins during his final season before he vaulted to Colquitt County in Georgia.


---
Coaches - Most Victories in a ten year span
134 - Paul Benefield - Fyffe (2011-2020) (134-7)
128 - Josh Niblett - Hoover (2008-2017) (128-16)
126 - Danny Powell - Leroy, Jackson (2006-2015) (126-14)
123 - Brent Hubbert - Maplesville (2009-2018) (123-11)
122 - Rush Propst - Alma Bryant, Hoover (1998-2007) (122-17)
122 - Steve Smith - Piedmont (2012-2021) (122-18)
120 - Jamie Riggs - T.R. Miller (1994-2003) (120-21)
119 - David Lowery - Brantley (2003-2012) (119-14)
118 - Terry Curtis - UMS-Wright (2000-2009) (118-22)
118 - Mitchell Tubberville - Monroe Academy (2009-2018) (118-12)
117 - Stacy Luker - Sweet Water (2004-2013) (117-23)
116 - Danny Horn - Clay County (1993-2002) (116-18)
115 - John Mothershed - Deshler (1996-2005) (115-21)
115 - Fred Yancey - Briarwood (1996-2005) (115-21)


---
David Parker
AHSFHS.org
dparker@ahsfhs.org
Great Moments in Alabama High School Football History

Woody Clements was the head coach at Holt for a record 41 straight seasons.