Coaches with 100 Wins
Tweet
Share on Facebook


Since the inception of AHSFHS.org some sixteen years ago one of our first priorities was to compile a list of the winningest coaches in the history of Alabama high school football. Over time the list has become more refined as the scores for games were found through the diligent research completed by myself and many other interested fans of the website.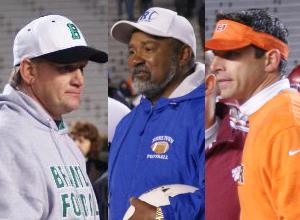 This task began with a list of all coaches with at least 100 wins and has grown from that point. We currently have 390 coaches that have at least 100 verified coaching wins. There are 63 active coaches with at least 100 wins entering the 2022 season. That number is quite surprising and seems to make the 100 win plateau attainable by most coaches with moderate success. Still it is a standard of which coaches are measured.

As the 2022 football season approaches, there are a number of coaches who are on the verge of being added to our list of winningest coaches. We will follow these and others throughout the season and let you know when and if they reach this milestone.

Before we reveal the list of potential newcomers to the 100 wins list there are other milestone coaching wins within the reach of other coaches. Buddy Anderson of Vestavia Hills retired after 43 seasons and sits atop the list for the most all-time wins in Alabama high school football history with 342 victories.

Terry Curtis is second with 336 wins followed closely by Danny Horn with 332. Paul Benefield is not far behind with 322.

Scott Basden continues to win games at Muscle Shoals has amassed 196 victories over his 22 year career. He is within reach of the 200 win plateau early this season. Phil Lazenby at Bayside Academy is within six wins of reaching 200 for his career.

Below is the complete list of coaches that could possibly reach 100 wins this season. There may be a few others that could reach 100 wins if their teams do extremely well and win more than twelve games in 2022.


---
Coaches approaching the 100 win club
99 - Jack French (Faith Academy) (99-48) - Also won 195 games in Mississippi
99 - Ryan Lolley (Northridge) (99-18)
99 - Bobby Parrish (Cottage Hill Christian) (99-63)
98 - Lance Reese (Guntersville) (98-37)
96 - Lee Ozmint (Arab) (96-50)
93 - Jonathan Mille (Saks) (93-28)
93 - Patrick Plott (Carroll) (93-41)
92 - Steven Kilcrease (Ariton) (92-38)
---
David Parker
AHSFHS.org
dparker@ahsfhs.org
Great Moments in Alabama High School Football History

Florida State head coach Bobby Bowden was a star quarterback at Woodlawn high school in Birmingham.