The Toughest Schedules
Tweet
Share on Facebook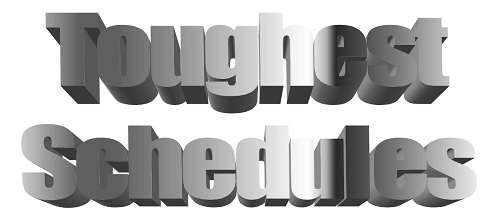 Which teams have the toughest road ahead of them this season? Well, as everything else concerning the game of football, it is always debatable depending on which fan you ask.

If we simply look into the numbers it can become a little clearer. The team whose opponents have the highest winning percentage from last year would be the best place to begin. But that is not always the case depending on how tough each region is for that team. But, for now, that is where we will look.

At the top of the list is Hoover. The Bucs opponents this season finished last year with a combined record of 81-32. Their non-region opponents include 6A state champion Pinson Valley (15-0), IMG Academy FL (9-0) and St. Johns DC (9-2) finished a combined 33-2. They also compete in a region that includes Thompson (12-1) and Hewitt-Trussville (11-1).

The team in second place would be Opelika. Their 2017 opponents went 77-32 last year. The Bulldogs play Callaway GA, Auburn, Central Phenix City and Vigor in non-region play. Not shabby at all.

Other teams with difficult road to travel include: Pell City (82-39), Tuscaloosa County (72-34), UMS-Wright (78-36), Huffman (80-38 and Pinson Valley (73-36).

Other teams with strong non-region schedules are: St. Pauls (13-2), Gadsden City (34-6), McGill-Toolen (11-2), Pike County (32-7) and Lamar County (33-7).

The last category is the strongest regions. This is accomplished by combining the records of all the teams in each region. The best combined record for any region in any classification belongs to Class 6A region six. Their combined records were 62-24. The teams include; Pinson Valley, Shades Valley, Clay-Chalkville, Oxford, Gardendale, Huffman and Pell City. The teams finished a combined 32-11 against non-region foes last year. Every team in the region except Huffman (4-6) finished with a winning record and made the playoffs last season.

Second place belongs to Class 4A region one. Their combined record from last season was 68-33. Against non-region opponents they finished 38-13. Four of the teams in this region reached the semi-finals of the playoffs last year with two state champions. They include Andalusia, Clarke County, Hillcrest Evergreen and UMS-Wright.

One the other end of all this sits Class 4A region four where the teams finished last year with a combined 25-48 record. This region went a combined 9-21 in non-region games. Only two teams, Leeds (7-4) and Talladega (6-5) finished the season with a winning record.

David Parker
AHSFHS.org
dparker@ahsfhs.org
Great Moments in Alabama High School Football History

The Alabama High School Athletic Association was first organized in 1921.