Missing Scores
Tweet
Share on Facebook



Recently I received all the schedule books that the AHSAA printed between 1972 and 2011. They were also called "Fall Sports" books. Bill Plott was nice enough to share them with us. These books helped in finding some of the missing scores during this timeframe. Bill filled in all the scores each year.

Since the beginning of the 1970 football season we are currently missing only fourteen scores. That is unbelievable to say the least since more than 92,000 games have been played during that time by the AHSAA teams.

The most notable game is one that both Bill and I have tried everything we know to find without success.

The 1977 game between Maplesville and Verbena is proving to be a tough find. We have gone to the Library in Maplesville and Clanton and neither have anything on the game. The Newspaper is missing an issue from that week and following weeks do not give us any insight into the score of that game. Neither has a copy of a yearbook for either school to my recollection. If they did the score was not in the yearbook.

Since the beginning of the 1980 season we have every score of every high school football game played in Alabama. We have now completed the past 37 football seasons.

We now have whittled down our list of missing scores since 1950 to a much more manageable total. The best guess for how many games are still missing would be around 520 since 1950. That means we about 99.7% complete.

Only thirty-four AHSAA schools are missing ten or more games. Three schools, Stevenson, Bridgeport and Vina account for nearly one-third of these missing games.

With that in mind I have put together a list of these missing scores in hopes that someone out there can assist us in finding one or more of them.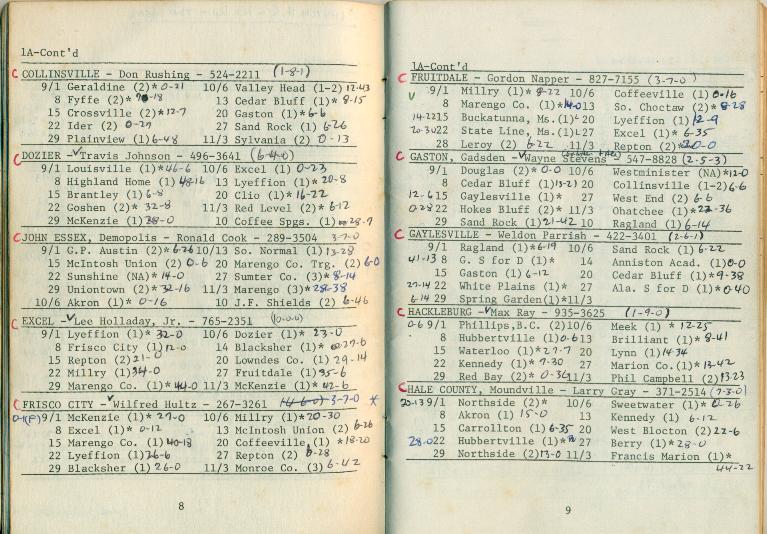 1972 High School Football Schedule book from the AHSAA with Bill's entries.
---
Below are the missing scores for the AHSAA schools.
1980-2016 - Complete
1979
11/3
Belgreen MS at Vina
1978
Complete
1977
11/4
Maplesville at Verbena
1976
11/5
Sunshine at G.P. Austin
11/5
McKenzie at Lyeffion
1975
11/7
Sunshine - G.P. Austin
11/14
Marengo at Wilcox County
1974
11/8
R.C. Hatch at Livingston
9/20
Pensacola Liberal Arts FL at Conecuh County
10/18
McIntosh at Century FL
1973
10/26
D.C. Wolfe at South Macon
9/21
Lookout Valley TN - North Sand Mountain
1972
11/3
Marengo County Training at G.P. Austin
1971
10/8
North Sand Mountain - Huntland TN
11/5
Marengo - John Essex
1970
Complete
1969
10/3
Maplesville at Billingsley
10/31
Notasulga at Billingsley
10/3
McKenzie at Dozier
11/14
Red Level at Lyeffion
9/19
Marbury at Maplesville
9/12
Meek at Vina
11/7
Baker Fl at Montgomery County
10/10
Pine Hill at Southern Choctaw
10/24
Belmont MS at Red Bay
11/14
Jay FL at Repton
1968
9/7
Addison at Meek
9/20
Lynn at Addison
11/8
McLain MS at Fruitdale
10/18
Goshen at Highland Home
10/25
Holtville at Verbena
11/15
Thorsby at Isabella
9/13
Vina at Meek
10/18
Waterloo at Meek
11/1
Stevenson at Grundy County TN
11/1
Thorsby at Verbena
9/6
Wilson at Section
1967
10/6
Addison at Lynn
11/3
Brilliant at Marion County
11/10
Fruitdale at McLain MS
9/16
Ider at Pisgah
10/27
Phillips Bear Creek at Lynn
11/10
Maplesville at Verbena
10/27
Tishomingo MS at Red Bay
11/10
Vina at Red Bay
11/3
Verbena at Thorsby
1966
10/8
Baylor TN at Lowndes Academy
10/21
Lowndes Academy at Lyman Ward
North Sand Mt. - last two games likely against TN teams
11/4
Red Level at Dozier
1965
11/11
Century Fl at J.U. Blacksher
10/29
Pisgah - North Sand Mountain
1964
Complete
1963
10/26
Florida School Deaf at Alabama School Deaf
8/29
Locust Fork - Hayden
11/1
Lynn - ????
10/18
Pisgah - ???
10/25
Pisgah - ???
---
David Parker
AHSFHS.org
dparker@ahsfhs.org
Great Moments in Alabama High School Football History

Hazlewood won five consecutive state championships from 1988-1992. During this span the Golden Bears won 29 playoff games in a row.