Coaches - The Fastest to 100 Victories
Tweet
Share on Facebook


At least 325 coaches have won over 100 games during their coaching careers at the high school level in Alabama. The question of the day is, which one got to the magical 100 win milestone the quickest? The answer may surprise most of our younger readers.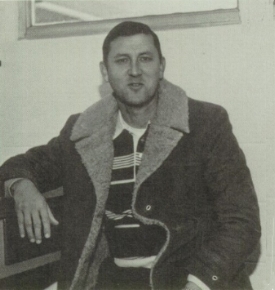 A dozen coaches have managed to win 100 games in their first ten seasons as a head coach. In today's game where teams can play as many as fifteen games in a single season a coach can get to 100 victories in fewer seasons than prior to the introduction of the playoffs. Our list is comprised of the coaches who reached 100 wins in the fewest number of games.

One coach stands out as reaching the 100 win plateau in only 105 games. Mac Champion got his 100th victory with a 20-6 victory over South Montgomery Academy on 10/8/1971. His record at that point in his career stood at 100-4-1. Beginning at Hayneville in 1962 he went 39-1 in four seasons before moving over to Lowndes Academy in 1966. Over the next four seasons his teams finished a combined 36-3. In 1970, Champions ended up at Monroe Academy and reached his 100 victory midway through his second season with the Volunteers. He retired with a 255-77-1 overall record in 1996.

James Porch reached 100 wins in just 111 games as the head coach at Oneonta and Verbena in 1956. Verbena had seen their fifty game winning streak come to an end the previous season and finished 1956 with a 7-2-1 record. Coach Porch would leave Verbena after the 1956 season and only coach one more year at Fort Payne. His 110-15-1 overall record is among the best winning percentages of all-time..

George Cochran became the head coach at Hooper Academy in 1972 and led the Colts to a 49-4 record over the next four seasons before moving to Eufaula in 1976. He won his 100th game in 1981 as the Tigers defeated Bullock County in the sixth game of the season by a score of 40-0. It took him a total of only 113 games to accomplish the feat.

The next four coaches on our list are all currently at the helm of their respective schools. Danny Horn collected his 100th victory as the head coach at Clay County in the second game of the 1998 season against Elmore County to reach the coveted milestone in 118 games. Horn is followed by Mark Rose, Laron White and Mark Freeman.

One note is that if Josh Wright at Bessemer Academy can win his next four games he will join this list by having accomplished the feat in 122 games.


---
Coaches - Fastest to 100 Victories (Number of Games)
105 - Mac Champion (Hayneville, Lowndes Ac., Monroe Ac.) (100-4-1)
111 - James Porch (Oneonta, Verbena) (100-10-1)
113 - George Cochran (Hooper Academy, Eufaula) (100-12-1)
118 - Danny Horn (Clay County) (100-18)
120 - Mark Rose (Tallassee, North Jackson) (100-20)
120 - Laron White (Tanner) (100-20)
121 - Mark Freeman (Bessemer Academy) (100-21)
121 - Robert Gartman (Pickens & Morgan Academy) (100-21)
122 - Jack Hankins Jr. (Thomasville) (100-22)
122 - John Mothershed (Deshler) (100-22)
122 - John Meadows (Hanceville, Gordo, Scottsboro) (100-22)
122 - Andro Williams (Linden) (100-22)
123 - Bob Newton (Homewood) (100-23)


David Parker
AHSFHS.org
dparker@ahsfhs.org
Great Moments in Alabama High School Football History

Demopolis scored a record 761 points during the 2004 season. The Tigers finished the season 15-0.