The Toughest Schedules
Tweet
Share on Facebook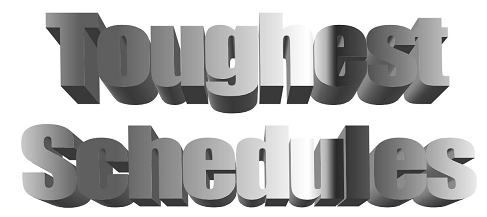 Which teams have the toughest road ahead of them this season? Well, as everything else concerning the game of football, it is always debatable depending on which fan you ask.

If we simply look into the numbers it can become a little clearer. The team whose opponents have the highest winning percentage from last year would be the best place to begin. But that is not always the case depending on how tough each region is for that team. But, for now, that is where we will look.

At the top of the list is Cleburne County. The Tigers opponents this season finished last year with a combined record of 83-37. Their non-region opponents include 4A state champion Leeds (13-2), 2A runner up Fyffe (13-2), Alexandria (11-2) and Randolph County (13-1). Here is where the debate arises. While Cleburne County participates in Class 5A, three of their non-region opponents play in lower classes.

The team in second place would be Opp. Their 2016 opponents went 80-36 last year. The Bobcats play T.R. Miller, Elba and Andalusia in non-region play. Not shabby at all.

Other teams with difficult road to travel include: Straughn (69-33), Minor (83-40), Deshler (76-38), Tanner (68-35 and Fayette County (80-42).

The team with the toughest non-region opponents may very well be McGill-Toolen. They only play two games against team outside Class 7A region one but must face a pair of 6A powerhouses in defending state champion Spanish Fort and a very good Blount team. These two opponents finished last season a combined 25-2.

Other teams with strong non-region schedules are: Cleburne County (50-7), Florence (35-5), Sipsey Valley (32-5), Hoover (36-6) and Opp (35-6).

The last category is the strongest regions. This is accomplished by combining the records of all the teams in each region. The best combined record for any region in any classification belongs to Class 2A region one. Their combined records are 52-27. The teams include; Tanner, Cleveland, Falkville, Tarrant, West End, Winston County and Cold Springs. Every team in the region finished last year with a winning record except Cold Spring. Five of the seven teams qualified for the playoffs.

Second place belongs to Class 6A region six. Their combined record from last season is 54-30. Once again every team finished with a winning record except one, Center Point at 1-9.

One the other end of all this sits Class 3A region six where the teams finished last year with a combined 21-51 record. Not a single team finished the season with a winning record and the two teams that did make the playoffs both lost in the first round. The fourth best team from last year in this region was Hanceville which went 3-7. It is very likely a team with a losing record will qualify for the post season in 2016.

One last thing. Class 4A region two has three teams that finished last year with a 1-9 record.


David Parker
AHSFHS.org
dparker@ahsfhs.org
Great Moments in Alabama High School Football History

From 1947 until his retirement in 1992 Glenn Daniel's teams won 302 games at Pine Hill and Luverne. He was the winningest coach in state history until 2010.