2014 Week 9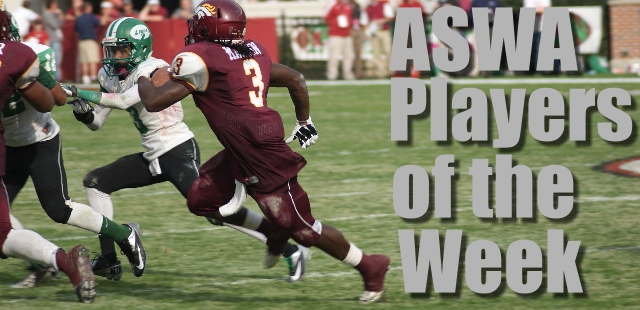 ASWA Players of the Week
---

Fairhope remained the lone undefeated team in Class 7A, thanks in large part to running back Dave Kirksey.

Kirksey scored six touchdowns -- runs of 1, 5, 43 and 31 yards and TD catches of 35 and 43 yards -- in a 55-28 victory over Davidson. He finished with 230 yards rushing on 20 carries and added 87 yards on three receptions, giving him more than 300 yards of total offense.

For his performance, he is honored as the Alabama Sports Writers Association Offensive Player of the Week.

"Dave is such a special player and (has) a great attitude," Fairhope coach Adam Winegarden told AL.com after the win, "but it takes the other 10 guys around him to make it happen, and he'll be the first to tell you that."

Kirksey won the weekly award over two finalists: Lexington's Wes Shirley and Pelham's Logan Burnett.

Shirley rushed for 299 yards and TD runs of 8, 22 and 57 yards and added a 61-yard touchdown pass in a 55-40 over Sheffield. He also sealed the win when he returned an interception 52 yards for a score with a minute to play.

Burnett threw six touchdown passes to five different receivers in a 47-0 victory over John Carroll, finishing 20-of-26 passing for 360 yards. He also had a stretch 12 straight completions.

This week's ASWA Defense/Special Teams Player of the Week is Carver-Montgomery linebacker Lyndell Wilson. He filled the stat sheet with 10 tackles, three sacks, a forced fumble and a 42-yard interception return for a touchdown in a 28-17 victory over Dothan.

The two finalists for the Defense/Special Teams award are Pinson Valley's Juray Smith and Auburn kicker Sage Ledbetter

Smith had three interceptions in a 31-0 victory over Center Point, returning one 30 yards for a touchdown. Ledbetter made three field goals of more than 40 yards, including a career-long 48-yarder, in a 37-7 victory over Prattville. He was also 4-for-4 on extra-point tries.

ASWA members from Anniston, Auburn, Birmingham, Boaz, Brewton, Centre, Cullman, Demopolis, Dothan, Florence, Fort Payne, Gadsden, Huntsville, Jasper, Mobile, Montgomery, Oneonta and Scottsboro submitted nominations this week.

Here are other notable performances from this past week:


OFFENSE

Chris Austin, Oakman: Rushed 23 times for 207 yards and a pair of touchdowns in a 49-14 victory over Winfield, clinching the region championship.

Ryan Burkett, Fort Dale Academy: Had 10 carries for 202 yards and touchdowns of 4, 87 and 64 yards, in a 28-7 win over Morgan Academy.

Troy Dixon, UMS-Wright: Ran for 214 yards and five touchdowns as the top-ranked Bulldogs rolled over Monroe County.

Quintin Downey, Spring Garden: Ran for 180 yards on 18 carries and scored two touchdowns (5, 1 yards) in the Panthers' 53-20 victory at Woodville.

Riley Eisner, Good Hope: Was 18-of-30 passing for 371 yards, six touchdowns and an interception in a 63-40 homecoming win over DAR, as the Raiders set a school record for points in a game.

Dillon Evans, Gaylesville: Rushed for 274 yards on 34 carries and scored four touchdowns in the Trojans' 51-32 victory at Coosa Christian.

Peyton Gilliland, Cleveland: Rushed 21 times for 200 yards and four touchdowns (19, 58, 6, 8) in the Panthers' 33-12 victory over Ider. He also completed 5 of 12 passing for 59 yards and a touchdown.

Eric Graham, Autauga Academy: Ran 20 times for 288 yards and three touchdowns, including a 65-yard score with 1:20 remaining, in a 36-33 victory over Abbeville Christian.

Reese Harbison, Good Hope: Caught seven passes for 143 yards and a pair of touchdowns in a 63-40 victory over DAR.

Malcolm Hawthorne, W.S. Neal: Rushed for 238 yards and five touchdowns in a victory over Satsuma. He scored on runs of 1, 18, 1, 76 and 31 yards.

Terence Humphrey, Columbia: Ran for 252 yards and seven touchdowns (2,1, 5, 24, 36, 48 and 78 yards) in a 50-39 win over Ardmore. He also converted a 2-point run.

J.T. Hyche, American Christian: Rushed for 216 yards and two touchdowns in a 45-22 victory.

Daulton Hyatt, Arab: Completed 18 of 27 passes for 235 yards and three touchdowns (40, 13, 11 yards), and ran for a 79-yard score in a 34-27 win at Lee.

Austin Ingram, Charles Henderson: Finished 21-of-24 passing for 248 yards and four touchdowns, including 13-of-13 and three touchdowns to down Rehobeth 30-7. Ingram finished the game completing his last 17 passes, including four late in the first half.

Delvecchio Johnson, Bessemer City: Ran for 233 yards on 19 carries in a 35-14 victory against Northridge.

Octavius Matthews, North Jackson: Rushed for 284 yards and four TDs (29, 6, 77 and 40 yards) in a 52-27 win over Oneonta.

Tre' Nation, Leeds: Logged 29 carries for290 yards and scoring runs of 9 and 26 yards in a 42-7 victory over Childersburg.

Dewon Pritchett, Marengo: Tallied 202 yards rushing and a touchdown in a 52-36 win over J.U. Blacksher.

Shade Pritchett, Marengo Academy: Carried four times for 149 yards and a 69-yard touchdown run in addition to catching two passes for 41 yards and a 32-yard touchdown.

Jayse Pruitt, Plainview: Completed 10-of-10 passes for 262 yards with three touchdowns in the Bears' 48-6 win against Brindlee Mountain.

Ramsey Rigby, Elba: Was 9-of-14 for 282 yards and four touchdowns (75, 24, 94 and 51 yards) in the Tigers' 51-6 rout of Calhoun.

Drex Roach, Abbeville Christian: Accounted for 365 total yards, rushing for 248 yards and two touchdowns and adding 117 yards off 10-of-14 passing in a 36-33 loss to Autauga Academy. Roach's TD runs were 45 and 63 yards.

Paul Ruiz, Etowah: Rushed for 205 yards and two touchdowns on 23 carries and caught a TD pass in the a 40-14 win over Boaz.

Warren Shader, Oak Mountain: Ran 27 times for 197 yards and TD runs of 1 and 10 yards in a 34-27 victory at Spain Park.

Austin Stiefel, Fyffe: Had 251 yards on 15 carries with four touchdowns in the No. 1 Red Devils' 62-6 victory against West End-Walnut Grove.

Aleric Williams, Southside-Gadsden: Rushed for 235 yards and three touchdowns and caught a 38-yard touchdown pass in the Panthers' 42-16 win over Scottsboro. Lewis scored on runs of 11, 90 and 52 yards.

Depriest Turner, Murphy: Rushed for 257 yards and four touchdowns as the Panthers won the 48-21 over Murphy. He scored on runs of 30, 16, 78 and 25 yards. Turner also threw a pair of TD passes.

Derrick Underwood, Homewood: Rushed 26 times for 211 yards and two scores in a 28-14 win against Hueytown.

DEFENSE/SPECIAL TEAMS

Josef Bates, Phillips: Scored on a 98-yard kickoff return in a 44-14 win over Vina. He also rushed for 188 yards and two touchdowns.

Tim Bonner, Demopolis: Had 12 tackles, including five for a loss, to go along with a sack and a fumble recovery in a 58-6 win over Wilcox Central.

Isiah Cox, Walker: Had two interceptions inside the red zone, including the game-clinching pick in the fourth quarter, and added four tackles as the Vikings defeated Jackson-Olin 17-12.

Garrett Daffron, Providence Christian: Was in on 25 tackles, including 13 solos and one for a loss, during the Eagles' 38-25 loss to Geneva County.

Thomas Emery, Pleasant Valley: Intercepted a pass and returned it 96 yards for a touchdown and recovered a fumble in a 41-19 win over Ohatchee.

Rowan Godwin, Providence Christian: Was in on 21 tackles, including 11 solos and three for loss, during the Eagles' 38-25 loss to Geneva County.

DeAmonte Greene, Sweet Water: Recorded 11 tackles in a 41-0 rout of Choctaw County Friday.

Octavius Hardrick, Cottonwood: Returned a punt 69 yards for a touchdown, was in on nine tackles, five solos, and had six catches for 91 yards in the Bears' 38-7 win over Samson.

Travarious Harris, Marengo: Recorded 12 tackles on defense and ran for 130 yards and a touchdown on offense in 52-36 win over J.U. Blacksher.

Josh Holifield, Marengo Academy: Punted four times for an average of 46.25 yards per kick in addition to tallying 110 rushing yards and two touchdowns in a 47-10 win over Wilcox Academy.

Randy Hooks, Auburn: Returned an interception 27 yards for a touchdown and also recovered a fumble for a touchdown in Auburn's 37-7 victory over Prattville.

Darian Jones, Brantley: Returned a punt 54 yards for a touchdown, his fourth TD return in four games, in a 49-6 victory at McKenzie. Also caught TD passes of 74 and 12 yards.

Drew Jones, Demopolis: Had 10 tackles, a pass deflection and an interception to go along with a rushing touchdown in a 58-6 win over Wilcox Central.

Jaleel Jones, Linden: Intercepted a pass on defense in a 76-8 victory over Akron and hauled in touchdown passes of 30 and 35 yards on offense.

Harrison Jordan, Northview: Was in on 24 tackles, including 10 solos, and one tackle for loss during the a 27-20 overtime loss to Wetumpka.

Keenan Lewis, Sardis: Scored on an 86-yard kickoff return for one of his four TDs. He rushed for 225 yards on 19 carries in a 42-36 victory over Cherokee County. Lewis scored on runs of 34, 66 and 67 yards.

Landon Machristie, Walter Wellborn: Returned a fumble 54 yards for a touchdown a 54-16 victory over Ashville. On offense, he threw for 178 yards and three touchdowns on 12-of-15 passing and rushed for 29 yards and a score.

Wil Murphy, Central-Florence: Kicked a 33-yard field goal with 5 seconds to play to in a 23-20 victory over West Limestone to keep Central's playoff hopes alive.

Justin Patterson, Cullman: Was in on three sacks and several quarterback hurries in a 33-13 loss to Decatur.

Taylor Roberts, Jackson Academy: Returned two kickoffs for touchdowns, of 90 and 77, yards against Clarke Prep in a 52-34 loss.

Sawyer Smith, Walker: Recorded 17 tackles in the Vikings' 17-12 win over Jackson-Olin.

Tyler Thornton, Wenonah: Returned an interception 40 yards for a TD in a victory over Corner. On offense, he carried 13 times for 197 yards on the ground and TDs of 5, 19 and 52 yards.

Francisco Tirado, Decatur: Kicked four field goals in a 33-13 win at Cullman.

Tyler Wittner, Mary G. Montgomery: Kicked a 19-yard field goal as time expired to lift MGM to a 17-14 victory over Alma Bryant.

Kaine Yates, Hanceville: Had three of the Bulldogs' six sacks in a 27-7 win over Holly Pond that snapped an eight-game losing streak dating back to the first round of last year's playoffs.

---
Great Moments in Alabama High School Football History

Bart Starr received coaching from Kentucky great Babe Parilli his senior season at Sidney Lanier in hopes of joining Bear Bryant at Kentucky. He had to settle for Alabama.