2014 Week 8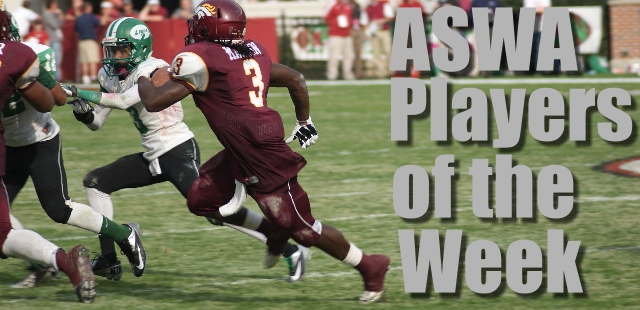 ASWA Players of the Week
---

Clay-Chalkville quarterback Tyrell Pigrome delivered a big performance on the big stage.

In perhaps the biggest game in Alabama so far this season, Pigrome completed 14 of his 20 passes for 270 yards and four touchdowns and added 122 yards and another touchdown on 13 carries to lead the Class 6A No. 2-ranked Cougars to a 59-27 victory over No. 3 Shades Valley.

For his performance, Pigrome is this week's Alabama Sports Writers Association Offensive Player of the Week.

Pigrome edged two strong performances from running backs - Hoover's Bradrick Shaw and Carbon Hill's Stevie Simerly -- to win this week's award.

Shaw logged seven carries for 220 yards and TD runs 81, 30 and 64 yards in a 66-27 victory over Tuscaloosa County. Simerly rushed 20 times for 286 yards and touchdown runs of 2, 10, 63 and 74 yards in a 36-20 victory over Curry, ending the Bulldogs' 26-game losing streak.

Spain Park's Michael Jackson snagged the Defense/Special Teams Player of the Week award. He blocked a field goal and an extra point - both in the fourth quarter - to secure a 14-13 victory over Vestavia Hills. The victory keeps the Jags' flickering playoff hopes alive.

The finalists for the Defense/Special Teams award are Sparkman's Jordan Allen and Vigor's Dwight Williams. Allen had 15 tackles and returned a fumble 92 yards for a fourth-quarter score in a 42-24 victory over Buckhorn - Sparkman's first win of the season. Williams returned a kickoff 51 yards to set up the go-ahead score and also intercepted a pair of passes in a 31-13 victory over Faith Academy.


ASWA members from Andalusia, Anniston, Auburn, Birmingham, Brewton, Centre, Cullman, Demopolis, Dothan, Florence, Gadsden, Grove Hill, Huntsville, Jasper, Mobile, Montgomery, Oneonta, and Scottsboro.

Here are other notable performances from this past week:

Tyler Bell, Faith Academy: Rushed for 181 yards and two TDs on 22 carries in a 31-13 loss to Vigor.

Ryan Bottoms, Edgewood Academy: Finished 8 of 9 passing for 239 yards and seven touchdowns in a 63-6 victory over Northside Methodist, a first-year varsity team.

Daylon Brackett, Jacksonville Christian: Threw for 329 yards and four touchdowns on 16 of 26 passing. He also rushed for 91 yards and a score in a loss to Spring Garden.

Heath Burchfield, James Clemens: Completed 31 of 45 passed for 426 yards with five touchdowns and two interceptions in a 42-35 loss at Gadsden City.

Aaron Cartee, Priceville: Threw five touchdowns (7, 58, 5, 15, 27 yards) in a 49-34 loss to Good Hope.

Gage Cash, Boaz: Caught six passes for 135 yards and three touchdowns (38, 28, 3 yards) in a 30-0 win over Randolph.

Riley Eisner, Good Hope: Was 13-of-26 passing for 374 yards, four touchdowns and an interception in a 49-34 region victory over Priceville.

Tyus Flakes, Auburn: Had 355 all-purpose yards, including 227 rushing yards on 24 carries, in Auburn's 42-16 win against Lee-Montgomery. He also had a 95-yard kickoff return for a touchdown.

Seth Franks, Tuscaloosa County: Completed 14 for 26 passes for 291 yards and three TDs in a 66-27 loss to Hoover.

Andrew Hardrick, Cottonwood: Caught four passes for 159 yards and two touchdowns and rushed for 100 yards on five carries with a touchdown in a 41-12 victory over Geneva County.

Malcolm Hawthorne, W.S. Neal: Had 209 yards rushing on 15 carries in a 41-7 victory over Thomasville. He scored on runs of 2 and 3 yards, threw a 47-yard touchdown pass and had one reception for 45 yards.

Jamarius Henderson, Dale County: Rushed for 285 yards with five touchdowns on 20 carries and also threw a 3-yard TD pass in the Warriors' 47-7 win over Slocomb. He added seven solo tackles on defense.

Lee Hibson, Tanner: Needed only 11 carries to amass 202 rushing yards in a 56-0 victory over Southeastern. He scored on runs of 44, 47 and 22 yards.

Peyton Gilliland, Cleveland: Completed 7 of 14 passing for 208 yards and two touchdowns (75, 83) and rushed 23 times for 241 yards and three scores (1, 1, 38) in a 41-21 win over Section.

Cole Guffey, Hazel Green: Threw touchdown passes of 16, 52 and 70 yards as the Trojans earned a 42-12 win over Huntsville.

Kerryon Johnson, Madison Academy: Ran for 209 yards, including touchdowns of 58 and 89 yards, on 12 carries in a 34-7 win over Lauderdale County. He also caught a 26-yard touchdown pass.

Conner Kiser, Haleyville: Passed for 377 yards and three touchdowns in 42-24 loss to Hamilton.

Orlando Lacey, Opp: Completed 6 of 10 passes for 249 yards and four touchdowns in helping the Bobcats to a 61-24 win over Excel.

John Lee, Red Level: Rushed for 276 yards on 23 carries and five touchdowns in a 42-20 victory over Pleasant Home. He had scoring runs of 1, 10, 40, 63 and 10 yards.

Rashad Lynch, Demopolis: Had 16 carries for 248 yards and touchdown runs of 50, 17 and 73 yards in 42-16 win over Central-Tuscaloosa.

Dominique Marshall, Bessemer City: Had 26 carries for a career-best 309 yards and three touchdowns in a 28-21 victory over Selma.

Denzel Mitchell, Hamilton: Picked up 254 yards on 20 carries and three touchdowns in a 42-24 victory over Haleyville. He also added an interception and three tackles on defense.

Keith Mixon, Shades Valley: Contributed 173 rushing yards on 15 carries in a 59-27 loss to Class 6A No. 2 Clay-Chalkville. He had scoring runs of 29, 56 and 58 yards and added another seven catches for 54 yards.

Tyrell Pigrome, Clay-Chalkville: Completed 14 of his 20 passes for 270 yards and four touchdowns in a 59-27 win at Class 6A No. 3 Shades Valley. He threw two interceptions, but also picked up 122 yards on 13 carries with another touchdown.

Dillon Posey, Haleyville: Caught 12 passes for 214 yards and three touchdowns in loss to Hamilton.

Reid Rials, Satsuma: Accounted for 271 yards of total offense and three rushing TDs as the Gators beat Cottage Hill 34-14. Rials, a South Alabama commitment, completed -14-of-19 passes for 171 yards and ran seven times for 100. He scored on runs of 61, 2 and 15 yards.

Desmond Richards, Lakeside: Rushed for 298 yards and two touchdowns on 30 carries in a 43-21 victory over Abbeville Christian.

Tyler Sheehan, Macon-East: Ran 30 times for 357 yards and five touchdowns in a 40-21 win over Evangel Christian. His touchdowns covered 65, 27, 46, 55 and 11 yards.

Kainan Smith, Good Hope: Caught four passes for 140 yards and a touchdown in a 49-34 road win over Priceville. He also threw a 42-yard pass on a trick play and had an interception and two tackles on defense.

Myron Smith, Colbert County: Rushed for 269 yards and five touchdowns as Colbert County beat Lexington 49-24.. Smith scored on runs of 6, 28, 36, 67 and 40 yards.

Dylan Stone, Glencoe: Piled up 217 yards rushing and four touchdowns on eight rushes in a 42-12 victory over Ohatchee. He scored on runs of 64, 59, 24 and 22 yards.

ShaKeith Tyes, Calera: Ran 26 times for 353 yards and four touchdowns in a 45-21 victory at home against Helena.

Logan Walters, North Jackson: Completed 9 of 11 passes for 383 yards and five touchdowns in North Jackson's 69-42 win over Westminster Christian.

David Whitlow, Jeff Davis: Was 9-of-13 passing for 257 yards and three touchdowns in a 38-33 victory at Smiths Station.

Nick Williams, Saraland: Rushed for 180 yards on just three carries as Saraland shut out Baldwin County 40-0. Williams scored on runs of 71 and 89 yards.

DEFENSE/SPECIAL TEAMS

Hollis Abernathy, Muscle Shoals: Blocked a potential game-tying field goal late in the fourth quarter as the Trojans edged Decatur 10-7.

Tim Bonner, Demopolis: Finished with six tackles and three sacks in win 42-16 win over Central-Tuscaloosa.

Stone Collins, Wicksburg: Was in on 20 tackles, 16 solos, in a 39-12 loss to Pike County.

Cody Daughtry, Piedmont: Intercepted a pass and recovered a fumble in a 35-7 win over Wellborn.

Delo Forbes, Weaver: Intercepted two passes, including one returned for a touchdown, in a 41-28 win over Westbrook Christian. He also rushed for 139 yards on 20 carries.

Brody Grider, North Jackson: Intercepted three passes a 69-42 victory over Westminster Christian.

Brandon Hollins, Clarke County: Had eight tackles and returned an interception 100 yards for a TD in a 40-14 victory over Monroe County.

Logan Hurley, Gaylesville: Posted nine tackles in a 32-14 victory over Woodville.

Darian Jones, Brantley: Returned a punt 52 yards for a touchdown and caught four passes for 96 yards and two scores in a 62-12 win at Barbour County.

Kyle Patterson, Sweet Water: Had eight tackles and a forced fumble in a 35-14 win over Southern Choctaw.

DeAndra Smith, Washington County: Recorded 10 tackles and caught two TD passes in a 35-0 victory over Leroy.

Pate Smith, G.W. Long: Had eight tackles and blocked a punt for the second straight week in a 56-7 victory over Providence Christian.

Jaewon Taylor, Park Crossing: Had a 58-yard interception return for a touchdown in a 29-22 overtime win over Carver-Montgomery.

Johnny Williams, Northview: Returned a kickoff 75 yards to the 1-yard line and a punt 25 yards to inside the 30, setting up his own 1-yard and 3-yard touchdown runs during the Cougars' 31-14 victory over city rival Dothan, ending the Tigers five-game series winning streak. Williams also caught three passes for 33 yards.

---
Great Moments in Alabama High School Football History

Hamilton shutout an amazing 14 consecutive opponents from 1928-1930. A atreak that will never be matched in modern football.