2014 Week 7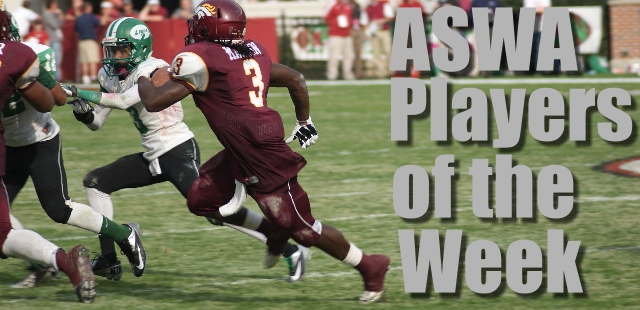 ASWA Players of the Week
---

Mortimer Jordan quarterback Duncan Hodges delivered a big performance as the Blue Devils stayed undefeated.

Hodges completed 21 his 24 passes for 427 yards and six touchdowns in Friday's 61-21 win over Alexandria, while also adding 10 carries for 68 yards to push Mortimer Jordan to 6-0 this season. For his performance, Hodges is this week's Alabama Sports Writers Association Offensive Player of the Week.

"Their quarterback was spectacular," Alexandria coach Frank Tucker told The Anniston Star after the game. "He was on the money. He's a great player who had a great night."

Hodges edged standout performances from the two offensive finalists -- Opp's Orlando Lacey and Cleveland's Peyton Gilliland -- to win the weekly award.

Lacey rushed for rushed for 218 yards on 13 carries and had three rushing touchdowns in a 51-42 victory over T.R. Miller. Lacey also picking up a fumble on a kickoff return and returned it 40 yards for the game's final touchdown.

Gilliland rushed 14 times for 203 yards and five TDs (8, 29, 4, 9, 61 yards) and completed 8 of 15 passing for 120 yards in a 48-35 victory over Susan Moore. On defense, he intercepted two passes, one of which he returned 102 yards for a touchdown.

This week's ASWA Defense/Special Teams Player of the Week is A.L. Johnson's Jeremy Mitchell, who picked off two passes and returned both for touchdowns of 55 and 30 yards in a victory over Keith. The finalists are Houston Academy's Marshall Powell and Central-Hayneville's Alex Bryant.

Powell connected on field goals of 38 and 34 yards, made an extra point and returned three punts for 110 yards (64, 34 and 3 yards), while also scoring on a 9-yard TD run, in a 29-28 double overtime victory over Samson. Bryant returned an interception 99 yards for a TD and added a 45-yard TD pass and a 1-yard TD run in a 22-14 victory Zion Chapel.

ASWA members from Andalusia, Auburn, Birmingham, Centre, Cullman, Decatur, Demopolis, Dothan, Florence, Gardendale, Gadsden, Huntsville, Jasper, Mobile, Montgomery, Oneonta, Scottsboro and Tuscaloosa submitted nominations this week.

Here are other notable performances from this past week:



Rayshod Alexander, Northside Methodist Academy: Ran for 146 yards and a game-winning 9-yard touchdown run with six minutes to go in a 19-16 victory over Coosa Valley Academy. He also had caught a 37-yard TD pass and was in on 15 tackles, seven solos and eight assists.

B.J. Bailey, Deshler: Caught six passes for 165 yards and one touchdown in a 40-20 victory over Wilson.

Josef Bates, Phillips: Rushed for 174 yards on 15 carries and scored four touchdowns in a 52-24 victory over Shoals Christian.

Tyler Bell, Faith Academy: Ran for 201 yards and a touchdown and caught two passes for 30 yards and two more scores as the Rams beat Escambia County 29-6.

Maceo Booker, James Clemens: Needed nine carries to amass 168 yards and three touchdowns in a 56-18 win over Grissom. His 99-yard score tied an AHSAA record for longest in state history.

Clay Culbert, Boaz: Rushed for 163 yards and two touchdowns, including the game-winner from 3 yards out with 3:23 to go, and passed for another score in a 20-14 win over Douglas.

Troy Dixon, UMS-Wright: Ran for 214 yards on 30 carries, setting the school's career rushing record in the process, in a 31-13 victory over Thomasville. He scored on a 41-yard run.

Seth Donaldson, Cullman: Caught six passes for 123 yards in the first half and finished with nine receptions -- most for third-down conversions -- for 133 yards overall in a 28-7 victory over Athens.

Bailey Heath, Meek: Rushed for 203 yards and two touchdowns on 17 carries in a 46-29 victory over Lynn.

Jamarius Henderson, Dale County: Rushed for 227 yards and two touchdowns on 14 carries and caught a 25-yard TD pass on offense in a 52-19 win over Wicksburg. On defense, he added six tackles with a sack on defense.

DeAnthony Holcombe, Washington County: Rushed for 175 yards and three touchdowns on four first-quarter carries as the Bulldogs rolled past Mobile Christian 50-0. Holcombe scored on runs of 64, 17 and 58 yards.

Sam Howard, Deshler: Finished 12 of 18 for 222 yards and rushed for 52 yards to total three touchdowns in a 40-20 victory over Wilson.

Grey Jackson, Fairhope: Ran for 160 yards and two touchdowns on 14 carries and also threw a TD pass as the Pirates rallied from a 15-point third-quarter deficit to beat rival Daphne 40-30.

Eric Jenkins, Sweet Water: Ran the ball 18 times for 165 yards and a touchdown in 28-25 victory over Leroy.

Josh Johnson, Opelika: Ran for 194 yards and three TDs (58, 13 and 2 yards) on 19 carries in a 60-14 victory over Chelsea.

Kolby Kirk, Addison: Rushed 24 times for 191 and two touchdowns in a 30-7 victory over Cold Springs. The senior scored on carries of 50 and 28 yards.

Michael Lambert, Holly Pond: Threw for 422 yards and four touchdowns in a 35-27 loss to Winston County. The sophomore's scoring strikes of 20, 37, 80 and 92 yards all came in the first half.

Mitchell Lewis, Lee-Scott: Accounted for three TDs in a 49-19 victory over Springwood. He rushed for 146 yards and a touchdown on 25 carries, caught a 10-yard touchdown pass and threw a 40-yard touchdown pass as the Warriors snapped a three-game losing streak.

Octavius Matthews, North Jackson: Rushed for 182 yards and two touchdowns on 10 carries and returned a kickoff 82 yards for a touchdown during the Chiefs' 69-28 Class 4A Region 7 win over J.B. Pennington. It was the third straight game in which he has returned a kickoff for a touchdown.

Xavier McCollum, Winfield: Rushed for 249 yards on 18 carries and four TDs in a 43-13 victory over Hanceville. Defensively, he also had 10 tackles.

Tre McMillian, Baker: Ran for 238 yards and two touchdowns on 25 carries, including an 80-yard TD run that gave the Hornets a 35-25 lead with 4:09 to go, in a 35-32 victory over Foley.

Ostin McPherson, St. Paul's: Ran for 187 yards and two touchdowns on 12 carries in a 41-6 victory over Williamson.

Kennedy Obiyor, Hazel Green: Caught four passes for 87 yards and touchdowns of 33, 37 and 10 yards in a 58-20 win over Sparkman. He also ran nine times for 88 yards and a TD.

Thomas Ozmint, Glencoe: Rushed 26 times for 237 yards with touchdown runs of 13 and 18 yards in a 49-8 victory over Ashville.

Dewon Pritchett, Marengo: Ran for 192 yards and two touchdowns in 30-0 victory over McIntosh.

Traveon Samuel, WR, Central-Phenix City: Accounted for 199 yards of total offense and two touchdowns in a 49-28 victory over Smiths Station. He rushed for 123 yards and a score and added 76 yards receiving, including a 53-yard touchdown catch on a momentum-swinging Hail Mary to end the first half.

Lee Seale, Wilcox Academy: Rushed for 190 yards and two TDs on 30 carries and returned the opening kickoff 85 yards for a score in a 27-14 victory over Clarke Prep.

Warren Shader, Oak Mountain: Completed 9 of 10 passes for 182 yards with two second quarter touchdowns in a 45-38 win. He also contributed 11 carries for 69 yards on the ground and another touchdown.

Micah Stephens, Locust Fork: Logged 12 carries to pile up 185 yards and three touchdowns (7, 52, 38 yards) in the Hornets' 49-13 win over Good Hope. He also caught a 48-yard touchdown pass

A.J. Travis, Northside: Rolled up for 223 yards and three TDs in a 27-21 victory over Sipsey Valley.

Kalen Whitlow, Northview: Threw for 384 yards and three touchdowns on 22-of-45 passing with two interceptions in a 28-21 loss to Park Crossing.

Chad Hunter Wyatt, Hillcrest-Tuscaloosa: Completed 19 of 24 passes for 221 yards and three TD passes, while also rushing for two more TDs in a 42-28 victory over Northridge.


DEFENSE/SPECIAL TEAMS

Quindaris Ausborn, Marengo: Had six tackles and three sacks in 30-0 victory over McIntosh.

Jansen Alexander, Sand Rock: Picked off two passes in a 15-8 loss to Sylvania.

Derrick Baer, Piedmont: Returned a blocked field goal attempt 75 yards for a touchdown in the Bulldogs' 48-8 win over Pleasant Valley.

Thomas Evans, Gaylesville: Recorded four tackles (two for lost yards), had a sack and blocked a punt in a 35-20 loss to Jacksonville Christian.

Hayden Hall, Marengo Academy: Had 12 tackles and a sack in 40-0 victory over Pickens Academy.

Chandler Holmes, Florala: Recorded 16 tackles and had two forced fumbles in the Wildcats' 35-21 loss to Brantley.

Logan Hurley, Gaylesville: Posted eight tackles and recorded a sack in a 35-20 loss to Jacksonville Christian.

Rictaveon Jones Holt Had 12 tackles in 49-21 loss to Oak Grove.

Deshon Kilpatrick, Sweet Water: Had two sacks, five tackles and a pass deflection in a 28-25 win over Leroy.

John Michael Lauderdale, Cleveland: Had 15 tackles, four for loss, in a 48-35 victory over Susan Moore.

Cody Martin, Section: Record 14 tackles in a 29-8 victory over Collinsville, while also rushing for 114 yards and one touchdown.

Alex Medina, Walker Registered 17 tackles and had the game-sealing interception in an 18-17 victory over Briarwood Christian.

Davantae Poole, Linden: Recorded eight tackles, including six tackles for loss and two sacks, in a victory over Ellwood Christian. He also caught a 36-yard touchdown pass.

Jonathan Robinson, St. James: Returned the opening kickoff 95 yards for a touchdown and ran eight times for 121 yards and two scores in a 44-8 victory at Headland.

Selmar Russell, Alabama Christian: Had five tackles, four sacks and scored on a 34-yard fumble return in a 62-20 loss to Greenville.

Pate Smith, G.W. Long: Recorded 11 tackles and blocked a punt that teammate Houston Smith returned 15 yards for a touchdown as the Rebels shut out Geneva County 42-0.



---
Great Moments in Alabama High School Football History

Hamilton shutout an amazing 14 consecutive opponents from 1928-1930. A atreak that will never be matched in modern football.