2014 Week 6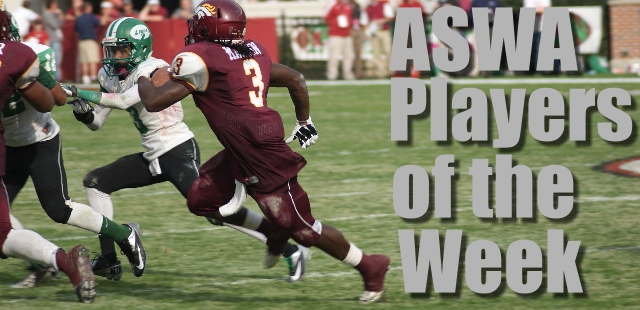 ASWA Players of the Week
---
North Jackson's Octavius Jackson did a little bit of everything in Friday's shootout victory over Scottsboro.

Matthews rolled up 340 all-purpose yards -- 176 rushing, 75 receiving and 89 in returns -- and scored five touchdowns in a 42-39 victory over Scottsboro. He scored three rushing touchdowns, one receiving touchdown and one on a kickoff return.

For his performance, he is this week's Alabama Sports Writers Association Offensive Player of the Week. The two finalists for the award are Chelsea's Zalon Reynolds and Oneonta's Zach Dimmock.

Reynolds rushed for 195 yards on seven carries and scored on TD runs of 10, 14 and 56 yards in a 64-35 victory over Helena. Dimmock completed 18 of 21 passes for 302 yards with two touchdowns and added a 7-yard TD run in a 33-26 victory over Susan Moore.

This week's ASWA Defensive/Special Teams Player of the Week is Minor's Maurice Smitherman. He opened a 50-43 road victory over Gardendale with a 99-yard kickoff return for a touchdown and later added two interceptions, two pass break-ups and six tackles.

Smitherman edged finalists Ashante Ralph of Enterprise and Gordo's Patrick Manning.

Ralph intercepted two passes, returning one for a touchdown, and had 11 tackles, and sack, and caused a fumble in a 48-27 win over Dothan. Manning returned a fumble 42 yards for a touchdown and later returned an interception 20 yards for another TD in a 34-7 victory over Sipsey Valley.

ASWA members from Andalusia, Anniston, Birmingham, Centre, Cullman, Dothan, Florence, Gadsden, Gardendale, Huntsville, Jasper, Mobile, Montgomery, Oneonta and Scottsboro submitted nominations this week.

Here are other notable performances from this past week:

Ethan Anderson, Alabama Christian: Caught seven passes for 132 yards, including touchdowns of 34 and 47 yards, in a 29-13 victory over Fultondale.

Kamaury Avery, Wadley: Rushed for 302 yards and six touchdowns in 42-39 win over Lafayette.

Trea Brooks, Enterprise: Caught seven passes for 222 yards and three touchdowns in a 48-27 win over Dothan. The TD passes came on plays of 55, 58 and 70 yards.

Cullin Carter, Lamar County: Ran for 185 yards and a 5-yard TD in a 29-10 victory over Sulligent.

Payton Carter, New Brockton: Rushed for 208 yards on 20 carries and accounted for all three scores -- rushing TDs of 75 and 49 yards and a 6-yard TD pass -- in a 22-7 win over Providence Christian. He was 2-of-3 passing for 52 yards.

Malik Cunningham, Park Crossing: Completed 15 of 24 passes for 326 yards and TD passes of 65, 75 and 34 yards in a 24-7 victory over St. James. He also added 56 yards rushing on 11 carries.

Jared Blackwell, Sand Rock: Ran for 158 yards on 27 carries and scored on TD runs of 7, 1, 7, and 5 yards. He also posted 4 1/2 tackles on defense in a 35-13 victory over Crossville.

DeKarlos Billingsley, Scottsboro: Ran for 333 yards on 29 carries and scored five touchdowns in a 42-39 loss to North Jackson.

Brady Binion, Mars Hill: Threw for 157 yards and two touchdowns and rushed for 96 yards and two scores to lead Mars Hill to a 34-0 win over Waterloo, the first varsity win in school history. Binion's touchdown passes went for 21 and 70 yards. His rushing TDs were 22 and 3 yards.

Camron Davis, Florence: Rushed for 162 yards and TDs runs of 2 and 50 yards on 16 carries in a 36-29 victory over Bob Jones.

Troy Dixon, UMS-Wright: Rushed for 225 yards and three touchdowns in a 43-10 victory over Bayside Academy.

Ty Evans, Calera: Finished 14-of-20 passing for 242 yards and four TDs and added 133 yards and another TD rushing on 15 carries a 47-6 victory over Shelby County.

Jacob Free, Brantley: 17-of-25 passing for 278 yards with touchdowns with TD passes of 55, 46 and 54 yards in a 48-21 victory over Highland Home.

Tre Gamble, Oxford: Rushed for 173 yards and four touchdowns in 35-14 win over Vestavia Hills and added 77 receiving yards and a score.

Keldric Greene, Sweet Water: Rushed for 211 yards, including a 73-yard touchdown, on 13 carries in a 49-24 victory over R.C. Hatch.

Reese Harbison, Good Hope: Caught six passes for 118 yards and a 75-yard touchdown in a 19-14 triumph at Curry.

Matt Harper, Hackleburg: Harper totaled 263 yards and accounted for four touchdowns — three passing and one rushing in a 45-22 victory over Brilliant. He also forced a fumble and had an interception on defense.

Drew Hudson, White Plains: completed 12 of 22 passes for 239 yards and three touchdowns in a 49-28 win over Pleasant Valley.

Juan Jackson, Gardendale: Scored five touchdowns -- on a 99-yard kickoff return, scoring runs of 16, 19 and 47 yards, and a TD catch in a 50-43 loss to Minor. He had seven catches for 124 yards and 67 yards rushing.

Conner Kiser, Haleyville: Rushed for 166 yards and two TDs on 11 carries and passed for 162 yards and two scores as Haleyville rallied past Central-Florence. Kiser scored on an 80-yard run and a 12-yard run. His TD passes were 27 and 18 yards.

Colton Knight, Rehobeth: Rushed for 268 yards on 17 carries with three touchdowns (61, 13, and 8) in a 35-7 win over Headland.

Drake Mercer, Satsuma: Caught touchdown passes of 3 and 26 yards, scored on a 3-yard run and returned an interception 96 yards for a score on the game's final play of a 41-21 victory over Citronelle.

Jared McClure, Good Hope: Tallied 194 rushing yards and a 13-yard, game-winning TD in the fourth quarter of a 19-14 road at Curry.

Denzel Mitchell, Hamilton: Rushed for 194 yards on 19 carries and scored the game-winning touchdown on a 78-yard run in a 38-31 victory over Winfield.

Kevin Mixon, Walter Wellborn: Rushed for 295 yards and scored five total touchdowns in 48-21 win over Moody.

Thomas Ozmint, Glencoe: Rushed 33 times for 255 yards and two touchdowns and caught a 30-yard TD pass in the Yellow Jackets' 42-14 victory over Hokes Bluff.

Luke Phillips, St. Luke's: Passed for 181 yards and two touchdowns, ran for 116 and two more scores and intercepted a Chickasaw pass in the end zone in a 44-32 win.

T.J. Reed, Daphne: Ran for 222 yards and a touchdown on 35 carries in an 18-17 loss to Murphy.

Kobe Smith, West Point: Ran for 150 yards and three touchdowns on 16 carries in a 47-6 road rout of Hanceville. He also caught a 17-yard screen pass for a score.

Zach Thomas, Hewitt-Trussville: Completed 10 of 17 passes for 205 yards, while also running 30 times for 130 yards and three TDs, in a 31-27 victory over Gadsden City.

Demetrice Vaughan, Blount: Ran 272 yards and four touchdowns on 33 carries in a 38-27 victory over McGill-Toolen.

Zacc Weldon, G.W. Long: Rushed for 258 yards and six touchdowns on 20 carries, powering G.W. Long to a 49-7 rout of Slocomb.

Miles Whitlow, James Clemens: Caught 16 passes for 195 yards and a score in a 29-26 win at Mountain Brook.

Rodney Young, West Morgan: Ran for 358 yards, and scored all five touchdowns in a 42-35 loss to Falkville.

DEFENSE/SPECIAL TEAMS

Garrett Daffron, Providence Christian: Was in 17 tackles, nine solos, four assists and four others for losses behind the scrimmage in a 22-7 loss to New Brockton.

Mason Friday, Billingsley: Scored on a 51-yard fumble return and recorded a team-high 12 tackles in a 42-0 win over Prattville Christian.

Hunter Grant, West End: Picked off a pair of passes, returning one 40 yards for a touchdown, in a 59-30 win over Coosa Christian, ending 15-game losing streak. He also passed for 124 yards and ran for 120 yards.

Austin Harris, Fairview: Blocked a punt and rushed for 135 yards and two scores on 21 carries in a 53-27 win over county-rival Holly Pond.

Caleb Jones, Holly Pond: Returned a fumble 70 yards to set up a TD in a 53-27 loss to Fairview. He also scored three rushing TDs.

Darian Jones, Brantley: Returned two punts for touchdowns, covering 62 and 54 yards, and caught a 55-yard touchdown pass in a 48-21 victory at Highland Home.

Harrison Jordan, Northview: Was in on 17 tackles, 10 solos, in helping the Cougars earn a school-record second straight shutout during a 14-0 win over Lee-Montgomery.

Austin Kitterman, Russellville: Recorded two interceptions and several pass break-ups in 42-24 victory over Sparkman.

Alex Medina, Walker: Registered 12 tackles and forced one of eight Madison County turnovers in a 52-6 win.

Marcus Mitchell, Central-Hayneville: Had a 60-yard interception return for a touchdown and scored on runs of 45, 10 and 5 yards in a 34-14 win over Autaugaville, just the Lions' second victory since 2007.

Austin Moore, Cold Springs: Had the game-sealing interception in the final minutes of the fourth quarter, as well as 49 rushing yards and a touchdown, in a 21-15 win over Class 3A Vinemont.

Wyatt Moore, New Brockton: Was in on 17 tackles in a 22-7 win over Providence Christian.

Tyler Phillips, Goshen: Was in on 18 tackles, including 14 solos, in a 13-6 win over Houston Academy.

Thomas Rudolph, Oxford: Intercepted two passes in 35-14 win over Vestavia Hills.

Braxton Sellers, Mary G. Montgomery: Intercepted two passes, returning one for a touchdown, in a 42-28 victory over Baldwin County.

Jamarquise Singleton, Greensboro: Returned an interception 87 yards for a TD and added TD runs of 3 and 2 yards in 32-6 victory over Sumter Central.

Tristan Stalker, Gaylesville: Posted 12 total tackles, including two for lost yardage, in the Trojans' 35-6 loss at Gaston.

John Trousdale, Lauderdale County: Returned two punts for touchdowns as Lauderdale County beat Brooks 56-7. Trousdale's punt returns were 51 and 44 yards.

Kendrall Walker, Central-Tuscaloosa: Intercepted two passes and caught a TD pass in a 40-37 victory over Paul Bryant.

Troy Young, Mobile Christian: Returned a kickoff 82 yards for a TD and intercepted a pass in a 48-27 victory over Cottage Hill Christian. He also threw two TD passes and added a rushing TD.


---
Great Moments in Alabama High School Football History

From 1947 until his retirement in 1992 Glenn Daniel's teams won 302 games at Pine Hill and Luverne. He was the winningest coach in state history until 2010.