2014 Week 5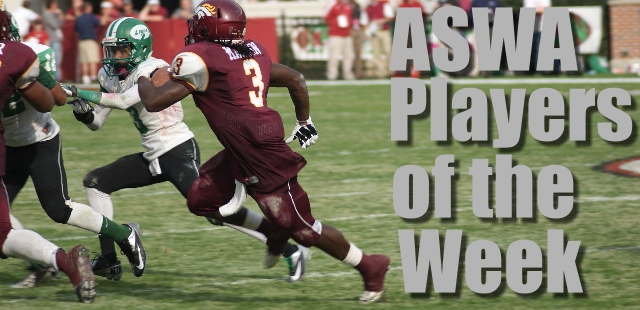 ASWA Players of the Week
---
Coosa Christian's Johnny Grizzard made sure the Conquerors earned their first victory of the season.

Grizzard accounted more than 400 yards and eight touchdowns -- six passing, one rushing and one on an interception return -- in Friday's 60-28 victory over Woodville. He completed 15 of 23 passes for 364 yards and six touchdowns, rushed six times for 83 yards and a touchdown, and returned an interception 85 yards for a score.

For his performance, Grizzard is this week's Alabama Sports Writers Association Offensive Player of the Week. The other two finalists -- Tallasee's Brandon Baynes and Edgewood Academy's Josh Crawford -- also had huge performances.

Baynes rushed for 380 yards and touchdown runs of 57, 68, 65 and 71 yards in a 31-16 victory over Clay-Central. Crawford touched the ball four times and scored four touchdowns -- TD runs of 84, 60 and 7 yards and a 60-yard touchdown reception – in a 69-14 victory over Morgan Academy.

This week's ASWA Defense/Special Teams Player of the Week is Carver-Montgomery's Cedric Barnes, who intercepted four passes and returned two four touchdowns in a 51-21 victory over Stanhope Elmore. His touchdown returns covered 70 and 42 yards.

The Defense/Special Teams finalists are Wilson's Jason Futrell and Decatur's Francisco Tirado. Wilson a punt 75 yards for a TD and returned a kickoff 85 yards for a TD in a 55-14 victory over Brooks, while also rushing for 151 yards and three touchdowns.

Tirado kicked two field goals in the fourth quarter, including the game-winner from 32 yards out as time expired, in a 20-17 victory over Hartselle.


ASWA members from Alexander City, Birmingham, Centre, Cullman, Dothan, Florence, Gadsden, Huntsville, Jasper, Mobile, Montgomery, Oneonta and Wetumpka submitted nominations this week.


Check out other notable performances from last week's action:

OFFENSE

Maceo Booker, James Clemens: Carried 27 times for 179 yards and two touchdowns, and caught five passes for 61 yards and another score in a 19-16 win at Buckhorn.

Cole Butler, Cottage Hill Christian: Threw for 318 yards and three touchdowns in a 38-34 loss to Excel.

Zach Dimmock, Oneonta: Completed 15 of 18 passes for 267 yards with four touchdowns (59, 79, 9, 34) and an interception in a 35-26 victory over Locust Fork. He also rushed for 32 yards and a touchdown on six carries.

Mason Edwards, Sparkman: Completed 21 of 28 passes for 358 yards and two touchdowns in a 25-24 loss to Huntsville.

Blake Estes, Curry: Rushed for 222 yards and a pair of touchdowns on 31 carries in a 56-26 loss to Haleyville. Estes had touchdown runs of 35 and 1 yards.

Daijon Flowers, Enterprise: Rushed for 208 yards and three touchdowns (8, 52 and 17) on 26 carries in a 38-21 victory over Auburn.

Nick Gibson, Pinson Valley: Carried 28 times for 156 yards and TD runs of 1, 3 and 60 yards in a 45-35 loss to Clay-Chalkville. He also caught three passes for 36 yards, including a 10-yard TD reception.

Peyton Gilliland, Cleveland: Rushed for 302 yards and three touchdowns (76, 33, 50) on 14 carries in a 49-20 win over Collinsville. He also completed 8 of 17 passing for 91 yards with a touchdown and an interception.

Brennan Hartley, Oakman: Totaled 333 yards of offense and five touchdowns in a 35-14 victory over Winston County. Hartley completed 11 of 21 passes for 251 yards and five scores. He had touchdown passes of 14, 54, 20, 77 and 45 yards while also rushing 17 times for 82 yards.

Brandon Heck, Lynn: Rushed for 209 yards and two touchdowns on 22 carries and also caught two passes for 43 yards in a 56-32 loss to Marion County.

DeAnthony Holcombe, Washington County: Ran 18 times for 209 yards and touchdown runs of 15, 66 and 31 yards in 39-0 victory over Sweet Water.

Hayden Huckabee, Marengo Academy: Scored on TD runs of 49, 70 and 41 yards while amassing 172 yards rushing on four carries. Also went 2-of-3 passing for 104 yards and a 66-yard TD.

Grey Jackson, Fairhope: Threw for 281 yards and four TDs and ran for 69 yards in a 49-21 victory over Baker.

Conner Kiser, Haleyville: Threw five touchdown passes as Haleyville beat Curry 56-26. Kiser, who was 12 of 17 for 258 yards, threw touchdown passes of 42, 19 33, 45 and 17 yards.

James Leatherwood, LeFlore: Rushed for 277 yards and three touchdowns on 30 carries in a 34-30 loss to Baldwin County.

Isaiah Lewis, Foley: Carried 45 times for 314 yards and three touchdowns as the Lions outlasted Davidson 27-21.

Isiah Long, Dothan: Rushed for 219 yards and three touchdowns (11, 65 and 57) on 23 carries in a 28-9 victory over Wetumpka.

Jace Mills, Coosa Central: Caught seven passes for 117 yards and three TDs in a 60-28 victory over Woodville.

Thomas Ozmint, Glencoe: Rushed for 193 yards and two TDs in a 31-28 victory over Piedmont.

T.J. Reed, Daphne: Ran for 185 yards and scored two touchdowns on nine in a 43-6 victory over Citronelle.

Nic Rollo, Cold Springs: Racked up 172 rushing yards and three touchdowns (7, 13 and 48 yards) on 23 carries in a 47-12 victory over Falkville.

Paul Ruiz, Etowah: Rushed 17 times for 292 yards and five touchdowns in a 40-20 victory over Fairview.

CJ Savage, Piedmont: Caught seven passes for 191 yards, including a 97-yard touchdown. He also ran for a 40-yard touchdown in a 31-28 loss to Glencoe.

Lee Seale, Wilcox Academy: Ran for 181 yards and five touchdowns in a 40-21 victory over Fort Dale Academy.

Ariko Stewart, Reeltown: Amassed 211 total yards of offense, with 152 rushing, and scored two touchdowns in a 40-7 victory over Horseshoe Bend.

Austin Stiefel, Fyffe: Rushed for 215 yards on 18 carries and scored on runs TD runs of 46, 31, 4 and 2 in a 56-7 victory over Ider.

Jarrion Street, Hewitt-Trussville: Had 24 carries for 238 yards and five rushing touchdowns in a 64-63, four-overtime victory over Spain Park. He also caught a 20-yard touchdown pass.

A.J. Travis, Northside: Ran 22 times for 353 yards, with TD runs of 11, 19, 70, 46 and 8 yards in a 55-27 victory over Holt.

Shakeith Tyes, Calera: Piled up 206 yards on nine carries and three touchdowns in a 63-15 victory over Jemison. He also caught a 55-yard touchdown pass and added an 82-yard kickoff return.

Luke Wall, Oneonta: Caught five passes for 194 yards and three touchdowns (59, 79, 34) in a 35-26 victory over Locust Fork.

Keith Washington, Prattville: Rushed 22 times for 185 yards and three touchdowns and completed 5-of-11 passes for 121 yards and two TDs in a 42-34 loss to Central-Phenix City.

Kalen Whitlow, Northview: Completed 14-of-15 passes for 274 yards and three touchdowns and added a touchdown rushing in a 62-0 victory over Russell County.

Cameron Williams, Vigor: Threw for 180 yards and ran for 160 more as the Wolves knocked off B.C. Rain 20-7. He completed a 56-yard touchdown pass.

Lashawn Williams, Chickasaw: Caught eight passes for 180 yards and a touchdown in a 26-24 loss to J.U. Blacksher.

DEFENSE/SPECIAL TEAMS

Lewis Anderson, A.L. Johnson: Finished with 11 tackles and a blocked punt in a 42-22 victory over Sunshine. Tim Bonner, Demopolis: Tallied 12 tackles and three pass deflections in 48-31 victory over Helena.

Brendan Bray, Cherokee County: Picked off two passes in a 22-7 loss to Jacksonville.

Christian Crandall, Cold Springs: Returned a kickoff 82 yards for a touchdown to put the Eagles up for good in a 47-12 victory over Falkville. He also ran for 72 yards and a score on 11 carries.

Ja'Marcus Davison, Calhoun: Returned a kickoff 80 yards for a touchdown and scored on runs of 20 and 2 yards in a 42-18 loss at Goshen.

Takoreyon Edwards, Reeltown: Recovered a blocked punt for a touchdown and intercepted a pass in a 40-7 victory over Horseshoe Bend.

Zach Gregson, Clarke Prep: Intercepted a pass on a two-point conversion with 1:18 to play to preserve a 41-40 victory over Patrician. He also ran for 142 yards and three TDs.

Tyler Gurley, Madison County: Returned an interception 31 yards for a TD in a 42-14 victory over Boaz. He also completed 12 of 17 passes for 139 yards and a touchdown and scored on 5-yard run.

Logan Hurley, Gaylesville: Posted nine tackles and a sack in a 18-0 loss at Valley Head.

Justin Patterson, Cullman: Had 11 tackles, two sacks, a forced fumble and a fumble recovery in a 13-7 victory at Austin. Also ran in a 2-yard touchdown on offense.

Devin Marlin, Addison: Made a diving interception in a 13-0 shutout at Hanceville. He also caught a 13-yard touchdown on fourth-and-goal and finished with 44 yards on three receptions -- two on fourth-down conversions.

Jake Mintz, Cedar Bluff: Had eight tackles, a sack and a 65-yard interception return for a touchdown in a victory over Jacksonville Christian.

Connor Moon, Cullman: Tallied 17 tackles, including four for loss, in a 13-7 victory at Austin.

Dylan Segler, Providence Christian: Was on 12 tackles and caused and recovered a fumble in a 42-12 victory over Samson. He also ran for 112 yards and scored three touchdowns.

Tyler Smith, Slocomb: Recorded 12 tackles, including one sack, and a fumble recovery, in a 14-0 victory over Daleville.

Quinton Smith, Washington County: Tallied 13 total tackles and scored on a 55-yard touchdown reception in a 39-0 victory over Sweet Water.

Nick Thorn, Red Bay: Returned two kickoffs for touchdowns and caught two touchdown passes in a 69-13 rout of Phil Campbell. Thorn's kickoff returns were 81 and 87 yards. His TD catches were 37 and 18 yards.

Harper Ward, Athens: Kicked a 35-yard field goal with 1.1 seconds to play, lifting Athens to a 17-14 victory over Muscle Shoals.

Davonta Williams, Ashford: Returned a fumble 24 yards for a touchdown and an interception 34 yards for a touchdown in a 55-6 over Montgomery Catholic.
---
Great Moments in Alabama High School Football History

Clay County shutout an amazing eleven opponents in 1996. The Panthers outscored their opponents 613-42 finishing the season 15-0.