2014 Week 4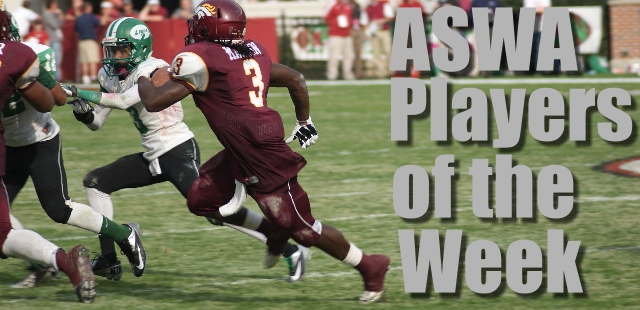 ASWA Players of the Week
---
Baker running back Tre McMillian isn't the biggest player on the field, but he had the state's biggest performance last week.

McMillian, a 5-foot-6, 167-pound sophomore, rolled up 313 yards on 14 carries, scoring on runs of 79, 36, 78 and 55 yards and a caught 38-yard screen pass for a fifth touchdown, to lead Baker to a 41-31 victory over McGill-Toolen. His 78-yard run gave the Hornets the lead for good at 34-31 with 4:59 remaining, as the Hornets improved to 4-0 for the first time since 1984.

For his performance, McMillian is this week's Alabama Sports Writers Association Offensive Player of the Week.

"We just came out in the second half with a different mindset," McMillian told AL.com after the game. "We came out to dominate. We just couldn't lose to McGill. We couldn't."

The finalists for the weekly offensive award are Shades Valley quarterback RaShad Louie and Woodville's Jose Montesdeoca.

Louie ran 11 times for 200 yards and two scores, while also completing 20 of 34 passes for 222 yards and three TDs, in a 39-21 victory on the road against Acadiana (La.) on Saturday night

Montesdeoca accounted for 290 yards and six touchdowns in Woodville's 41-26 victory over Vina. He ran five times for 162 yards and three touchdowns and caught four passes for 128 yards and three TDs. He also had a two-point conversion and kicked an extra point.

This week's ASWA Defense/Special Teams Player of the Week is Madison Academy's Kerryon Johnson, who blocked two punts, scored on 47-yard run off a fake punt and recovered a fumble in a 57-7 victory over Sheffield.

The two Defense/Special Teams finalists are Opelika's Roy Yancey and Escambia Academy's Tim Finklea. Yancey recorded 21 tackles, with two sacks and two fumble recoveries, in a 53-0 victory over Pell City, and Finklea returned kickoffs 94 and 78 yards for touchdowns in a victory over Fort Dale Academy.

ASWA members from Birmingham, Boaz, Brewton, Centre, Cullman, Decatur, Demopolis, Dothan, Florence, Gadsden, Hartselle, Huntsville, Jasper, Mobile, Montgomery, Oneonta, Selma and Tuscaloosa contributed nominees this week.


---

Other notable performances from Week 3:

OFFENSE

Brandon Baynes, Tallassee: Had 13 carries for 190 yards and two TDs in a 42-14 win against Shelby County.

Deandre Bibb, Sidney Lanier: Had 26 carries for 233 yards and three fourth-quarter touchdowns in a 22-18 loss at Rehobeth. Ran 10 times for 134 yards in the final period.

Labrijian Bloodsaw, Daleville: Rushed for 216 yards and three touchdowns in a 35-20 victory over Wicksburg.

Brandon Butts, J.B. Pennington: Completed 17 of 29 passes for 306 yards, with TD passes of 4, 45, 52, 15 yards and rushed for 124 yards and two TDs (5, 4) in a 52-38 victory over DAR. On defense, he had four tackles and an interception.

Ahmad DeRamus, Gadsden City: Passed for 275 yards and four touchdowns on 12 of 15 passing in a 48-14 victory over Grissom.

John Michael Dye, Vinemont: Cranked out 262 rushing yards and six touchdowns on 12 carries in a 45-20 victory over Hanceville. Scored from 60 yards out on the game's first play from scrimmage and added TD totes of 20, 42, 50, 4 and 62 yards.

Shawn Fife, Cedar Bluff: Tallied 185 yards on 19 carries and scored three touchdowns (19, 24, 6 yards) in a 41-13 victory over Valley Head.

Tyus Flakes, Auburn: Rushed for 192 yards and three touchdowns in a 51-14 victory over Jeff Davis.

Kyle Harrell, Calera: Had eight rushing attempts for 218 yards and touchdowns that covered 20, 60 and 63 yards in a 43-14 victory over Central-Tuscaloosa.

Matt Harper, Hackleburg: Rushed for 328 yards and threw for 53 to total four touchdowns in a 58-34 win over Phillips.

Devin Harris, Saks: Rushed for 205 yards and five touchdowns on 12 carries in a 38-16 victory over Cherokee County.

Jamarius Henderson, Dale County: Earned 241 yards and three TDs, including 183 yards and two scores in the second half, in a 26-0 victory over Pike County.

Eric Jenkins, Sweet Water: Gained 182 yards on 11 carries with three touchdowns in a 46-14 win over Mobile Christian. Jenkins also had 50 yards receiving on just two catches.

Jones Manning, T.R. Miller: Finished 9-for-9 passing for 191 yards and TD passes of 43 yards and 18 in a 55-14 victory over Cottage Hill Christian. He also had 26 yards on six carries and had a score of 17 yards.

Jalyn Martin, Collinsville: Rushed for 182 yards on 17 carries and accounted for three Panther scores, including the game-clinching 25-yard run with 46.5 seconds to go, in a 28-14 victory over Holly Pond. Martin also had an 8-yard touchdown catch.

Ostin McPherson, St. Paul's: Ran for 180 yards on 25 carries in a 34-14 victory over Jackson.

Lamical Perine, Theodore: Carried 35 times for 180 yards and scored both of the Bobcats' TDs on runs of 2 and 14 yards as Theodore edged Davidson 14-7.

Tyrell Pigrome, Clay-Chalkville: Completed 7 of 11 passes for 239 yards for three touchdowns and no interception and added seven carries for 75 yards and another two scores in a 65-14 victory against Huffman.

Ramsey Rigby, Elba: Completed 26-of-30 passes for 334 yards and five touchdowns in a 54-0 win over Central Hayneville.

Paul Ruiz, Etowah: Rushed 26 times for 230 yards and three touchdowns and caught another touchdown in a 37-23 victory over Randolph.

Jalante Smith, Charles Henderson: Caught nine passes for 167 yards and a touchdown in a 19-16 loss to Greenville.

Thomas Stokes Jr., Catholic: Carried 15 times for 185 yards, including a 99-yard touchdown, in a 21-14 loss to St. James.

Derek Thompson, Piedmont: Rushed for 197 yards on 10 carries and scored two touchdowns (15, 58 yards) in a 49-12 victory over Ohatchee.

Aleric Williams, Southside-Gadsden: Gained 135 yards on 17 carries with a touchdown and caught a 54-yard touchdown pass as Southside upended Arab 41-13.

Defense/Special Teams

Stone Collins, Wicksburg: Was in on 16 tackles, 13 solos, and also two catches for 35 yards and a touchdown in a 35-20 loss to Daleville.

Rahmeel Cook, Demopolis: Had 13 tackles and two sacks in 49-6 rout of Jemison.

Albert Douglas, Gaston: Recorded two interceptions, returning one returned for a touchdown, in a 21-12 victory over Ider.

Zack Ellison, Sand Rock: Returned a punt 65 yards for a score in a 56-22 victory over North Sand Mountain.

Levi Hammack, Addison: Recovered two fumbles, including one for a touchdown, and added a pair of tackles for loss in a 42-7 victory over Falkville.

Brontae Harris, Cullman: Returned a kickoff 96 yards for a in a 28-14 loss to Florence.

Keith Johnson, Edgewood: Made 13 tackles, intercepted a pass and blocked a punt in a 69-6 win over Evangel Christian.

Maurice Mayo, Homewood: Intercepted two passes on defense, including one he returned 82 yards for a touchdown, and hauled in a 34-yard touchdown catch in a in a 28-6 victory over Briarwood Christian.

Daryian Morris, Geneva: Had 16 tackles in a 29-27 victory over Hillcrest-Evergreen.

Jordyn Peters, Muscle Shoals: Intercepted a pass and returned it 40 yards for the go-ahead touchdown in the fourth quarter in a 45-28 victory over Austin.

Kobe Smith, West Point: Returned the second-half kickoff 76 yards for a touchdown and caught a 58-yard scoring pass in a 31-6 road win over Ardmore.

K.J. Traywick, UMS-Wright: Had nine tackles and two sacks in a 31-6 victory over Clarke County.

Sylvaughn Turner, East Limestone: Had an interception, set up a TD with a 56-yard catch on a fake punt and caught 46-yard TD in a 33-14 victory over J.O. Johnson.

Aaron Zawacki, Buckhorn: Had two of the Bucks' four interceptions in a 42-6 victory over Huntsville.

Josh Bean

Managing Producer, HSSN Supervisor AL.COM



---
Great Moments in Alabama High School Football History

The Tuscaloosa Black Bears were considered one of the best programs in the nation from 1925-1931. Their record over that span was an amazing 61-0-3.