2014 Week 3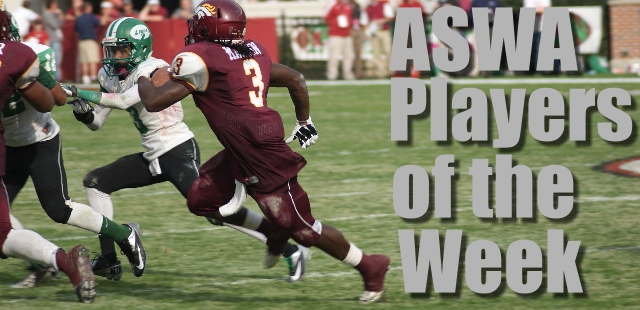 ASWA Players of the Week
---
Talladega had no answer for Tallassee running back Brandon Baynes.

Baynes rolled up more than 400 all-purpose yards, rushing for 383 yards and TD runs of 70, 34 and 88 yards and also returned a kickoff 85 yards for a touchdown in a 40-6 victory over Talladega.

For his performance, Baynes is this week's Alabama Sports Writers Association Offensive Player of the Week.

Baynes edged past two finalists for the award -- Fayette County's Kyle Nalls and Homewood quarterback Carson Griffis. Nalls ran for 300 yards and two touchdowns on 24 carries in a 27-20 victory over Hamilton, and Griffies logged 26 carries for 271 yards and two scores and completed 11 of 13 passes for 97 yards and another TD in a 37-30 win at Pelham.

Eufaula's Thomas Espy is this week's ASWA Defense/Special Teams Player of the Week is Eufaula's Thomas Espy. Espy had three interceptions, returning one for a touchdown, with another interception in the final minute to seal a 19-12 win over Sidney Lanier. He also had tackle for a safety, kicked a 35-yard field goal, made seven tackles, and was 2-for-2 on extra-point kicks.

The finalists for the Defense/Special Teams aware are Hokes Bluff's Phillip Ward and Walker's Isiah Cox.

Ward returned two punts for touchdowns, 77 yards and 55 yards, on consecutive second-half kicks in a 35-7 victory over White Plains. Ward also returned an interception 52 yards to set up his team's final touchdown.

Cox scored on kickoff returns of 75 and 65 yards and ran back a punt 76 yards for a touchdown in a a 64-14 victory over John Carroll. On offense, he added a 17-yard touchdown run,

ASWA members from Birmingham, Boaz, Brewton, Centre, Cullman, Decatur, Demopolis, Dothan, Florence, Gadsden, Hartselle, Huntsville, Jasper, Mobile, Montgomery, Oneonta, Selma and Tuscaloosa contributed nominees this week.


---

Other notable performances from Week 3:

Evans Allison, Randolph: Rushed for 281 yards and four touchdowns on 16 carries, including a 73-yard TD run.

Ki Babbs, Dora: Rushed for 218 yards and four touchdowns on 19 carries in a 49-35 victory over Carver-Birmingham. His TD runs covered 28, 33, 5 and 37 yards.

Maceo Booker, James Clemens: Ran for 204 yards on 32 carries, with scoring runs 1, 2 and 3 yards in a 28-21 loss to Class 7A No. 1-ranked Bob Jones.

Owen Carr, Spain Park: Caught five passes for 183 yards and two touchdowns in a 52-28 win against Thompson.

Peyton Carter, New Brockton: Accounted for 249 yards and five touchdowns in a 60-14 win over New Brockton. Carter rushed for three touchdowns (34, 19, 9) and had 139 yards on eight carries and was 4-of-6 passing for 110 yards and TD passes of 37 and 26 yards.

McHenry Coleman, T.R. Miller: Ran for 261 yards and three touchdowns on 26 carries in a 34-23 victory over No. 9 Bayside Academy He scored on runs of 80, 70 and 4.

Marcus Davis, Geraldine: Rushed 26 times for 226 yards and three TDs (1, 5, 26 yards) in a 21-7 victory over New Hope.

Mason Duke, Spain Park: Threw for 406 yards and four touchdowns in a 52-28 win against Thompson.

Tye Dunklin, Gardendale: Finished with 201 yards on 24 carries, scored three touchdowns on the ground and added another score on a pass reception in a 73-41 victory over Huffman.

John Michael Dye, Vinemont: Ran for 257 rushing yards and two touchdowns on 29 carries in a 45-26 victory over Danville.

Nick Gibson, Pinson Valley: Carried 14 times for 199 yards and three touchdowns and returned a kickoff back 80 yards for another score in a 48-0 victory over Woodlawn.

Eric Graham, Autauga Academy: Carried 14 times for 240 yards and two touchdowns in a 47-7 win at Fort Dale Academy.

Jackson Griffin, Geneva: Carried 32 times for 204 yards and two touchdowns in a 33-6 win over Cottage Hill Christian.

Blake Hawkins, Florence: Florence quarterback was 20 for 28 for 225 yards and four TDs as Florence beat Muscle Shoals 39-20 in a battle of Top 10 teams in Class 6A. Hawkins threw touchdown passes of 27, 7, 69 and 34 yards.

Jamarius Henderson, Dale County: Rushed for 260 yards and four touchdowns on 33 carries and with one reception for 10 yards on offense and was in 12 tackles (6 solos, 6 assists), including three for losses, on defense.

DeAnthony Holcomb, Washington County: Ran for 315 yards on 27 carries and scored on runs of 26, 12 and 5 yards in a 51-27 win over Flomaton.

Terence Humphrey, Columbia: Turned 35 carries into 228 rushing yards and a pair of touchdowns in a 42-14 loss to West Point. He scored on runs of 17 and 73 yards and accounted for all but 24 of the Eagles' total yards.

Ben Ivey, Spring Garden: Accounted for three touchdowns, including the game-winning 26-yard touchdown pass to Kyle Reece with 14 seconds to go in the third quarter, in a 21-20 victory at No. 7 Cedar Bluff. His other touchdowns were on runs of 1 and 21 yards.

Ger'kerry Jackson, Jeff Davis: Ran for 245 yards, including an 81-yard touchdown, in a 38-28 win over Enterprise.

Dave Kirksey, Fairhope: Rushed for 199 yards - including 99 yards and a touchdown in the third quarter - as the Pirates knocked off No. 3 McGill-Toolen 28-14.

Colton Knight, Rehobeth: Rushed for 254 yards and had a 3-yard touchdown run in a 38-21 victory over Alabama Christian.

Drake Lauderdale, Wilcox Academy: Accounted for four touchdowns and 300 yards in a 54-12 win over Lowndes Academy. He carried five times for 159 yards, including touchdown runs of 46 and 57 yards, and completed 6 of 7 passes for 141 yards and two TDs.

Xavier McCollum, Winfield: Rushed for 196 yards on 17 carries and four touchdowns in a 35-7 victroy over Susan Moore.

Ostin McPherson, St. Paul's: Rushed for 191 yards and two touchdowns as Class 5A No. 1 St. Paul's spoiled B.C. Rain's return to Trimmier Park with a 49-20 win.

Dylan McQueen, Scottsboro: Caught touchdown passes of 60, 50 and 40 yards to in a 33-14 victory over Brewer. He finished with five catches for 168 yards.

Stephen Murphy, Murphy: Rushed for 177 yards on 22 carries and scored the clinching touchdown with 2:50 remaining as the Panthers beat Mary G. Montgomery 22-14.

Zac Oden, Montevallo: Completed 15 of his 21 passes for 310 yards and five touchdowns in a 52-28 win against Oak Grove. He threw four of those scoring strikes in the first half from 11, 11, 19 and 41 yards.

Thomas Ozmint, Glencoe: Finished with 338 all-purpose yards in a 27-26 win over Walter Wellborn. Ozmint rushed 19 times for 177 yards and a touchdown, caught two passes for 70 yards and returned four kickoffs for 89 yards.

Tyrell Pigrome, Clay-Chalkville: Accounted for four touchdowns in a 48-26 victory against Hillcrest-Tuscaloosa. He completed 10 of his 14 passes for 147 yards and three scores and added 83 yards and another touchdown on the ground.

T.J. Reed, Daphne: Ran for 245 yards on 38 carries, including 130 yards after the half, as the Trojans rallied to beat Blount 31-25. His 6-yard TD run in overtime proved to be the winner.

Desmond Richards, Lakeside Academy: Rushed for 203 yards and four touchdowns -- all in the first half -- of a 48-27 win over Ashford Academy.

Tyler Sheehan, Macon-East: Ran for 343 yards on 32 carries with touchdowns of 52, 50, 4 and 14 yards in a 34-24 win at Springwood. Also threw a 27-yard touchdown pass.

Zach Simbeck, Lauderdale County: Simbeck rushed for 200 yards and two touchdowns as Lauderdale County beat No. 5 Colbert County 26-7. Simbeck scored second-half touchdown on runs of 7 and 29 yards.

J'miere Solomon, Ellwood Christian: Caught three touchdown passes for 132 receiving yards and intercepted two passes in the Eagles' 33-20 victory over Akron.

Valandin Spencer, Fairfield: Carried 20 times for 237 yards and four touchdowns in a 35-13 win against Corner.



DEFENSE/SPECIAL TEAMS

Noah Ard, Cordova: Returned a fumble 18 yards for a TD and intercepted a pass in a 50-16 victory over Curry. He also caught two TDs and scored four TDs.

Marvin Betancourt, Russellville: Betancourt kicked the go-ahead, 25-yard field goal with 5 seconds to play and then recovered the ensuing squib kick to preserve Russellville's 26-25 victory over J.O. Johnson. Betancourt's game-winning field goal came from 25 yards.

Dakota Burks, Holly Pond: Returned an interception 75 yards for a touchdown and caught a scoring pass in a 60-26 loss at Oakman.

Kennon Casey, G.W. Long: Intercepted two passes, returning one 48 yards for a touchdown in a 43-21 win over Cottonwood. Casey also had five tackles, all solos.

Garrett Daffron, Providence Christian: Was in on 17 tackles, 14 solos and three assists in the Eagles' 28-6 win over Houston County.

Travares Hall, Demopolis: Forced a fumble on punt coverage and recovered the loose ball in a 33-19 victory over Calera.

Eric Jenkins, Sweet Water: Returned a kickoff 81 yards for a TD, while also rushing for 147 yards on 16 carries and scoring four TDs in a 40-14 victory over St. Luke's.

Thomas Johnston, Spanish Fort: Intercepted two passes and finished with eight tackles as the Toros ran their win streak to 27 with a 38-7 victory over Davidson.

Andrew McLarty, Spring Garden: Kicked a 33-yard field goal with 2.2 seconds left in the first half. He also posted six tackles on defense in the Panthers' 21-20 win at Cedar Bluff.

Shade Pritchett, Marengo Academy: Scored on a 72-yard punt return on a night in which he tallied 112 yards from scrimmage and also notched a 22-yard rushing touchdown.

Tyler Renfrow, Vina: Had six tackles and two interceptions as Vina snapped a 23-game losing streak with a 40-6 win over Waterloo. He also threw TD passes of 40 and 45 yards.

Josh Sarratt, Sand Rock: Connected on a 25-yard field goal with 8:33 remaining in the fourth quarter, providing the winning points in a 10-8 victory over Brindlee Mountain.

CJ Savage, Piedmont: Returned a punt 68 yards for a TD and caught 48-yard TD pass in am 46-6 victory at Ashville.

A.J. Smoot, Dora: Recorded four sacks, broke up three passes and forced two fumbles in the Bulldogs' 49-35 win over Carver-Birmingham.

Christon Taylor, Oak Mountain: Had 10 solo stops among 16 total tackles and added an interception.

David Tietge, Westminster Christian: Booted three field goals in a 29-24 win over Good Hope.



Josh Bean

Managing Producer, HSSN Supervisor AL.COM



---
Great Moments in Alabama High School Football History

The first football game played by a high school team in Alabama was in 1892 when Central Birmingham (Phillips) lost to Alabama 56-0 on November 11.