2014 Week 2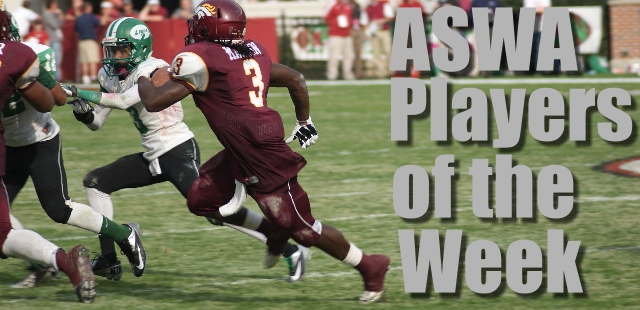 ASWA Players of the Week
---
Sardis' Jesse Hubbard kept taking things away from Sylvania on Friday, helping the Lions take the victory.

Hubbard intercepted four passes, with the fourth his own end zone in the final minute, and added 14 solo tackles in a 21-16 victory over Sylvania. For his performance, he is this week's Alabama Sports Writers Association Defense/Special Teams Player of the Week. His four interceptions is one shy of the AHSAA single-game record.

The two other finalists for the Defense/Special Teams award -- Cleveland's Brett Erwin and West Point's Will Wrenn -- also enjoyed success in the takeaway department.

Erwin had a pair of fumble recoveries and an interception in a 37-20 victory over Pisgah. He also had seven tackles and a pass break-up. Wrenn intercepted two passes in a 31-0 road victory over Hayden.

This week's ASWA Offensive Player of the Week is Jackson quarterback Demarcus Williams. He accounted for five touchdowns -- two passing and three rushing -- to lead the Aggies to a 34-24 victory over Clarke County. Williams' 14-yard touchdown run in the opening minute of the fourth quarter put Jackson ahead to stay and finished with more than 400 yards of total offense -- 311 passing and 70 rushing.

The two finalists for the Offensive award are Good Hope's Riley Eisner and UMS-Wright's Troy Dixon.

Eisner completed 34 of 64 passes for 403 yards, five touchdowns (43, 11, 11, 58, 14) and three interceptions in a 48-41 loss at Cordova. The sophomore's 64 attempts ranks third in AHSAA single-game history, according to the AHSAA's online record book, while his 34 completions is tied for fifth all-time.

Dixon rushed for five touchdowns, including TD runs of 96 and 54 yards, in a 47-17 victory over Andalusia. He finished with 246 yards on 24 carries.

ASWA members from Alexander City, Andalusia, Boaz, Centre, Cullman, Decatur, Demopolis, Dothan, Florence, Gadsden, Huntsville, Mobile, Montgomery, Oneonta, Scottsboro and Tuscaloosa contributed nominees this week.

Check out other notable performances from last week's high school football action:

OFFENSE

Nick Baker, Woodville: Threw for three touchdowns and ran for another to help Woodville snap a 37-game losing streak with a 52-12 victory over Waterloo.

Edwin Colley, Providence Christian: Rushed for 194 yards and four touchdowns and added two kick returns for 44 yards in a 51-27 win over Zion Chapel.

Will Crenshaw, Cullman: Compiled 166 rushing yards and a touchdown on 24 carries, as well as 20 receiving yards on three catches, in a 35-8 victory over Etowah.

Tim Finklea, Escambia Academy: Had 174 yards rushing on 17 carries, including the go-ahead 3-yard TD run and two-point conversion with about four and half minutes to play, in a 21-20 victory at Autauga Academy.

Peyton Gilliland, Cleveland: Rushed 17 times for 221 yards and two touchdowns (73, 18) and completed 6 of 12 passing for 170 yards with three touchdowns and an interception in a 37-20 victory over Pisgah.

Reese Harbison, Good Hope: Caught 16 passes for 199 yards and two TDs (43, 14) in a wild 48-41 defeat to Cordova.

Justin Henderson, Cottage Hill Christian: Accounted for 183 all-purpose yards, including a 90-yard kickoff return to open the second half, and three touchdowns in a 49-38 victory over Chickasaw.

Grey Jackson, Fairhope: Totaled six touchdowns -- four passing and two rushing -- to lead Fairhope to a 44-34 victory over Foley at W.C. Majors Friday night in the annual Blue-Gold game. Jackson finished 12 for 17 passing for 204 yards and added TD runs of 1 and 32 yards.

Tyler Jeffreys, Colbert County: Threw touchdown passes of 43, 41 and 9 yards in a 56-50 win over Class 2A No. 1 Tanner. His 9-yard toss was the game-winner.

Khaliq Jones, Wetumpka: Scored five touchdowns in a 43-42 victory over Huffman.

Kolby Kirk, Addison: Logged 17 carries for 222 yards, with touchdown runs of 46 and 30 yards, in a 26-20 win over Vinemont.

Dwayne Koen, Baldwin County: Rushed for 138 yards and four touchdowns on 20 carries in a 47-21 victory over Citronelle.

Dakota Lambert, Spring Garden: Rushed for 230 yards and a pair of touchdowns (58, 27 yards) on 17 carries in the Panthers' 44-20 victory at Appalachian.

Keenan Lewis, Sardis: Rushed 22 times for 251 yards and two touchdowns in a 21-16 win over Sylvania.

Jalyn Martin, Collinsville: Ran for 184 yards on 16 carries with three touchdowns (5, 1, 99 yards) and also caught two passes for 97 yards with 58-yard touchdown grab in a 41-24 victory over Cedar Bluff.

Trey McMillian, Dale County: Had only eight rushes, but scored four touchdowns (1, 65, 3, 58) and rushed for 155 yards on those carries in a 48-14 win over Headland.

Ostin McPherson, St. Paul's: Ran for 231 yards on 23 carries with TD runs of 2, 38 and 5 yards in a 38-14 victory over D'Iberville (Miss.).

Kyle Nalls, Fayette County: Rushed for 184 yards on 27 carries and threw a 20-yard touchdown pass in a 21-19 loss to Gordo.

Lamical Perine, Theodore: Ran for 219 yards and two touchdowns on 26 carries in a 20-17 victory over Alma Bryant.

Nic Rollo, Cold Springs: Turned 18 carries into 153 yards and three first-half touchdowns (1, 8 and 56) in a 32-14 victory at Class 4A Danville.

Myron Smith, Colbert County: Rushed for 187 yards and had touchdown runs of 5 yards and 1 yard in a 56-50 overtime win at Class 2A No. 1 Tanner.

Micah Stephens, Locust Fork: Rushed for 200 yards on 20 carries with two touchdowns (65, 17) and caught a 21-yard touchdown pass a 33-20 victory over Westbrook Christian.

Malik Talley, Scottsboro: Caught seven passes for 151 yards and two touchdowns, including an 82-yarder in the fourth quarter to seal a 34-24 victory over Sparkman.

Logan Walters, North Jackson: Completed 18 of 30 passes for 283 yards and three touchdowns and two interceptions while also rushing for 68 yards and a touchdown in a 46-41 loss to Guntersville.

Damon Williams, Gadsden City: Scored on touchdown runs of 48 and 52 yards in the fourth quarter to spark Gadsden City to a 47-28 comeback win over Oxford. Williams finished with 117 yard on seven carries.


Defense/Special teams

Ed Carraker, Reeltown: Picked off two passes and ran for 117 yards, with 111 in the second half) in a 7-0 victory over Dadeville.

Eddie Cooper, Elmore County: Returned an interception 72 yards for a touchdown and made a team-high nine tackles in a 27-7 loss to St. James.

Garrett Daffron, Providence Christian: Was in on 15 tackles, including 10 solos, in a 51-27 win over Zion Chapel.

Charles Green, McGill-Toolen: Kicked three field goals, the last giving McGill the lead for good with 6:49 to play, in a 17-14 victory over Vigor

Octaviuse Hardrick, Cottonwood: Was in on 13 tackles, including 10 solos, on defense and had seven catches for 64 yards on offense in the Bears' 40-21 loss to Geneva.

Noah Hazelrig, Locust Fork: Had just four tackles but three were for lost yardage in the Hornets' 33-20 victory over Westbrook Christian. Hazelrig had a pair of sacks.

Carson Huckabee, Marengo Academy : Recorded 10 total tackles including 1.5 sacks in a loss to Bessemer Academy.

Ben Ivey, Spring Garden: Posted six tackles, two pass deflections and had an interception in a 44-20 victory at Appalachian.

Quin Kent, Autaugaville: Finished with eight tackles, including five for loss with one sack, in a 30-16 victory over Calhoun.

Jamal Saunders, Crenshaw Christian: Scored on a 49-yard punt return, finished with six tackles and ran for two two-point conversions in a 47-0 victory over SMCA.

Joel Shepperd, Huntsville: Kicked two 22-yard field goals, the last one with three seconds remaining, as Huntsville surprised Mountain Brook 22-21.

Tyler Thomas, Chelsea: Nailed a 37-yard field goal as the half expired and added the game-winning extra point with 7:50 remaining in Chelsea's 23-22 victory against Briarwood Christian.

Dreek Thompson, Piedmont: Returned a kickoff 90 yards for a touchdown and scored on a 38-yard touchdown run in a 48-20 victory over Cherokee County.
Josh Bean
Managing Producer, HSSN Supervisor AL.COM
---
Great Moments in Alabama High School Football History

The Alabama High School Athletic Association was first organized in 1921.