2014 Week 13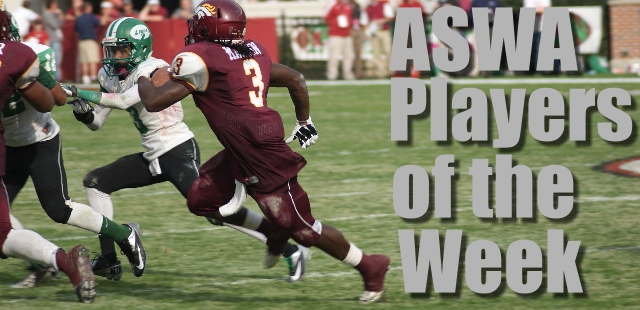 ASWA Players of the Week
---

How did Cordova advance to the quarterfinals for the first time since 2009?

How did Cordova advance to the quarterfinals for the first time since 2009? Ask Chase Trotter.

The Cordova quarterback had a hand in all five Blue Devils touchdowns in Friday's 35-34 win over Cleburne County, throwing four touchdowns and adding the game-winning 1-yard touchdown run with 1:59 to go. For his performance, Trotter is this week's Alabama Sports Writers Association Offensive Player of the Week.

Trotter completed 14 of 19 passes for 281 yards and TDs of 7, 59, 60 and 67 yards, to go with his late touchdown run. He edged two finalists for the weekly award -- B.C. Rain's Carl Williams III and Cedar Bluff's D'Shawn Fife.

Williams accounted for six touchdowns as the Red Raiders shocked Charles Henderson 50-14 at Ladd-Peebles Stadium in Mobile. Williams threw for three touchdowns and ran for three more.

Fife rushed for 224 yards on 34 carries, with TD runs of 8, 3, 3, 4, 33, 14 yards, in a 56-48 victory over Hackleburg. In two playoff games this season, Fife has 539 yards and 10 touchdowns.

This week's ASWA Defense/Special Teams Player of the Week is Guntersville's Nicky Erwin. He teamed with Ernesto Cordova for a sack in the end zone that proved to be the winning points and picked off a pass in the final minute to seal a 10-7 victory over Ramsay.

The two finalists -- Marengo Academy's Cason Cook and Montgomery Academy's Jimmy Massey -- for the Defense/Special Teams award made plays in the kicking game. Cook blocked two punts in 41-0 rout of Clarke Prep, and Massey kicked a 33-yard field goal with 1:21 to go, his third field goal, to keep MA undefeated with a 30-28 victory over T.R. Miller.

ASWA members from Auburn, Birmingham, Centre, Demopolis, Dothan, Florence, Gadsden, Gardendale, Huntsville, Jasper, Mobile and Montgomery submitted nominations this week.

Here are other notable performances from this past week:

OFFENSE

Jordan Bentley, Guntersville: Had 44 carries for 178 yards and a 3-yard touchdown in a 10-7 victory over Ramsay.

Javon Brown, Spanish Fort: Ran for a touchdown, caught a TD pass and threw two more touchdown passes as the Toros beat Benjamin Russell 33-24. Brown rushed for 97 yards and threw for 199 on 8-of-11 attempts.

Kris Brown, Escambia Academy: Rushed for 206 yards on nine carries in a 30-8 victory over Restoration Academy. Brown scored on runs of 70, 22 and 89 yards.

Stefan Caldwell, Elba: Rushed for 141 yards and a touchdown on 15 carries and caught a 9-yard scoring pass in a 42-20 victory over Sweet Water. On defense, he added a sack.

DJ Chapman, Cedar Bluff: Caught four passes for 127 yards and a 53-yard touchdown in the Tigers' 56-48 victory over Hackleburg.

Matthew Christian, Opelika: Completed 26-of-31 passes for 290 yards and three touchdowns in a 27-21 overtime loss to Saraland. He had touchdown throws of 17, 29 and 8 yards and finished the season with 157 straight pass attempts without an interception.

Josh Crawford, Edgewood: Scored three touchdowns in a 41-13 victory over Wilcox Academy, finishing with 16 carries for 104 yards. He also caught three passes for 44 yards.

Tyler Crumpton, Phillips: Caught 10 passes for 150 yards and three touchdowns in a 40-34 loss at Hubbertville. Crumpton's TD catches were of 7, 15 and 25 yards

De'Juan Feagan, Pleasant Grove: Rushed for 148 yards and two touchdowns on 15 carries and added 93 yards passing and another touchdown in a 28-10 victory over Lincoln.

Gabe Ford, Gadsden City: Finished with 215 yards of total offense and three touchdowns in a 45-28 victory over Oak Mountain. Ford rushed 15 times for 143 yards and touchdown runs of 4 and 57 yards and caught three passes for 72 yards and a 49-yard score.

Ashton Gay, Oakman: Caught seven passes for 160 yards and a touchdown in the Wildcats' 24-23 loss to Walter Wellborn.

Jamel Grace, Flomaton: Rushed for 187 yards and a touchdown on 31 carries in a 43-32 victory over Cottonwood.

Tyler Gurley, Madison County: Ran 15 times for 101 yards and five touchdowns, including the game-winning 11-yard carry in overtime, as the Tigers beat Parker 35-28. Gurley also had scoring runs of 9 and 4 yards, and a pair of 1-yarders. He completed 10-of-13 passes for 106 yards.

Blake Hawkins, Florence: Completed 15 of 22 passes for 226 yards and four touchdowns (17, 14, 40 and 33 yards) in a 43-21 victory over Shades Valley. He also ran for 45 yards and a 1-yard score.

Jamarius Henderson, Dale County: Rushed for 283 yards on 21 carries with three touchdowns in a 34-6 victory over Geneva. On defense, he had 18 tackles and a sack.

Austin Hicks, Gardendale: Caught six passes for 101 yards and two touchdowns and ran for 16 yards for another score in a 35-14 win over Homewood.

DeAnthony Holcombe, Washington County: Ran for 184 yards and three touchdowns on 32 carries in a 35-14 win over Geneva County.

Kristian Jones, Hackleburg: Rushed for 271 yards on 20 carries and four touchdowns (35, 2, 30, 45 yards) in a 56-48 loss to Cedar Bluff.

Seth Knotts, Prattville: Caught four passes for 106 yards and two touchdowns in a 26-7 victory over Central-Phenix City.

Isaiah Lewis, Foley: Ran for 170 yards on 23 carries in a 34-7 victory over Fairhope.

Kervae Qualls, Colbert County: Rushed for 148 yards, including TD runs of 36, 43 and 42 yards, in 34-7 victory over Plainview.

Peyton Ramzey, Bessemer Academy: Finished with 177 yards receiving and three touchdowns in a 34-20 victory over Monroe Academy. Ramzey had eight catches and added a 12-yard run and a 38-yard kick return.

Brady Sherrill, Haleyville: Rushed for 168 yards and three TDS on runs of 14 and 26 yards, and 1 yard, in a 41-14 win over Oneonta. He also intercepted a pass.

Zach Simbeck, Lauderdale County: Rushed for 203 yards and two TDs in a 17-14 loss to Glencoe. Simbeck scored on runs of 55 and 56 yards.

Tyler Sims, Saraland: Ran for 152 yards and a touchdown on nine carries as the Spartans held off Opelika 27-21 in overtime. His TD run went 85 yards.

Brandon Simmons, Greenville: Completed 24 of 49 passes for 289 yards and five touchdowns in a 34-31, double-overtime victory over Calera.

Shaquille Terry, McAdory: Ran for 193 yards on 11 carries in a 4o-38 victory over Oxford.

Chadarius Townsend, Tanner: Ran for 240 yards and three touchdowns (25, 56, 62 yards) on 19 carries in a 41-14 victory over Randolph County.

ShaKeith Tyes, Calera: Ran 21 times for for 212 yards and two touchdown sin a 34-31, double-overtime loss to Greenville.

Leonard Wood, Hoover: Finished with four catches for 169 yards and a touchdown in a 42-7 victory over Tuscaloosa County.

DEFENSE/SPECIAL TEAMS


Trevor Carvin, Foley: Intercepted a Grey Jackson pass on the final play of the first half and ran it back 95 yards for a game-changing score in a 34-7 victory over Fairhope.

Wade Castle, Dale County: Finished with 11 tackles, including seven solos, and caught a 51-yard touchdown pass in a 34-6 victory over Geneva.

Xavius Coleman, Brantley: Recorded 15 tackles and three sacks in a 20-12 victory over Linden.

Steven Crowder, Gardendale: Recorded 10 tackles and two sacks in a 35-14 victory over Homewood.

DeAmonte Greene, Sweet Water: Had 14 tackles in 42-20 loss to Elba.

Hayden Huckabee, Marengo Academy: Returned the opening kickoff 92 yards for a touchdown in a 41-0 rout of Clarke Prep. He also added 148 yards on six carries, scored on runs of 32 and 50 yards, and scored on a 2-point conversion.

Keith Johnson, Edgewood: Made 14 tackles, forced two fumbles and recovered a fumble in a 41-13 win over Wilcox Academy, the Wildcats' 57th straight victory.

Kerryon Johnson, Madison Academy: Returned an interception 50 yards for a touchdown in a 42-20 victory over Piedmont. On offense, he added 136 yards rushing and touchdowns of 59 yards and 1 yard on eight carries and a 47-yard TD reception.

Ross Johnson, Cedar Bluff: Returned an interception 33 yards for a touchdown in the fourth quarter of a 56-48 victory over Hackleburg.

Jim Richards, G.W. Long: Returned a fumble 33 yards for a touchdown, had an interception and seven tackles in a 44-12 victory over Leroy.

Bo Walding, G.W. Long: Recorded seven tackles with three sacks in a 44-12 victory over Leroy. As a fullback, he rushed for three touchdowns, while earning 67 yards on 13 carries.
---
Great Moments in Alabama High School Football History

Demopolis scored a record 761 points during the 2004 season. The Tigers finished the season 15-0.