2014 Week 12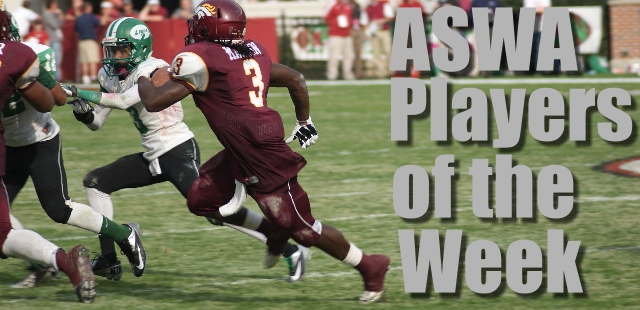 ASWA Players of the Week
---

Raheem Bonam made sure Opp advanced to the second round of the AHSAA Class 3A playoffs.

Bonam scored a school-record eight touchdowns, one shy of the AHSAA single-game record, and accounted for 423 all-purpose yards in a 70-36 victory over Lamar County. He rushed for 262 yards and six TDs on seven carries, had 130 yards on three kick returns, with one going 89 yards for a touchdown, and added a 31-yard TD catch.

For his performance, Bonam is this week's Alabama Sports Writers Association Offensive Player of the Week. He edged the two finalists for the award - Glencoe's Dylan Stone and Dale County's Jamarius Henderson.

Stone finished with 329 yards of total offense and seven touchdowns in a 56-19 victory over Sylvania. He rushed 14 times for 244 yards and five touchdowns and added 6 of 7 passing for 85 yards and two more scores.

Henderson rushed for 308 yards and five TDs runs of on 10 carries and added a 31-yard TD reception in a 62-20 win over Prattville Christian. His TD runs covered 12, 54, 68, 49 and 65 yards, and he recorded a team-high 13 tackles on defense.

This week's ASWA Defense/Special Teams Player of the Week is Tuscaloosa County's Justen Little, who had four interceptions in a 28-21 road victory over Bob Jones in the Class 7A playoffs. The two finalists are Phillips' Tyler Crumpton and McAdory's Tavarius Huchinson.

Crumpton had three of the team's five interceptions in a 35-12 victory over Wadley. Crumpton also had a touchdown catch and a 2-point conversion.

Hutchinson returned a blocked punt 44 yards for a touchdown with 2:19 to play for the game-winning TD in a 21-20 victory over Blount and added an interception in the final minute to seal the win.

ASWA members from Andalusia, Birmingham, Brewton, Boaz, Centre, Cullman, Demopolis, Dothan, Florence, Gadsden, Huntsville, Mobile, Montgomery, Oneonta, Scottsboro and Tuscaloosa submitted nominations this week.

Here are other notable performances from this past week:


OFFENSE

Sam Adams, Montgomery Academy: Ran 16 times for 209 yards in a 45-30 win over Daleville.

Jordan Bentley, Guntersville: Had 27 carries for 192 yards and scoring runs of 18, 5, 2 and 2 yards in a 33-7 win over Moody. He also picked off a pass.

Heath Burchfield, James Clemens: Completed 20 of 32 passes for 389 yards, with four touchdowns (8, 83, 89, and 5 yards) and two interceptions, in a 60-43 loss at Oak Mountain.

Gage Cash, Boaz: Caught six passes for 146 yards, including a 78-yard touchdown, in a 24-7 loss to Lincoln in the 5A state playoffs.

Nico Collins, Clay-Chalkville: Finished with six catches for 183 yards and two touchdowns in an 85-50 win against Scottsboro.

D'Shawn Fife, Cedar Bluff: Rushed for 315 yards on 38 carries and scored four touchdowns in a 46-34 victory at Berry -- Cedar Bluff's first road playoff victory since 2006.

Seth Franks, Tuscaloosa County: Completed 20 of 27 passes for 309 yards, three touchdowns and two interceptions in a 28-21 victory over Bob Jones.

Peyton Gilliland, Cleveland: Rushed 25 times for 223 yards and a touchdown in the Panthers' 13-6 win over Addison.

Jamal Grace, Flomaton: Ran for 365 yards and four touchdowns on 38 carries as the Hurricanes defeated Pickens County 35-20.

Mackenzie Graham, Buckhorn: Caught 10 passes for 166 yards and touchdowns of 7 and 69 yards in a 38-13 loss at Hoover.

Tyler Gurley, Madison County: Completed 10 of 11 passes for 116 yards and three touchdowns (8, 27 and 19 yards), and ran 103 yards and two scores (15 and 24 yards) on 23 carries in a 38-30 victory over Alexandria.

Malcolm Hawthorne, W.S. Neal: Ran for 232 yards on 12 carries for two touchdowns. He also had one interception and one kickoff return for a touchdown.

Jaquez Hall, Restoration Academy: Piled up 216 yards on 24 carries that went for three touchdowns in a 42-24 win against No. 7 Autauga Academy.

A.J. Johnson, Berry: Rushed for 205 yards on 21 carries with three touchdowns (8, 56, 61 yards) and also had a 32-yard touchdown pass in a 46-34 loss to Cedar Bluff.

Conner Kiser, Haleyville: Kiser rushed 17 times for 212 yards and accounted for four touchdowns in a 45-21 win over Elkmont. He had TD runs of 21, 1 and 49 yards and threw a 19-yard TD pass.

Keith Mixon, Shades Valley: Ran seven times for 101 yards and three touchdowns in a 34-0 win against Arab. He provided scoring plays of 12, 35 and 42 yards and also caught six passes for 88 yards.

Solomon Muhammad, Parker: Caught nine passes for 130 yards and three touchdowns in a 28-9 win against West Point.

Kyle Nalls, Fayette County: Rushed for 295 yards on 17 carries and five touchdowns in a 56-41 victory over Central-Florence.

Tyrell Pigrome, Clay-Challkville: Pigrome accounted for seven touchdowns in an 85-50 victory over Scottsboro. He had 87 yards on the ground, with TD runs of 23, 5 and 30 yards, and threw for another 247 yards and four TDs.

Brian Robinson, Hillcrest-Tuscaloosa: Rushed for 243 yards on 30 carries and five touchdowns in a 56-28 victory over Daphne.

Harold Shader, Oak Mountain: Logged had 18 carries for 281 yards on the ground and scored TD runs of 3, 15, 68, 75 and 79 yards in a 60-43 victory over James Clemens.

Myron Smith, Colbert County: Rushed 30 times for 218 yards and three touchdowns in a 49-30 win over Winfield.

Reed Smith, Russellville: Caught seven passes for 188 yards and touchdowns of 17 and 77 yards in a 36-14 loss to Pleasant Grove.

Austin Stiefel, Fyffe: Carried 18 times for 188 yards and four touchdowns in a 56-6 victory over Tarrant.

Malik Talley, Scottsboro: Caught five passes for 161 yards and four touchdowns (43, 45, 45 and 15 yards) in an 85-50 loss to Clay-Chalkville.

ShaKeith Tyes, Calera: Rushed for 220 yards and four touchdowns in a 28-26 home win against Vigor. He had 31 carries and had scoring on runs of 5, 6, 16 and 35 yards against the Wolves.

Demetrice Vaughan, Blount: Rushed for 281 yards and a touchdown on 32 carries in a 21-20 loss at McAdory.

Carl Williams, B.C. Rain: Ran for scores of 8, 10 and 11 yards while tallying 114 yards on 17 carries and throwing a 72-yard game-winning touchdown in a 28-27 victory over Demopolis.

DEFENSE/SPECIAL TEAMS

Rahmeel Cook, Demopolis: Recorded nine tackles, deflected two passes and recovered a fumble in loss to B.C. Rain.

Chance Duncan, Glencoe: Had eight tackles, including three for a loss, and two sacks in a 56-19 win over Sylvania.

Tyler Green, Gardendale: Recorded nine tackles and two sacks in a 24-3 road victory at Fort Payne.

Collin Herring, Gordo: Had 11 tackles, a half a sack and an interception in a 47-6 victory over Hillcrest-Evergreen.

Dezmond Johnson, Slocomb: Intercepted two passes in a 14-0 victory over Midfield. He also caught a 68-yard touchdown pass.

Kerryon Johnson, Madison Academy: Picked off two passes and returned one for a touchdown in a in a 56-7 win over Winston County. He also ran three times for 122 yards, with TD runs of 78 and 22 yards.

John Michael Lauderdale, Cleveland: Had 18 tackles, three for loss, in a 13-6 victory over Addison.

Tyler Lusk, Piedmont: Kicked field goals of 20 and 25 yards and made 4-of-4 extra points in a 34-6 victory over Pisgah. On offense, he passed for 200 yards and a touchdown and rushed for a 27-yard score.

Richard McBryde, Charles Henderson: Recorded 18 tackles on defense, including 11 solos and 1.5 for 11.5 yards in losses and also rushed 3 times for 69 with two touchdowns, including a 15-yarder on the first play of overtime to give Charles Henderson a 48-42 overtime win over Beauregard.

Tanner Moye, Oneonta: Had 10 tackles, two for loss, and returned an interception 34 yards for a score in a 50-26 victory over Sardis.

Zac Oglesby, Gadsden City: Had a sack for a 9-yard loss on fourth down in the fourth quarter that led to a GCHS score and added 41-yards scoop-and-score in victory over Hewitt-Trussville.

Garrett Sanders, G.W. Long: Returned a punt 56 yards for a touchdown and converted 5-of-5 point-after kicks in a 35-0 victory over New Brockton.

Quindon Shaw, R.C. Hatch: Returned a kickoff 84 yards for his team's only score in a 42-6 loss to Sweet Water.

Tyler Springer, Lauderdale County: Had nine tackles and recovered a bad snap in the end zone for a touchdown in a 54-6 win over Vinemont.

Jalen Thompson, St. Paul's: Capped his four-TD night by scoring on a 43-yard fumble recovering in the second quarter. He also caught two TD passes, ran for another and finished with 176 all-purpose yards.
---
Great Moments in Alabama High School Football History

Morris Higginbotham coached three different teams to divisional state championships in the 1950s. He won titles at Walnut Grove in 1952, West Blocton in 1955 and Enterprise in 1960.