2014 Week 11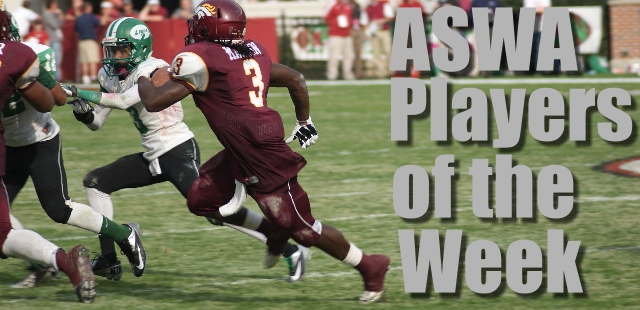 ASWA Players of the Week
---

Tyler Renfrow sent Vina into the offseason on a winning note.

Renfrow pushed the Red Devils to a 46-28 victory over Holy Spirit last week, snapping a seven-game losing skid by rushing for 319 yards and four TDs. He scored on TD runs of 2, 1, 2 and 2 yards, while also adding a fifth TD on a 32-yard fumble return. For his performance, he is this week's Alabama Sports Writers Association Offensive Player of the Week.

Renfrow edged performances by two other players whose teams did not advance to the playoffs.

West Limestone's Reed Blankenship carried 16 times for 321 yards and touchdowns runs of 63, 16 and 78 yards in a 34-32 win at Ardmore. He also picked off a pass, as the Wildcats snapped a two-game losing streak.

Satsuma's Reid Rials accounted for seven touchdowns in a 49-48 victory over Chickasaw, finishing 14-of-23 passing for 246 yards and two TDs and running 11 times for 101 yards and TDs of 41, 39, 1 and 8 yards. He also scored on a 39-yard punt return and sealed the win with a late interception.

This week's ASWA Defense/Special Teams Player of the Week is Fultondale's Jared Stewart, who intercepted three passes in a 30-26 victory over Oak Grove. For good measure, he also scored three offensive touchdowns.

The two finalists for the Defense/Special Teams are kickers -- Northview's Cody Neenan and St. James' Coleman Taylor.

Neenan made field goals of 48 and 27 yards,m was 3-of-3 on extra points, and punted five times for a 43.4 per-punt average in a 41-34 win over Charles Henderson. Taylor kicked a 33-yard field goal on the final play for a buzzer-beating 20-17 victory over Marbury.

ASWA members from Alexander City, Auburn, Birmingham, Centre, Cullman, Demopolis, Dothan, Florence, Fort Payne, Gadsden, Gardendale, Huntsville, Jasper, Mobile, Montgomery, Oneonta and Scottsboro submitted nominations this week.

Here are other notable performances from this past week:


OFFENSE

Chris Austin, Oakman: Rushed 20 times for 247 yards and four touchdowns in a 49-12 victory over Berry. Austin had touchdown runs of 4, 58, 26 and 2 yards.

Jon Avery, Carbon Hill: Completed 13 of 17 passes for 322 yards and five touchdowns in a 52-6 victory over Lynn. His TD passes covered 27, 45, 47, 21 and 69 yards.

Brandon Baynes, Tallassee: Ran for 184 yards and three touchdowns in a 20-14 victory over Randolph County. He scored on runs of 1, 20 and 49 yards. He also completed 3-of-4 passes for 55 yards.

DeKarlos Billingsley, Scottsboro: Rushed for 261 yards and a touchdown on 52 carries (tied for third-most in AHSAA history) during a 13-6 overtime loss to Madison County.

Michael Chisem, Minor: Caught eight passes for 189 yards and three touchdowns in a 27-9 victory over Pinson Valley.

Lawton Dorough, Homewood: Caught four passes for 147 yards in a 24-12 victory over playoff Tuscaloosa County. He hauled in an 80-yard touchdown and also added a 49-yard kick return for Homewood's eighth straight win.

Maurice Fears, Springwood: Rushed for 169 yards and a touchdown on 18 carries in Springwood's 16-0 win against Glenwood.

Reese Harbison, Good Hope: Caught five passes for 120 yards in a 22-21 loss to Hanceville.

Matt Harper, Hackleburg: Finished 10 of 14 for 192 yards and three TDS, while adding 93 rushing yards and one touchdown, in a 34-19 victory over Phil Campbell. His TD passes went for 17, 9 and 74 yards.

Blake Hawkins, Florence: Threw two touchdown passes and ran for two more as Florence beat Huntsville 50-20. Hawkins scored on runs of 44 and 60 yards, and threw TD passes of 9 and 23 yards. Hawkins finished 23 of 34 for 199 yards and had eight carries for 128 yards.

Sam Howard, Deshler: Accounted for four touchdowns and 305 total yards, as Deshler rallied past Athens 28-17. He scored on runs of 10 and 7 yards and threw TD passes of 63 and 38 yards.

Hayden Huckabee, Marengo Academy: Scored on runs of 56, 47 and 22 yards and finished with 135 yards on five carries in a 49-0 victory over Jackson Academy.

Terence Humphrey, Columbia: Carried 37 times for 285 yards and six touchdowns (1, 89, 15, 15, 14, 13 yards) in a 42-29 victory over Central-Florence.

Jack Hutcheson, Hoover: Completed 12 of 14 passes for 232 yards and three TDs in a 35-20 victory over Blackman (Tenn.). He had scoring strikes of 18, 42 and 83 yards and did not throw an interception.

Daulton Hyatt, Arab: Threw for 309 yards and a touchdown, and ran for 98 yards and a score in a 35-14 win over Moody.

Josh Johnson, Opelika: Amassed 155 rushing yards and three touchdowns on 19 carries in a 48-10 road victory over Enterprise. He scored on runs of 2, 4 and 16 yards.

Kerryon Johnson, Madison Academy: Scored four touchdowns in a 49-21 victory over Briarwood Christian. He ran for 106 yards and touchdowns of 4, 2 and 47 yards, caught a 24-yard touchdown, and forced a fumble.

Britt Kelley, Crenshaw Christian: Caught six passes for 129 yards and two touchdowns, ran twice for 25 yards and a score, and intercepted a pass in a 35-14 win over Lakeside.

Dave Kirksey, Fairhope: Ran for 170 yards and four touchdowns on 11 carries in a 49-20 victory over Theodore. He ripped off consecutive runs of 54, 35 and 34 yards, scoring on the final two carries.

Matt Marquet, Chelsea: Completed 13 of 19 passes for 262 yards and a touchdown and added 17 carries for 120 yards and two more scores in a victory over Thompson.

Dalton McKenzie, Monroe Academy: Rushed 17 times for 181 yards and scored five touchdowns in a 33-0 victory over Kingwood Christian 33-0.

Tre McMillian, Baker: Finished with more than 300 all-purpose yards -- 66 rushing, 80 receiving yards and 182 yards in returns - and scored three touchdowns in a 49-35 victory over Davidson.

Miller Mosley, St. Paul's: Ran for 138 yards and three touchdowns and threw for 141 and two more scores in a 35-7 victory over UMS-Wright in a battle of unbeaten No. 1 teams.

Tomoka Nelson, Westminster Christian: Ran 29 times for 283 yards and six touchdowns (6, 20, 10, 2, 81, 10 yards) in a 56-35 win at New Hope.

Tanner Nelson, Collinsville: Completed 9-of-10 passes for 295 yards with four touchdowns in a 46-18 victory over Valley Head. Each touchdown pass went for at least 50 yards. He also rushed for 49 yards on eight carries.

Brady Polson, Bob Jones: Completed 17 of 25 passes for 338 yards and six touchdowns (9, 3, 37, 20, 77 and 76 yards) in a 62-45 win at Austin.

Chandler, Rigdon, Chickasaw: Finished 21-of-29 passing for 309 yards and five touchdowns in a 49-48 loss to Satsuma. He also ran for 162 yards on 21 carries.

Tre Royal, Coosa Central: Caught five passes for 107 yards, including a 61-yard touchdown reception in a 27-14 loss at Horseshoe Bend while also intercepting one pass and recovering a fumble.

Austin Stiefel, Fyffe: Rushed for 256 yards on 15 carries and TD runs of 8, 59, 67 and 62 yards in a 59-28 victory over Plainview.

ShaKeith Tyes, Calera: Had 34 carries for 291 yards and three touchdowns, while also throwing a 56-yard touchdown pass, in a 39-28 victory over Chilton County.

Phillip Ward, Hokes Bluff: Caught seven passes for 101 yards and two touchdowns as the Eagles upset Locust Fork 31-29.

Will Wrenn, West Point: Caught three passes for 111 yards and TD catches of 27 and 66 yards and snagged an interception in a 52-21 home win over Priceville.

Rodney Young, West Morgan: Ran 34 times for 223 yards and four touchdowns in a 36-35 win over East Lawrence.

DEFENSE/SPECIAL TEAMS

Cody Blackwood, Cleveland: Had two interceptions - returning one 37 yards for a TD - and added three pass break-ups and four tackles in a 36-6 victory over Southeastern.

Joel Brock, Sand Rock: Picked off two passes and caught a 48-yard touchdown pass from quarterback Chase Garrett in the Wildcats' 42-0 victory over Cedar Bluff on Thursday.

Mason Brown, Glencoe: Had 16 tackles and a sack in a 17-10 victory over Cleburne County.

Zach Dimmock, Oneonta: Intercepted a pass and recorded four tackles in a 26-15 victory over Piedmont. On offense, he completed 17 of 25 passing for 209 yards and two touchdowns.

Drew Hill, Horseshoe Bend: Intercepted a pass in a 27-14 victory over Coosa Central. He also ran for 136 yards and three TDs and threw another TD.

Adrian King, Lee-Montgomery: Returned a punt 55 yards for a touchdown and intercepted a pass in a 26-7 win over Wetumpka. He also ran for a score.

Eric Monroe, Linden: Had six tackles and two fumble recoveries in 33-28 victory over Dora.

Kennedy Obiyor, Hazel Green: Returned a kickoff 80 yards for a TD in a 28-27 loss to Hartselle. He also caught a 20-yard TD and scored on a 21-yard run.

Michael Palmer, Faith Academy: Had 13 tackles and a fumble recovery in a 29-22 victory over Madison Prep Academy (La.).

Quindon Shaw, R.C. Hatch: Scored on a punt return and a run in a 68-20 at Autaugaville that clinched the first winning season in school history.

Tristin Skinner, West Point: Made a 37-yard field goal and all seven of his extra-point attempts in a 52-21 victory over Priceville.

Kainan Smith, Good Hope: Returned the second-half kickoff 85 yards for a touchdown and caught three passes for 44 yards and another score in a 22-21 loss to Hanceville.

Fisher Willoughby, Cold Springs: Picked off a pair of second-half passes, broke up another and made five tackles in a 39-13 road win at Holly Pond.

Kaine Yates, Hanceville: Blocked a punt and recovered a late fumble inside the Bulldogs' own 5-yard line in a 22-21 thriller over county-rival Good Hope.
---
Great Moments in Alabama High School Football History

The first night game played between high school teams in the state occurred on September 23, 1927 when Pike Road and Cloverdale met in the Cramton Bowl in Montgomery.