2014 Week 10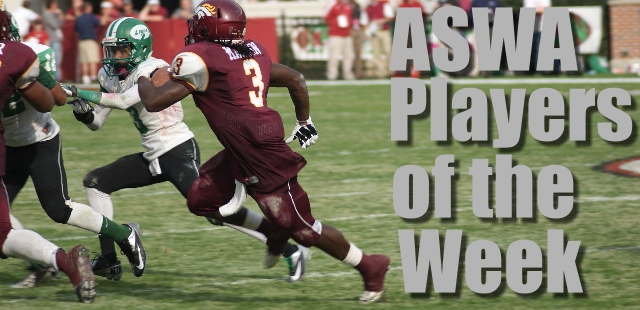 ASWA Players of the Week
---

North Jackson's Octavius Matthews delivered perhaps the best single-game performance in North Jackson history.

Matthews ran for 309 yards on nine carries and scored seven touchdowns -- six rushing and one on a punt return -- in the first half of a 62-14 victory over Good Hope. He is this week's Alabama Sports Writers Association Offensive Player of the Week.

Matthews set North Jackson single-game records for rushing yards, rushing TDs, total touchdowns and added the longest run in school history with a 99-yard touchdown.

The other two finalists for the Offensive Player of the Week award -- Hartselle's Jaylan Jackson and Oxford's Tredarian Gamble -- also enjoyed big nights.

Jackson had three rushes for 105 yards, with TD runs of 19 and 68 yards, and added three catches for 110 yards, with a 92-yard TD catch, in a 34-13 victory over Athens. Gamble finished with 295 yards rushing and TD runs of 4, 5, 17 and 19 yards in a 31-21 victory over Chelsea.

This week's ASWA Defense/Special Teams Player of the Week is Bessemer City's Renardo Pratt, who intercepted three passes and broke up four more in a 27-8 victory over Center Point. The Defense/Special Teams finalists were Blount's Demetrice Vaughan and Vinemeont's Trey Guthery.

Vaughn kicked a 39-yard field goal with seven seconds to play, to go with 156 yards rushing and two TDs, as the Leopards rallied from a 22-0 deficit to beat LeFlore 25-22. Guthury intercepted a pass with eight seconds remaining to secure a 27-21 victory over Winston County, to go with had a forced fumble, fumble recovery, six tackles and two pass breakups, while adding seven catches for 183 yards and two TDs on offense.

ASWA members from Auburn, Birmingham, Boaz, Centre, Cullman, Demopolis, Dothan, Florence, Gadsden, Hartselle, Huntsville, Jasper, Mobile, Montgomery, Oneonta and Scottsboro submitted nominations this week.

Here are other notable performances from this past week:


OFFENSE

Wil Appleton, Westbrook Christian: Threw for 257 yards and three touchdowns in a 49-12 win over Ashville to remain alive for a playoff berth out of Class 3A, Region 6.

Brandon Baynes, Tallassee: Rushed for 230 yards and four touchdowns on 18 carries in Tallassee's 34-7 win against Sylacauga.

Marlon Bridges, Lanett: Finished with 287 all-purpose yards, including 193 rushing yards and a touchdown on 30 carries, in a 26-19 loss to Reeltown. On defense, he returned a fumble recovery 65 yards for a TD.

Logan Brooks, Fairview: Had 27 carries into 201 rushing yards and three touchdowns in a 33-0 shutout of Butler.

Wesley Burns, Boaz: Caught 11 passes for 107 yards and a touchdown in a 28-14 loss to Boaz. The 11 catches are a single-game school record.

Tyler Crumpton, Phillips: Caught four touchdown passes and threw another as Phillips beat Decatur Heritage. Crumpton finished with seven catches for 147 yards. He caught TD passes of 21, 28, 56, and 21 yards. He TD pass was 17 yards.

Josh Decker, Cedar Bluff: Completed 11 of 12 pass attempts, including 8 of 8 in the first half, for 216 yards and five touchdowns (59, 13, 2, 9, 22 yards) in the Tigers' 47-20 win at Gaylesville.

Troy Dixon, UMS-Wright: Ran for 251 yards and three touchdowns in a 41-0 victory over Satsuma.

Mason Duke, Spain Park: Completed 18 of his 21 passes for 203 yards and TDs of 27 and 35 yards in a 19-0 win at Mountain Brook.

Tyus Flakes, Auburn: Ran for 176 yards and TD runs of 5 and 61 yards on 19 carries in a 40-14 victory over Smiths Station.

Peyton Gilliland, Cleveland: Rushed for 197 yards and two touchdowns (13, 8) on 23 carries and completed 6 of 13 passing for 113 yards with two touchdowns (32, 34) and two interceptions in the Panthers' 35-28 loss to Gaston.

Mackenzie Graham, Buckhorn: Had five catches for 181 yards and touchdowns of 5, 73 and 11 yards, and scored on an 11-yard run, as the Bucks upset Gadsden City 37-20.

Baniko Harley, Ramsay: Connected on 14 of 26 passes for 238 yards and two touchdowns in a 25-22 win over Corner, while adding 138 rushing yards after 13 carries with a touchdown.

Lee Hisbon, Tanner: Ran 12 times for 226 yards and touchdowns of 51, 50 and 9 yards in a 77-24 win over Falkville.

Sam Howard, Deshler: Threw for 252 yards and touchdowns of 66 and 8 yards, and ran for two scores as the Tigers beat Rogers 36-14 in the first game since the death of head coach Jake Linville.

Grey Jackson, Fairhope: Threw three TD passes and ran for two more in a 54-30 victory over Murphy. Jackson threw for 307 yards and ran nine times for 77 yards.

Gary Johnson, Douglas: Rushed 24 times for 277 yards and scored five touchdowns in a 35-15 win over Randolph. His TD runs covered 60, 66, 34, 6 and 1 yards.

Conner Kiser, Haleyville: Threw four touchdown passes and rushed for another in barely one half as Haleyville beat Danville 63-19. Kiser finished with 278 yards on 14 of 20 passing, including TD throws of 15, 22, 19 and 41 yards. He scored on a 14-yard run.

Marquese Manuel, Davidson: Completed 6 of 7 pass attempts for 189 yards and a score and ran for 47 yards and two touchdowns as the Warriors defeated Alma Bryant 28-18.

Kyle Nalls, Fayette County: Picked up 315 yards and a pair of touchdowns on 33 carries in a 35-14 region-clinching victory over Cordova.

Payton Nichols, Russellville: Threw five touchdown passes as Russellville beat Pope John Paul II 49-14. Nichols was 17 of 20 for 257 yards.

Justin Perdue, Carver-Birmingham: Caught six passes for 179 yards in a 44-28 loss to Fairfield, with TD catches of 12, 20, 62 and 74 yards.

Brick Pugh, East Limestone: Accounted for five touchdowns in the first half of a 37-7 win at Ardmore. He completed 9 of 14 passes for 185 yards with four touchdowns (14, 17, 64 and 7 yards) and no interceptions. He also ran for 45 yards and a 1-yard score.

Desmond Richards, Lakeside: Rushed for 181 yards and four touchdowns on nine carries in a 49-14 win over Northside Methodist Academy.

Micah Stephens, Locust Fork: Tallied 14 carries for 225 yards, including an 80-yard touchdown, in a 36-28 victory over J.B. Pennington.

Austin Stiefel, Fyffe: Ran for 181 yards and three touchdowns on 18 carries in a 49-7 victory over Collinsville.

Antonio Stanton, Bessemer City: Finished 17-of-29 passing for 314 yards and three touchdowns in a 27-8 win at Center Point. He also generated another 49 rushing yards and a TD.

Jackson Tate, Edgewood: Caught five passes for 204 yards and touchdowns of 60, 33 and 72 yards in a 55-0 win at Ashford Academy.

Josh Thomas, Montgomery Academy: Was 9-of-10 passing for 239 yards and three touchdowns and ran nine times for 63 yards and two scores in a 49-0 win over Prattville Christian.

Joseph Thompson, Sumiton Christian: Rushed for 210 yards and four touchdowns on 11 carries in a 69-32 win over West End-Walnut Grove.

Zach Thomas, Hewitt-Trussville: Completed 18 of 29 passes for 249 yards and added scoring runs of 1, 8 and 29 yards in a 38-24 loss to Hoover.

Marcus Webb, Hoover: Ran for 182 rushing yards on 25 carries, with TD runs of 1 and 15 yards, in a 38-24 win at Hewitt-Trussville.

Terrelle West, Clay-Chalkville: Ran for 224 rushing yards on 21 carries in a 45-20 victory over Gardendale, including 97-yard TD run.

DEFENSE/SPECIAL TEAMS

Trent Campbell, West Point: Compiled 10 tackles, including two for loss and two sacks, in a 21-14 overtime victory over Lawrence County.

Edson Cassarrubius, Florence: Kicked three field goals, including a 42-yarder, as the Falcons beat Decatur 23-6 to win the program's first region title since 2007.

Riley Cole, Oneonta: Had 19 tackles, four for loss, and a sack in a 33-13 victory over Westminster Christian.

Eddie Fikes Jr., Sunshine: Returned a kickoff 76 yards for a touchdown against Linden in the final game in Sunshine history.

Jason Futrell, Wilson: Returned an interception 65 yards for a TD and recovered a fumble in a 39-0 victory over West Limestone, On offense, he ran for 113 yards and a 70-yard TD.

Dontrez Green, Mortimer Jordan: Had six tackles and three sacks in a 34-21 win against Springville.

Hunter Green, Cleveland: Credited with 23 tackles (14 solo), three tackles for loss, and a pass break-up in a 35-28 loss to Gaston.

Ryder Jones, West Point: Had seven tackles -- including two for loss and a sack -- and two batted passes in a 21-14 overtime win against Lawrence County.

Sage Ledbetter, Auburn: Was 4-of-4 on field goals, including a career-long 50-yarder that marked the second-longest field goal in school history. Went 4-of-4 on extra-point tries and had eight of his nine kickoffs go for touchbacks in Auburn's 40-14 win against Smiths Station.

Russ Logan, Demopolis: Recovered two fumbles and intercepted a pass from his linebacker in a victory over Dallas County.

Wil Murphy, Central-Florence: For the second straight week Murphy kicked a game-winning field goal as Central secured a playoff berth with a 5-3 win over Brooks. He kicked a 21-yard field goal with 6:55 to play for the winning margin.

Floyd Simmons, Marengo: Recorded 10 tackles, had two sacks and returned a fumble 36 yards for a touchdown in victory over J.F. Shields.

Blake Terry, Cedar Bluff: Returned an interception 35 yards for a touchdown in a 47-20 victory over Gaylesville.

Davonta Williams, Ashford: Recovered two fumbles, returning for a touchdown, had nine tackles and two sacks in a 63-0 win over Headland.

Ethan Williams, Midfield: Recorded 11 tackles and returned a blocked punt 45 yards for a TD in a 23-8 victory over Fultondale. He also caught four passes for 110 yards.

---
Great Moments in Alabama High School Football History

The Prattville Lions won 56 consecutive regular season games between 2001 and 2007.