2014 Week 1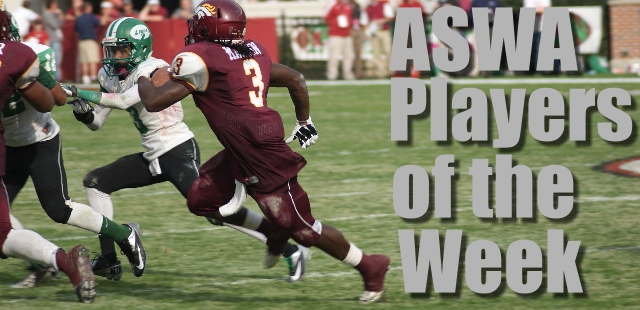 ASWA Players of the Week
---
A number of quarterbacks shined in the opening week of the 2014 season, but none brighter than Shades Valley's RaShad Louie.
Louie accounted for more than 300 yards of total offense, including a 68-yard touchdown pass to Keith Mixon on fourth down with 3:08 to play, as the Mounties earned a 37-35 victory over Florence.
"I knew my main man Keith, he was going to get open for that pass," Louie told AL.com after the game, "and I just threw it to him."
Louie completed 11 of 24 passes for 245 yards, with TD passes of 68 and 9 yards, and added a 74-yard touchdown run on the second play of the game. For his performance, he is the season's first winner of the Alabama Sports Writers Association's Offensive Player of the Week award.
The finalists for the award are also quarterbacks -- Spanish Fort's Tyler Johnson and Clay-Chalkville's Tyrell Pigrome.
Johnston threw for 353 yards and five touchdowns and ran for 101 yards and another touchdown in a 42-14 victory over Stanhope Elmore. Pigrome had 19 carries for 211 yards with three scores, including an 84-yard TD run, and completed 11 of 14 passes for 196 yards and a 51-yard TD in a 44-23 victory over Niceville (Fla.).
The Defense/Special Teams Player of the Week is Slocomb's Dezmond Johnson, who intercepted three passes, including two in the fourth quarter and one in the end zone, during a 21-10 victory over Geneva. He also had five tackles and added 122 yards rushing, a rushing TD and a receiving TD.
The finalists are Ellwood Christian's J'miere Solomon and Montgomery Academy's Sam LaPlatney. Solomon intercepted three passes, caused a fumble on the opening kickoff and scooped it up and returned it 20 yards for a TD, in a 48-38 victory over Francis Marion. LaPlatney returned kickoffs 90 and 85 yards for touchdowns in a 30-28 victory over Catholic. He also caught a 14-yard TD pass.
ASWA members from Anniston, Auburn, Birmingham, Cullman, Decatur, Demopolis, Dothan, Florence, Gardendale, Huntsville, Jasper, Mobile, Montgomery, Selma and Talladega submitted nomination this week.
Here's a list of other notable performances:
OFFENSE
Brandon Baynes, Tallassee: Had 18 carries for 217 yards and TD runs of 12, 1 and 66 yards in a 49-0 victory against Notasulga.
Michael Brown, Stanhope Elmore: Caugh two passes - but both went for touchdowns, including a 99-yarder - for 129 yards in a 42-14 loss to Spanish Fort.
Jake Cook, Oxford: Racked up 218 receiving yards and two touchdowns on seven receptions in a 42-21 victory over Southside-Gadsden.
Kristian Cotton, Spanish Fort: Caught seven passes for 199 yards and four touchdowns in a 42-14 victory over Stanhope Elmore.
Tyler Crumpton, Phillips-Bear Creek: Scored three TDs, with an 80-yard run and 98-yard TD catch, as Phillips beat Meek 33-8. He finished with 142 receiving yards and also intercepted a pass on defense.
Jamel Grace, Flomaton: Ran 22 times for 194 yards and five touchdowns in a 57-28 victory over Chickasaw.
Jamarius Henderson, Dale County: Rushed for 250 yards and TD runs of 30,73 and 12 yards on 18 carries in a 48-12 victory over Trinity.
Lee Hisbon, Tanner: Logged 25 carries for 232 yards, with TD runs of 11, 1 and 10 yards, in a 47-0 victory over West Limestone.
Conner Kiser, Haleyville: Compiled 318 yards of offense - 138 yards and TD runs of 66 and 38 yards on 10 carries and 180 yards passing and a TD pass - in a 43-21 victory over Winston County.
Kerryon Johnson, Madison Academy: Carried 22 times for 203 yards and two TDs in a 27-24 loss to Leeds. He also caught a 19-yard pass.
Juwan Judge, Baldwin County: Ran for two touchdowns and threw for another to help the Tigers end a 10-game losing streak in a victory over Escambia County.
Brandon Lewis, Fultondale: Scored four rushing TDs and caught a 72-yard pass for another, with 192 yards rushing on 16 carries in a 52-31 win over Tarrant.
Denzel Mitchell, Hamilton: Rushed for 112 yards on 23 carries in a 14-10 win over Moody and also had several pass break-ups on defense.
Tre' Nation, Leeds: Ran for 148 yards and two touchdowns on 26 carries in a 27-24 victory over Madison Academy.
Lamical Perine, Theodore: Carried14 times for 149 yards and four TDs in a victory over Citronelle.
Trey Potts, Athens: Caught eight passes for 122 yards and a touchdown to lead Athens to a 28-7 victory over Lee-Huntsville.
Tyler Sheehan, Macon-East: Ran 26 times for 207 yards with touchdowns of 60 and 1 yards in a 20-13 loss at Pike Liberal Arts.
Dalton Sinquefield, Smiths Station: Completed 25-of-33 passes for 408 yards and four TDs, covering 6, 13, 39 and 57 yards, in the Panthers' 38-13 win against Americus-Sumter (Ga.). He also threw two interceptions.
Jake Tiffin, Hartselle: Completed 14 of 22 passes for 206 yards, with TD passes of 73 and 84 yards, in a 27-21 victory over Pinson Valley.
Shawn Traywick, Victory Christian: Rushed for 300 yards and five TDs, covering 53, 47, 40, 45 and 20 yards, in a 49-17 win over Holy Spirit.
Ty Webber, Oxford: Completed 14-of-16 passes for 306 yards with two passing touchdowns and one rushing in a 42-21 victory over Southside-Gadsden.
Desmond Williams, Pinson Valley: Had three catches for 116 yards and a touchdown in a 27-21 loss to Hartselle.
DEFENSE/SPECIAL TEAMS
Sergio Alvarez, Pell City: Kicked a 19-yard field to provide the winning margin in a 17-14 victory over Walker.
Onyx Brown, Robertsdale: Recorded three sacks in a 34-7 loss to Fairhope.
Stone Collins, Wicksburg: Recorded 13 tackles, six solos and seven assists, in a 34-14 victory over Houston County.
Morgan Coston, Leeds: Kicked a 27-yard field goal on the game's final play to lift Leeds to a 27-24 victory over Madison Academy, snapping the Mustangs' 25-game win streak.
Jordan Dollerson, Florence: Recorded three sacks and recovered a fumble for a touchdown in a 37-35 loss at No. 3 Shades Valley.
Josh Freeman, Cold Springs: Returned an interception 46 yards and caught a pair of passes for 42 yards in a 25-6 victory over Brilliant.
Levi Hammack, Addison: Contributed eight tackles (six solo, two assisted and two for loss) and forced a fumble in a 26-23 loss at Pickens County.
Josh Madden, Talladega: Recorded two interceptions against Talladega County Central.
Jimmy Massey, Montgomery Academy: Kicked a 27-yard field goal in the final minute to give the Eagles a 30-28 victory over Catholic. He also caught a 39-yard pass to help set up his kick and added a 32-yard field goal in the first half.
Alex Medina, Walker: Recorded 12 tackles, including three tackles for a loss, and a sack in a 17-14 loss to Pell City.
Malik Miller, Madison Academy: Logged 11 tackles on defense in a 27-24 loss to Leeds.
Jeremy Mitchell, A.L. Johnson: Picked off a pass and returned it 90 yards for a touchdown in 36-16 rout of rival R.C. Hatch.
Justin Patterson, Cullman: Piled on 13 tackles in a 21-14 loss at Arab.
Kam Prewitt, Clay-Chalkville: Picked off two passes in a 44-23 victory over Niceville (Fla.).
A.J. Smoot, Dora: Had 10 tackles, including three sacks, and forced a fumble in a 35-12 victory over Cordova.
Fransisco Tirado, Decatur: Kicked field goals of 37 and 28 yards in the second half of a 13-10 victory over Homewood.
Terrance Watkins, Athens: Returned a kickoff 88 yards for a touchdown in a 28-7 victory over Lee-Huntsville.
Justin Hosea Williams, Theodore: Had 14 tackles and a fumble recovery in a victory over Citronelle.
Josh Bean
Managing Producer, HSSN Supervisor
---
Great Moments in Alabama High School Football History

Florida State head coach Bobby Bowden was a star quarterback at Woodlawn high school in Birmingham.