1915 Lawrence County Football Team
---
The first football team at
Lawrence County
took the field in 1915. Coached by Jay Milligan the team played a schedule of three football games.
On October 8, 1915 the team from Lawrence County lost to Colbert County 33-0 in their very first game in the history of the School. A few weeks later on October 29th the team won their first game 13-0 against New Decatur in Moulton. They finished up the inaugural season with a lose against powerhouse Cullman 30-6.
Nathaniel Almon was the team's leading scorer, scoring the first two touchdowns and kicking the first extra point in school history in a 13-0 win over New Decatur High. Captain Woodfin Sandlin rushed for the team's other touchdown in a 30-6 loss to Cullman.
The team members pictured are: (names followed by position and weight)
Front row (l to r): Adlai Sandlin (LE, 155); Silas Black (RT, 140); James Mardis; Guy Aldridge (C, 185); Aubrey Pickens (RG, 144); Everett Sherrill (LT, 140); Byron Stephenson (QB, 126); Head Coach Jay Milligan.
Top row (l to r): Principal John M. Cowell; Woodfin Sandlin (LHB, 135, Team Captain); Nathaniel Almon (RHB, 138); Robert White (LG, 160); Albert Terry (RE, 157).
Not pictured: Floyd Watterson (FB, 150); Rupert Watterson (150); Joe Gardner (125).
Guy Aldridge and James Mardis both went on to play football at the University of Alabama.
---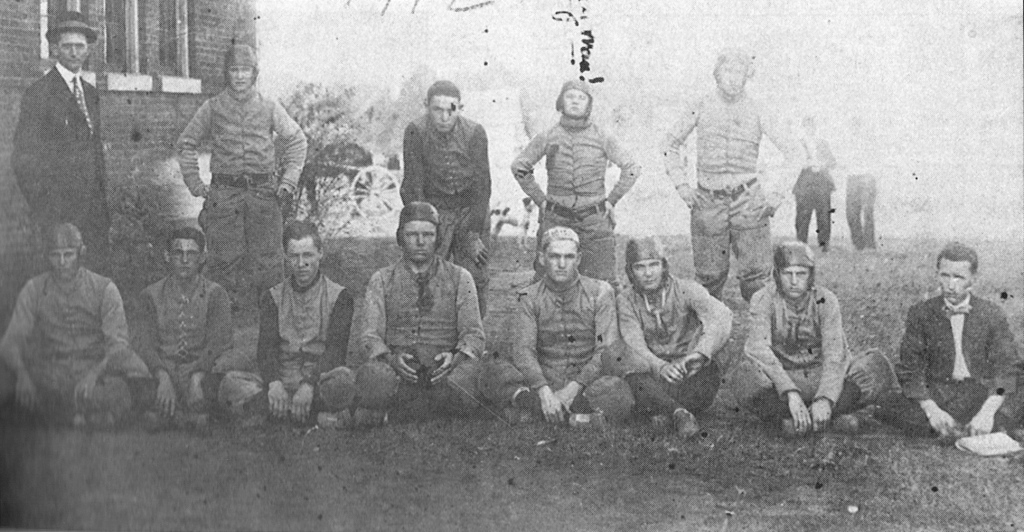 Thanks to Robert Montgomery for providing the photo and the information about Lawrence County. Robert has provided research and AHSFHS.org has virtually completed Lawrence County thanks to his efforts.

Great Moments in Alabama High School Football History

Thomasville scored 54 points against Gulf Shores in the first quarter of a game in 2003. They managed to hang on for an 81-14 win.