George Teague
Tweet
Share on Facebook


Last week I had the opportunity to sit in on a ZOOM video podcast recording with one of the all-time Alabama greats and one of my favorite Crimson Tide players. For those of you who are not Bama fans you may not appreciate the significance of who George Teague is and how he was involved in two of the greatest plays in Alabama football history.

Most college football players only wish to be a part of one of the greatest plays in football history and yet George Teague made two of them just five minutes apart in the 1993 Sugar Bowl against Miami. Early in the third quarter he intercepted a short pass over the middle from Gino Torretto and returned it 31 yards for a touchdown that almost assured an Alabama victory. Just five plays later he raced downfield to overtake Lamar Thomas and stripped the ball from the speedy receiver. Although the play was negated by an offside penalty it seemed to kill any hopes of a Miami comeback.

So what is George Teague up to now? Listen to the podcast to find out where he has become a very successful high school football coach. He also has some thoughts about his NFL playing days with the Packers and the Cowboys. Especially one defining moment when Terrell Owens as he says, "puts his feet up on my coffee table". A moment that endeared him to every Cowboys fan forever when he defended the sacred Cowboy star.

Finally he gives us some thoughts on those two memorable plays in the National Championship game some 27 years ago.

The podcast is one in a series produced by my sons who have a long list of coaches and players who have made a appearance with them during this off season. Below is a link to the George Teague podcast. I will post a few others a little late that may be of interest to fans.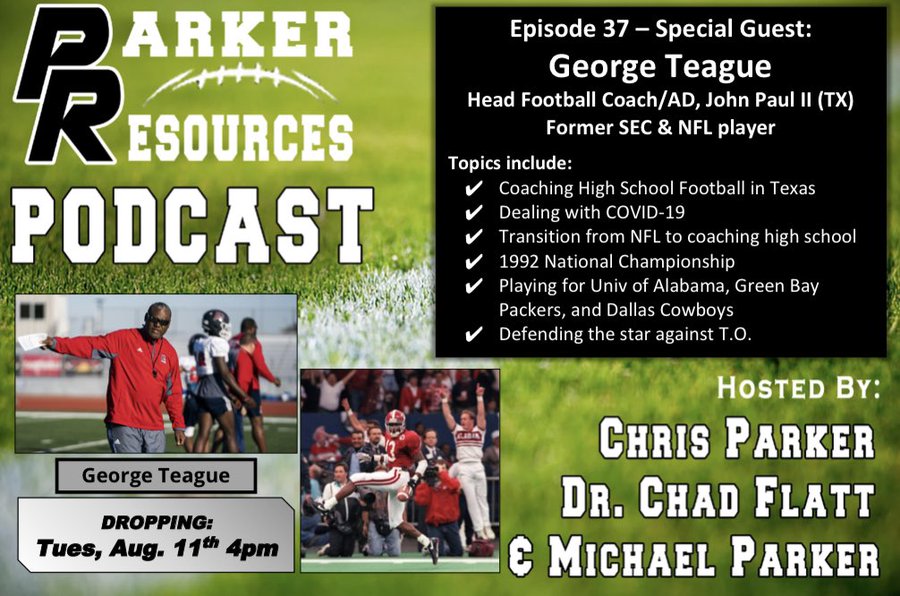 https://podcasts.apple.com/us/podcast/parker-resources/id1504978868#episodeGuid=https%3A%2F%2Fapi.spreaker.com%2Fepisode%2F40256599
David Parker
AHSFHS.org
dparker@ahsfhs.org
Great Moments in Alabama High School Football History

Homewood defeated Benjamin Russell in five overtimes during the Class 5A Super Six state championship game in 2000.