Coaches - Most victories over a ten year span
Tweet
Share on Facebook

AHSFHS.org Report
(August 28, 2017)

Which coach won the most games over any ten year span in high school football history? It is an answer that will surprise most fans. It surprised me.

Danny Powell, with 126 victories between 2006-2015 leads every other coach in history with the most wins over a ten year span. Powell took over at Leroy in 2006 and promptly won three straight state titles with the Bears. He stayed at Leroy for five seasons with a 66-7 record before jumping across the river to Jackson. His next five seasons with the Aggies produced a 60-7 record and another title in 2011.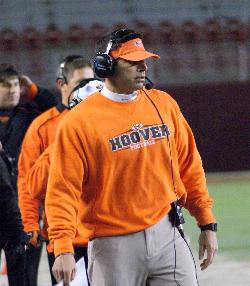 As you might have guessed the two coaches of Hoover fame appear on our list next. Rush Propst started the football program at Alma Bryant in 1998 and led the Hurricanes to an impressive 12-1 record before leaving for Hoover the next year. His nine teams while leading the Bucs finished a combined 110-15 to give him second spot on our list with 122 victories in ten seasons. Hoover vacated four wins during his final season before he vaulted to Colquitt County in Georgia.

Josh Niblett took over the Hoover football program at the start of the 2008 season and has gone 118-13 over the past nine seasons. Couple that with an unimpressive 3-7 last season at Oxford in 2007 and he has 121 wins over a span of ten years. If the Bucs win nine games, with a very difficult schedule this year, Niblett will assume the lead for the most wins in ten years with a total of 130.

Coach Niblett is joined by Brent Hubbert, Paul Benefield and Steve Smith as current coaches on our list. It is rather amazing to note that all four of these coaches captured a state championship last year. They combined for a 56-2 record in 2016.

A couple of other coaches of note include Bill Clark and Bobby Carr. Bill Clark arrived at Prattville in 1999 and over the next nine seasons he led the Lions to two state championships and a record of 106-11. He would certainly have made this list had he remained at Prattville for one more season. A season that saw the Lions finish 13-1.

Bobby Carr takes over the football program at Autauga Academy this season after setting all kinds of records at Edgewood Academy. His record over the past nine seasons as a head coach sits at 105-11. If Autauga Academy runs the tables this year as most expect, he could top our list with a record of 129-11.


---
Coaches - Most Victories in a ten year span
126 - Danny Powell - Leroy, Jackson (2006-2015) (126-14)
122 - Rush Propst - Alma Bryant, Hoover (1998-2007) (122-17)
121 - Josh Niblett - Oxford, Hoover (2007-2016) (121-20)
120 - Jamie Riggs - T.R. Miller (1994-2003) (120-21)
119 - David Lowery - Brantley (2003-2012) (119-14)
118 - Brent Hubbert - Maplesville (2007-2016) (118-13)
118 - Terry Curtis - UMS-Wright (2000-2009) (118-22)
117 - Paul Benefield - Fyffe (2007-2016) (117-16)
117 - Stacy Luker - Sweet Water (2004-2013) (117-23)
116 - Danny Horn - Clay County (1993-2002) (116-18)
116 - Steve Smith - Piedmont (2007-2016) (116-19)
115 - John Mothershed - Deshler (1996-2005) (115-21)
115 - Fred Yancey - Briarwood (1996-2005) (115-21)


David Parker
AHSFHS.org
dparker@ahsfhs.org
Great Moments in Alabama High School Football History

Demopolis scored a record 761 points during the 2004 season. The Tigers finished the season 15-0.