Coaches with 100 Wins
Tweet
Share on Facebook


Since the inception of AHSFHS.org some thirteen years ago one of our first priorities was to compile a list of the winningest coaches in the history of Alabama high school football. Over time the list has become more refined as the scores for games were found through the diligent research completed by myself and many other interested fans of the website.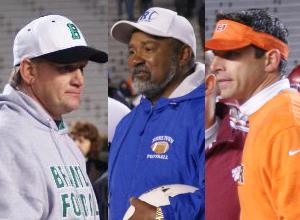 This task began with a list of all coaches with at least 100 wins and has grown from that point. We currently have 383 coaches that have at least 100 verified coaching wins. There are 82 active coaches with at least 100 wins entering the 2020 season. That number is quite surprising and seems to make the 100 win plateau attainable by most coaches with moderate success. Still it is a standard of which coaches are measured.

As the 2020 football season approaches, there are a number of coaches who are on the verge of being added to our list of winningest coaches. We will follow these and others throughout the season and let you know when and if they reach this milestone.

Before we reveal the list of potential newcomers to the 100 wins list there are other milestone coaching wins within the reach of other coaches. Buddy Anderson of Vestavia Hills continues to add to his win total. He sits atop the list for the most all-time wins in Alabama high school football history with 342 victories.

Paul Benefield continues to win championships at Fyffe and has amassed 297 victories over his 24 year career. Steve Smith with 246 victories and Lamar Harris with 245 wins are within reach of the 250 win plateau early this season. Brent Hubbert at T.R. Miller is within eight wins of reaching 200 for his career.

Below is the complete list of coaches that could possibly reach 100 wins this season. There may be a few others that could reach 100 wins if their teams do extremely well and win more than twelve games in 2020.


---
Coaches approaching the 100 win club
97 - Brian Seymore (Demopolis) (97-58)
95 - Gene Hill (Sardis) (95-74)
95 - Bruce Breland (Victory Christian) (94-114)
95 - Rod Hudson (Hackleburg) (93-37)
95 - Adam Winegarden (Auburn) (93-28)
95 - Gardner Gilliland (Cleveland) (91-47)
95 - Melvin Pete Jr. (Aliceville) (90-63)

---
David Parker
AHSFHS.org
dparker@ahsfhs.org
Great Moments in Alabama High School Football History

Luverne 'Toad' Wise was the first female football player in Alabama and may have been the first in the country. She was a kicker for the Escambia County Blue Devils in 1939-40.